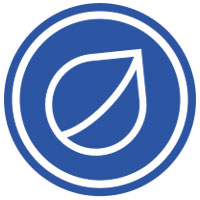 The Rosa Desktop Fresh R series gets better with each new edition to its distro lineup.
The already-established Rosa Desktop Fresh R was a hit with its series of standard desktop editions released with two flavors of KDE desktop — KDE4 and Plasma 5 — along with the GNOME 3 and MATE desktops.
This latest LXQt edition, released last week, adds the ability to run this powerhouse computing platform on legacy boxes with as little as 512 MB of RAM.
Each desktop edition is optimized for desktop usage. The distro targets advanced users and enthusiasts looking for rich functionality.
This distro is ideal for users who have outgrown basic Linux offerings and want a product with a wide set of customization and personalization possibilities. That is what Rosa Desktop delivers.
The "Rosa Desktop" label can give you the wrong impression. Rosa Desktop is not a new desktop environment. In fact, it is neither new nor experimental.
Rather, it is a very focused distro built around a well-tweaked integration of existing desktop environments, enhanced through a strict development path that pushes the latest versions of hand-picked Linux packages for optimum performance.
The LXQt edition now lets you have economy of scale, working in a lightweight desktop environment without sacrificing computing tools or desktop functionality. The tweaked performance of the LXQt desktop is a fusion of the LXDE and Razor-Qt desktop environments.
Desktop Basics
The LXQt hybrid is the next generation of the popular LXDE (Lightweight X11 Desktop Environment). The result is a lightweight, modular, very fast desktop environment that is user-friendly.
The biggest improvement LXQt brings to the lightweight LXDE desktop is much more control over LXDE. The Qt Configuration Tools are integrated within the LXQt Settings Panel.
A mashup of sorts of LXDE and Xfce, the LXQt desktop is fast and easy to use. It is uncluttered and efficient.
That said, I've found that Xfce is a bit more pleasant for me to use for long computing periods. My preference stems in part from its additional special effects and fewer design quirks.
The LXQt difference is immediately noticeable. Its additional tweaking closes the gap considerably between traditional LXDE and Xfce features and configurability.
---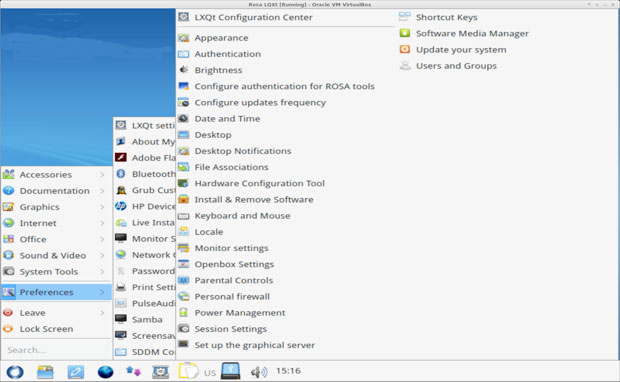 Configurability is king inthe LXQt's Configuration Center, bolstered by Openbox settings and more inthe Preferences main menu panel.
---
About the Rosa Distro
Rosa is a Russian company with a variety of Linux-based solutions. Rosa originally was forked from Mandriva Linux. The distro now is developed independently as a home computing platform.
The company also develops an enterprise server edition of Rosa and a commercially supported enterprise workstation that is based on Red Hat Enterprise Linux. Several well-designed modifications enhance the user-friendliness of the working environment.
The Rosa distro uses the RPM package manager and the Systemd initialization daemon.
Under the Hood
The LXQt desktop in Rosa R9 is based on the R9 (2016.1) software platform. It uses the freshest 0.11 branch with simplified Rosa theme. Developers excised compositing and desktop effects, which contributes to its lightweight advantages for older, less endowed machines.
The Rosa distribution in general is built around the community's own software builds and a developmental environment based on international testing and verification practices. The goal is constant monitoring of the state of the package base to guarantee compatibility of different distribution components, along with complete closure of repositories with respect to package dependencies.
The developers have crammed a collection of ideal components into the Linux engine. For instance, the graphical subsystem is based on X11 with up-to-date proprietary drivers for AMD and Nvidia cards, along with support for hybrid graphics. LXQt uses the Grub2 boot loader with UEFI support.
Rosa LXQt includes popular scripting languages with large sets of modules that include Perl, PHP, Python and Ruby. Developers included up-to-date drivers for printers and scanners of different vendors and added the OpenJDK Java environment.
Kernel version 4.9.20 LTS provides use on the latest Intel Skylake machines. It has proprietary AMD driver AMDGPU Pro included as an experimental feature.
Rosa repositories include Skype, Steam, Softmaker-freeoffice and Viber.
Using It
Descriptions of typical Linux distros as being look-alike replacements for Microsoft Windows wear thin. Most non-Linux users coming to the Rosa R9 Desktop distro know the Windows layout, so they will be completely at home with Rosa's look and feel. But that does not mean it will resemble Microsoft's computing platform.
The clean white background of application windows with the bold icons, mouse pointer and menus results in a pleasing, comfy clean looking desktop. Rosa's LXQt edition avoids the clutter and distractions of more traditional Linux distros.
---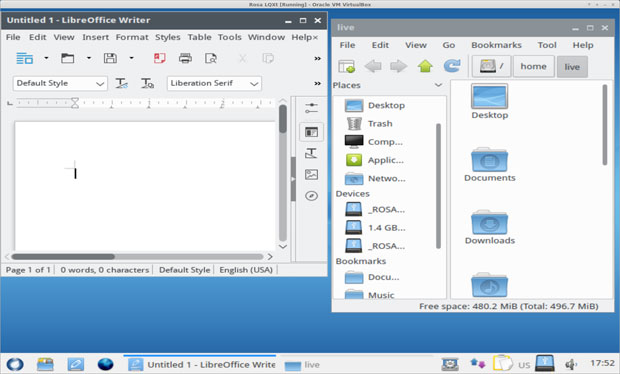 Rosa Desktop Fresh R9 LXQtedition's simple and clean look masks its flexibility and power despiteits lightweight trappings.
---
This desktop platform needs no figuring out. The menu button, file manager, Web browser and notification areas are on the panel bar at the bottom of the screen. Navigating your way through menus is easy. Right-click on the desktop to get a limited list of available actions.
Rosa LXQt uses the NewMoon (PaleMoon) Web browser that consumes significantly fewer resources. The LXQt control panel makes personalizing how you use this OS quite simple.
The LXQt default installation includes some additional components for Internet users, such as Pidgin, qBitTorrent and Trojit. You also get the Nomacs image viewer for basic image manipulation tasks. The in-house app Rosa media player and the classic Audacious audio player are included.
Setting Up the System
The only real visible differences between the old LXDE and the hybrid release with Qt is in the settings and controls. You can launch many of these settings individually from other menu lists, both LXDE and Qt controls, within one common settings panel.
For example, first open Preferences from the main menu button. In the Preferences category display, you also have access to 14 general system settings.
The list of options starts with the LXQt sub menu on top. Click on it to have the LXQt Configuration Center slide out to the right. That displays two dozen individual settings.
One of the first areas to visit when setting up a new installation is the Openbox settings panel further down the list of settings options in the LXQt Configuration Center. This is where you select your Window Manager likes, such as theme choices, mouse actions, window and dock behavior and more.
Open the Box
Look in the Openbox settings for the desktop workspaces settings. I was able to set the maximum number for the 8 GB of RAM. Obviously, I had only two or three workspaces available on my ancient 512-MB laptop, but it is inconceivable that even power users like me can put 100 different workspaces to efficient use.
LXQt does not have a workplace switcher applet for the notifications panel. However, it is much easier to keep fingers on the keyboard and press the CTRL-ALT keys with left/right arrows to navigate among workspaces.
The only thing I dislike about the various system setting panels in LXQt is the lack of a back arrow or other method to close the current settings panel and remain within the Configuration Center options. Having to return to where you were via pressing the main menu button is annoying and inefficient.
Bottom Line
Mashing traditional LXDE functionality with the added tweaks from Razor-Qt is a big step in a better direction for this lightweight desktop environment. If you want eye-popping visual displays, you will not find them in the LXQt edition. Try out the other desktop options Rosa offers instead.
The Rosa distro's custom software is a big differentiator that sets Rosa apart from other purveyors of Linux.
Want to Suggest a Review?
Is there a Linux software application or distro you'd like to suggest for review? Something you love or would like to get to know?
Please email your ideas to me, and I'll consider them for a future Linux Picks and Pans column.
And use the Reader Comments feature below to provide your input!