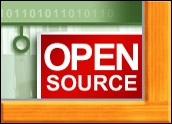 Scalix, a software company providing Linux-based e-mail, calendaring and messaging clients, is now offering a series of open source components based upon its products.
The company announced this week an open source project through which it is releasing the source code to several of its flagship offerings. The code disclosure follows a plan company officials announced in July to bring enterprise-class e-mail and calendaring to the open source community.
The source code components Scalix released are part of the base code for its Scalix Community Edition, Scalix Small Business Edition, and Scalix Enterprise Edition programs.
"Downloads of our software have increased sixfold since we announced our open source plans," said Glenn Winokur, CEO of Scalix.
First Phase
Company officials said they will release more source code in phases. In this first phase, Scalix has delivered source code for Scalix Messaging Services, Scalix Mobile Web Client, Scalix Search and Indexing Services, and Scalix Installer, as well as the Scalix localization kit.
The open source project is based on Scalix 11, the company's latest major release of its commercial enterprise product family. Scalix will contribute additional open source components through the first quarter of 2007.
Releasing the program code allows developers and Linux enthusiasts to port Scalix software to new platforms. It also provides users the ability to localize, customize, and extend Scalix software.
Necessary Marketing
Observers see the Linux open source field becoming crowded with competition. This is forcing software companies to become more aggressive in releasing source code and encouraging developers to adapt it.
"Scalix, like many other Linux and open source vendors, is trying to distinguish itself and its products in an increasingly crowded field," Laura DiDio, senior analyst for the Yankee Group, told LinuxInsider. "There's a lot more competition in the Linux/open source market these days."
Scalix's decision to release open source components for e-mail and calendaring functionality is a move that is necessary for the company to keep pace with competitors, according to DiDio.
"It is a marketing ploy, but one that has intrinsic technological value for Scalix customers," she said.
Scalix has also launched a comprehensive set of resource tools to support the open source community. These tools include an active community forum, a wiki, a knowledge base, a bug-tracking system, blogs, and a Frequently Asked Question (FAQ) file.