If you do not mind having a free non-open source Microsoft product on your Linux computer, the latest Skype for Linux release catches up to the Windows and Mac versions, providing most of the features they've had for some time. Microsoft rolled out Skype version 4.3.0.37 in mid June. The catch-up release has an updated user interface, some additional features, and lots of bug fixes.
The latest Skype for Linux version also got rid of Alsa audio API (application programming interface) support. Instead, it supports only Pulse Audio. So if you do not already have Pulse 3.0 or 4.0 on your system, you will have to switch to that audio system.
Skype is one of the more popular free voice and video-calling applications that spans Linux, Windows and Mac OS X platforms. Microsoft released version 4.0 in June of 2012, after purchasing Skype for US$8.56 billion in late 2011. Since then, Microsoft has maintained Skype for Linux with a few bug fix releases.
Until now, though, the Skype for Linux versions fell short of the performance, stability and features available to Skype users on the other two platforms.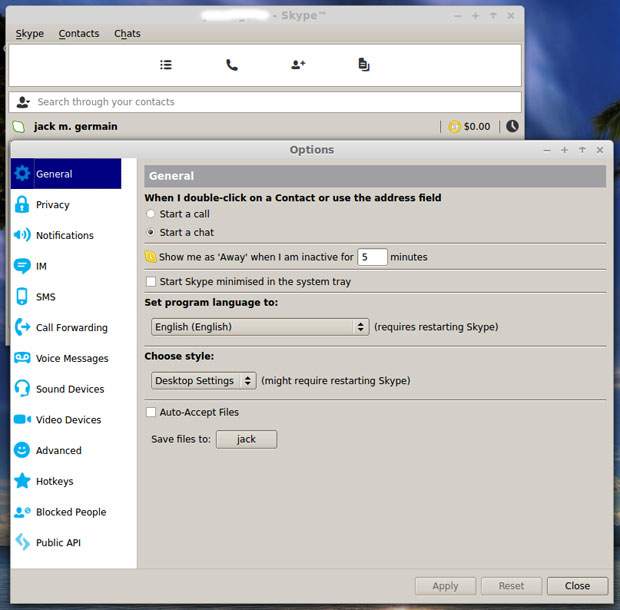 Skype for Linux 4.3 has a feature set almost equal to the Skype for Windows and Mac versions.
Free but Proprietary
Skype is proprietary software. It is free, but the source code is not open to access, review or modify. Skype uses semi-decentralized peer-to-peer technologies that push your calls through a network of dedicated servers rather than through a central server.
Linux users unwilling to install Skype by Microsoft on their otherwise free and open source Linux distro have a few choices that are just as good, if not better.
For example, they can use open source options like 'Ekiga (formely known as "GnomeMeeting"), Twinkle or Jitsi.
Skype Requirements
If you do not have Pulse Audio, you still can get some limited functionality from the new Skype for Linux release. For instance, features like IM and sharing files and photos work.
Also, Skype for Linux has no native 64-bit build, but it still works on 64-bit systems with the required 32-bit dependencies installed.
Otherwise, the hardware requirements are not too demanding. They include a 1-GHz processor or faster with at least 256 MB RAM.
You need 100 MB free disk space on your storage drive. This should only be an issue if you run a portable Linux distro from a bootable USB drive.
The video card driver must have Xv support. You also need a built-in or external microphone for voice calls. Likewise, the computer needs a video camera built in or attached for video calls.
A broadband Internet connection avoids the stutter and flutter if you use tablets or smartphones connected otherwise. General Packet Radio Service, or GPRS, is not supported for voice calls.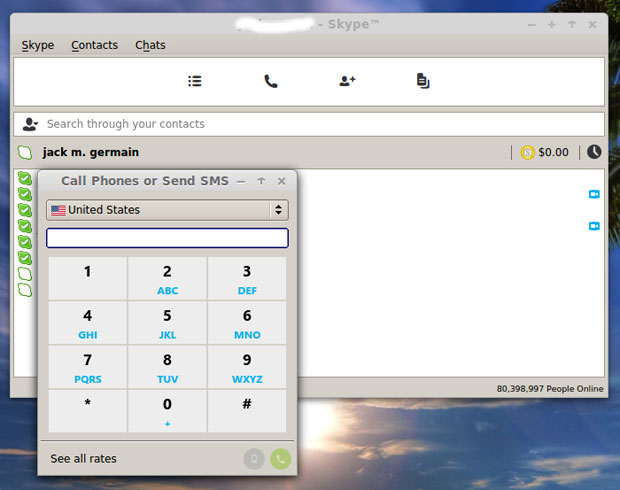 It is easy to send a text or make a call directly to a phone using Skype for Linux, but you need sufficient coin in your Skype account if not making a Skype-to-Skype connection.
Disappointing Design
Hard-core Linux users might feel like hanging up on their Skype for Linux connection after using it. The new user interface lacks color and depth. The UI theme is definitely Windows ugly.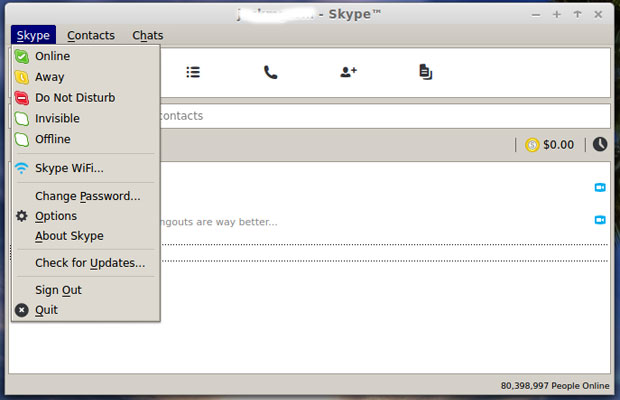 Skype for Linux 4.3 has a new user interface that lacks color or better usability.
The redesigned Skype for Linux has a very minimal and overly blocky look. Microsoft's designers would no doubt get considerable praise for an option to apply a Linux theme. However, this is an aesthetics appeal issue and does not degrade from Skype for Linux's phone call performance.
Bland as it is, the new version has some usability improvements built into it, which are long overdue.
Log-in Options
The changes start with the opening screen. The new log-in screen puts a sign-in field with the user's Microsoft account alongside the expected Skype User name and password fields.
If you already have a Skype account, you can log in immediately by entering your Skype name and password. If you are a new user, you need to create a Microsoft account, or you can log in with an existing Hotmail, Outlook.com or other Microsoft product account.
Have both a Skype account and a Microsoft account? You can use either one to begin using the latest Skype for Linux version.
Window Washy
The Skype application window is bordered in dull gray, and the window fields are washed-out white against the gray. The design lacks any appeal. It is flat, dull and dingy. Fortunately, the same can not be said about the performance.
There is now a menu row at the top of the window. To access the menu options, click the "Skype," "Contacts" or "Chats" labels. Or you can use the Alt key with the appropriate underscored letter. Use S for the main Skype menu, C to access Contact features, and H to view recent chats.
Design Changes
These functions used to be hidden in a dropdown menu that would appear when users clicked on the Skype icon in the bottom left corner of the window. The new design gives the Skype application for Linux a more expected look. It also improves the otherwise worn-out usability design.
A new toolbar row with four small shadowy black buttons is centered in a dingy white field under the menu row. The first button provides a few menu options not available in the Skype dropdown menu — but most of this menu content is repetitive.
The second button opens a number pad to enter phone numbers for calling or texting. The third button opens a window to add/search contacts. The fourth button opens a window to view recent file transfers.
Find That Field
An unappealing contacts search field separates this button row from the contacts list below it. This search box is lost in its white background bordered by gray.
The largest of the Skype for Linux windows is still devoted to displaying the contact list. It is much like a cellphone interface.
For example, when you click on a name, a box drops open below it to reveal buttons to call, text or manage the contact information. A white check in a green field to the left of each name indicates the contact is online.
Widget Wizardry
The only other usability improvement in this latest Skype for Linux release is a call monitor widget that floats anywhere you place it on the screen. If you leave it alone, its default location is the upper right corner.
This brings the Linux version more in line with the Mac and Windows versions that have long had this feature. It pops onto the screen during a call.
This widget adds to the usability. With it you can more easily view call details and click buttons to mute the audio, activate the webcam or end the call.
Limited Scope
Get this latest release directly from the Skype for Linux website. Only earlier versions are available from individual distro repositories.
The software is available for a limited range of Linux distributions. You can download a .deb package for Ubuntu 10.04 and Ubuntu 12.04, Debian 7, Fedora 16 and OpenSuSE 12.
A Dynamic package is also available. This may fill the void for an otherwise unsupported Linux distro.
Bottom Line
The latest version of Skype for Linux also has a new cloud-based Group Chat feature and more reliable file transfer support when using multiple devices simultaneously. It offers greater accessibility for blind and visually impaired users.
Overall, this latest Skype for Linux application is worth the upgrade or an initial exploration. Despite my criticism of its old and new UI, I can not fault its performance.
I use Skype for many of my international calls to conduct interviews. I also use it to conduct video conferences with news sources, clients and colleagues. Version 4.3.0.37 works reliably.
The only feature that remains on my wish list for Skype is a built-in conversation recorder. This would allow me to save the call to an MP3 or AVI file for playback.
Want to Suggest a Review?
Is there a Linux software application or distro you'd like to suggest for review? Something you love or would like to get to know?
Please email your ideas to me, and I'll consider them for a future Linux Picks and Pans column.
And use the Talkback feature below to add your comments!