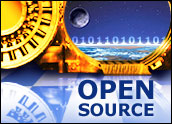 When it comes to playing audio and video files in Linux, media players pretty much all work the same way and have a very similar user interface. It usually all comes down to features. With SMPlayer it depends on what you want to play.
Unfortunately, this bug of sorts is something its developer Ricardo Villalba has yet to resolve in the latest release, version 0.7.0. It is more of an inconvenience than an all-out reason to reject using SMPlayer completely. The problem is this app's inability to read directories from CD/DVD music collections inserted in the optical drive.
Were it not for this snag, I would rank SMPlayer with my other two favorite media players — VLC Media Player and Banshee. SMPlayer offers more features and preferences tweaking than any other meida player available for the Linux desktop.
SMPlayer is a flexible multimedia player. It plays the most known video and audio formats without requiring external codecs. These include: AVI, MKV, OGM, MPEG, VOB, 3GP, ASF, MOV, WMV, MP3 and OGG. But despite the author's detailed product description, you cannot easily play DVD and CD discs from the optical drive.
Under the Hood
SMPlayer is a front end for one of Linux's classic media apps, Mplayer. Don't let the terminology confuse you. Being a front-end app does not make SMPLayer the same as MPlayer. This means SMPlayer gives you all of Mplayer's features in a simple user interface. But SMPlayer's GUI (Graphical User Interface) gives you hands-on control of many more playback features, especially videos.
MPlayer is a multimedia player developed initially for Linux and then ported to other OSes. It can be a dog to use. This is where SMPlayer takes over. Based on Qt, SMPlayer uses a C++ library that allows cross-platform development. The same source code can be compiled on Windows, Linux and Mac OS.
SMPlayer as just a front-end uses MPlayer to play the videos and other media files. This provides access to all of the functions supported by Mplayer. For instance, the preprocessor option increases the image quality of a video while playing it. Its default look is clearly Qt theme-wise. But it also supports the Gnome theme.
Playback Excellence
Aside from its packed menus filled with choices, one of SMPlayer's biggest strengths is its ability to handle a large inventory of video and audio file formats. That includes Internet streams. I have yet to see a file format that SMPlayer could not play without needing external codecs installed.
I especially like being able to close the player and return to it later without having to again cue the location. SMPlayer keeps track of my preferences for every file played. This means I never have to refiddle with playback position, subtitles settings, audio track, filters, volume or equalizer settings. This is very handy when watching long movies.
Subtitles is another area where SMPlayer excels. It has built-in support for SRT, SUB, SSA, embedded subtitles in Matroska files and DVD subtitles. You can also set preferences for font, size and colors for the subtitles.
Feature Freeway
SMPlayer is definitely on the fast track in its ability to pack features that simplify and enhance audio and video playback quality. For example, it lets you switch audio tracks from the menu and advance through videos using the mouse wheel. Even better, you can use the Video equalizer to adjust the brightness, contrast, hue, saturation and gamma of the video image.
Other features resemble tasks you would only expect from video editing tools. For instance, you can apply multiple filters such as deinterlace, postprocessing, denoise, and karaoke-like voice removal by checking options in the drop-down video menu.
A cool usability feature is the ability to create playlists with several video files so they play consecutively. You can do the same thing with a list of titles to repeat or shuffle. If you dwell a lot with subtitles, you can search automatically for them on opensubtitles.org from within SMPlayer.
I love SMPlayer's ability to let me choose multiple speeds. Under the Play/Speed menu the choices include eight speeds besides normal. Some of these options are variable so I can be very precise in how slow I go in slow motion.
Menu Mania
Clearly one of the major attractions for using SMPlayer is its seemingly never-ending menu options. For example, drilling down the Open menu gives you nearly one dozen choices. These include directory, file, URL, TV and radio address for Internet play.
Despite the extent of these features, using them is nothing but simple. For example, you can create a favorites menu with submenus to add favorite videos, music and streams.
Setting up streaming and Web-based video viewing is easy. Just click on the open URLs option and enter the Web address. Better yet, drag a link from the Web browser to the SMPlayer window.
Getting It
SMPlayer is widely available in distro repositories. If you have to install it from outside your Linux distros software offerings, you can download a deb package that is literally a one-click installation.
I had no trouble installing SMPlayer on my Ubuntu 11.10 and Linux Mint 12 configurations. It also installed without any hassles from the resident package manager in Puppy Linux 5.2.8.
Bottom Line
If your primary use is playing music from CDs and DVDs, bypass SMPlayer. On my three linux distros the menu access for CD/DVD was grayed out. The option to play that media was not even offered.
But storing your music and video choices on a hard drive is a work-around. Otherwise, the powerhouse of options available in SMPlayher make it a playback app that is tough to beat.