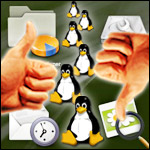 SolydXKis a Debian-based Linux distribution that offers a choice of two desktops: Xfce and KDE. It is a very new Linux OS, but do not push this new kid aside assuming stability and performance need a lot of maturing.
In fact, SolydXK is already a solid and very impressive distro. It has more polish and smoother performance than many older Linux OS counterparts.Released in late February by "Schoelje," a key developer of two discontinued desktop options within the Linux Mint distro, SolydXK picks up where the Linux Mint line leaves off. In his introductory posts on the SolydXK site, Schoelje announced that since Linux Mint dropped what were referred to as the unofficial Linux Mint Debian and Xfce editions, he started his own distro based on them.
The result is a very enjoyable dual-desktop environment. I install and test Linux distros regularly, and have my favorites parked on various work computers. I shuffle among dual-boot installations and portable versions such as Puppy Linux and Knoppix Linux.
This collection gives me a variety of desktop choices as well. The mixture keeps my computing routines from becoming boring.
Rarely, however, do I try a Linux distro that instantly makes me want to put it on all of my computers. SolydXK does just that.
Multiple Personalities
One of the really strong selling points for using SolydXK is the convenience of its integration. Some Linux distros only come with a default desktop. To change that environment requires downloading and bolting on other desktop options. This is usually a necessary evil if you want choices.
I never much cared for distros that packaged separate desktop editions as their own ISO downloads, but SolydXK only offers two flavors: Xfce and KDE. Processing two ISO installation disks is not inconvenient. These two desktop options provide the most dependable and comfortable features that drew me to the Linux OS years ago.
Xfce and KDE have their strong points. What each one provides for fast and productive computing far exceeds newer entrants such as the new GNOME, Unity and Cinnamon environments that SolydXK leaves behind.
At first blush, SolydXK is similar in appearance to ZorinOS, Linux Mint and Ubuntu in a few key areas. For example, the Software Package Manager is a mirror image of what you'll find in Linux Mint. It certainly looks and acts the same. SolydXK's overall performance, however, is clearly its own personality.
Tailored Selections
If you already have a preference for Xfce or KDE, then you have little to do in becoming familiar with these two options. Otherwise, you should spend some time with each live session DVD before committing to an installation choice.
SolydXK shows its unique personality traits in what the community decided to include or not include. Some of those choices might surprise you.
For example, the Xfce version — also known as SolydX — comes with AbiWord as the default word processing package. I love using AbiWord for quick text editing and minor document processing projects, but it's a bit too lightweight for regular business and enterprise use.
Surprisingly, the KDE version — dubbed SolydK — comes with the LibreOffice 4 suite rather than the expected KOffice package. Of course, you can always add your own software alternatives.
Other Software Choices
Both SolydX and SolydK come with the installer for the Steam gaming platform. This is a huge benefit in that it eliminates the need for you to do the setup yourself. The Xfce version also lets you modify some basic display manager settings with LightDM Manager.
Firefox and Thunderbird come preinstalled for Web browsing and e-mail tasks. VLC is the default media player on both desktops. You'll also find the Amarok music manager on the KDE version and Exaile for that job on the Xfce edition.
The Xfce edition comes with Synapse as well. This is really handy and fills the void created by the fact that there is no search feature built into the Xfce menu. Synapse is not included in the KDE edition, however, because that desktop environment has its own search tool in the menu. Of course, Synapse does a lot more, so it is well worth adding.
Update Nirvana
SolydXK uses a rolling update system that makes switching from most other Linux distros a sheer delight. I abhor having to do full installations every time a distro — such as Linux Mint — issues an new release. Even having to do automated upgrades through the package manager — such as Ubuntu and other distros provide — can be a major hassle.
SolydXK eliminates that time consuming process. No reinstallation is ever needed.
Instead, the Update Manager delivers monthly update packs. A notification icon resides in the system tray and signals whenever an update is available.
More Delights
SolydXK surpasses the typical new Linux distro in a number of ways. It is polished and fast, despite its otherwise young and lightweight nature. The Xfce and KDE choices provide solid computing power and convenience without being clones of other distros.
I particularly like its emphasis on no-nonsense computing without bogging down users in mundane setup and tinkering. I constantly look for Linux distros that do not try to reinvent the wheel. SolydXK will not discourage newcomers but will not turn off seasoned Linux users either.
Part of the reason SolydXK accomplishes these two goals is its attention to usability. It gives you the tools to find out about how this distro differs from others without causing you hours of frustrating trial and error.
Useful Stuff
This attention to detail is evident in the very nice and handy welcome screen. This is a must-see for new users. Experienced users might not need the tutorials, but they will surely appreciate the efficient overview it provides.
Be sure to check out the tutorials. This is an exceptional way to get up to speed fast, especially if you are not comfortable with Linux or do not like hassles in switching to an unknown distro.
These videos cover the basics with how-to topics in an entertaining way. Titles include installation, using update packs and package installations.
The KDE edition of SolydXK includes an application that could be a big deal to converts from Microsoft Windows and those looking for a comfort zone for office staff moving to Linux. Namely, it's the Play on Linux application.
This application is based on Wine and emulates a virtual environment for running the Microsoft Office suite. According to the product information, you do not need a Windows license to use PlayOnLinux. It is free software and uses Bash and Python.
Bottom Line
SolydX and SolydK are an intriguing pair of OS choices. Both are simple to use and offer a stable and secure environment.
If you want a fast and efficient desktop, opt for the Xfce edition. If you want more bells and whistles and a pinch of eye candy, go with the KDE edition.
This new distro takes something old and makes it new again. It is a marriage that is destined to last long and be very productive.
Want to Suggest a Linux Application for Review?
Is there a Linux software application you'd like to suggest for review? Something you love or would like to get to know?
Please send your ideas to me, and I'll consider them for a future Linux Picks and Pans column.
Otherwise, use the Talkback feature below to add your comments!