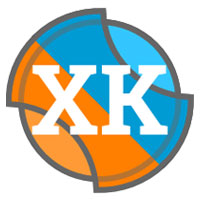 SolydXK is a Debian-based Linux distribution that comes with a choice of the Xfce (SolydX) or KDE (SolydK) desktop. The latest edition of SolydXK, released this month, provides a state-of-the-art Linux platform.
When I first reviewed the SoldXK distro back in 2013, it was an impressive new kid on the Linux block. Schoelje, a key developer of two discontinued desktop options within the Linux Mint distro, has helped the SolydXK distro grow into a reputable Linux offering built around two popular computing options.
Those two desktop options drew me to the Linux OS years ago. Both have their strong points.
Xfce is one of the older workhorse desktops and is a choice I often make when looking at new distro releases. The KDE environment, however, fell off my favorites list when the community started revamping the functionality and design of the Plasma desktop.
The major differences between them are the cadre of applications indigenous to each desktop environment. The look and feel of each one are very different. SolydXK's uniqueness lies in the software choices the community includes compared to the same desktop options in other distros.
The Xfce edition is a lightweight environment that leaves you feeling like nothing is missing. The KDE Plasma version is a heavyweight rendition that is filled with bells and whistles — sort of.
I recently starting focusing my attention on rekindling the flame of enjoyment I used to feel for KDE. Being very familiar with the Xfce desktop, I once again chose the Plasma option with the hope that SolydXK had tweaked its appeal.
No such luck, though. SolydXK is a well-rounded Linux distro. Its Xfce edition is nearly flawless. However, its Plasma offering has little to distinguish it from Plasma in other distros.
---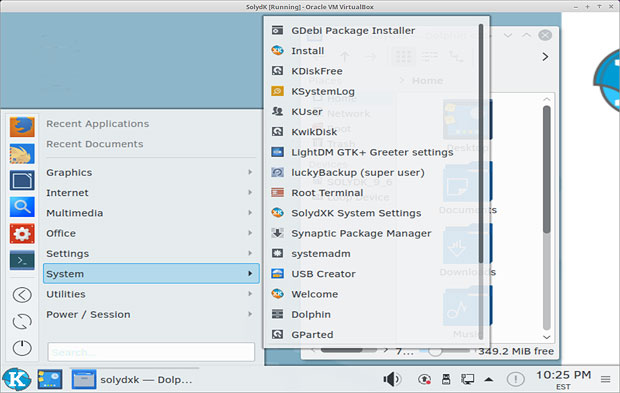 KDE's Plasma desktop is less than stunning but works well as an alternative option in SolydXK's latest release.
---
Still, the two-choice desktop option backstopped by the solid execution and rolling update makes SolydXK an all-around good choice.
Under the Hood
SolydXK's rolling release practice is not typical of most Linux distros. It eliminates the time-consuming process of making manual updates. No re-installation of a major new release is ever needed.
The current release of SolydK includes KDE Plasma version 5.8.6 with the KDE Frameworks version 5.28.0 and Qt version 5.7.1. This is a bit behind the curve.
The KDE community earlier this month released KDE Frameworks 5.42.0. KDE Frameworks are 70 Qt add-on libraries that provide a wide variety of functions within the desktop environment.
The community releases Frameworks updates monthly, so SolydXK's rolling upgrades no doubt will play catch-up with a series of its own updates.
The installed Linux kernel is version 4.9.0-5, and the SolydXK distro uses the Synaptic Package Manager.
What's Not Inside
SolydK ships with a disappointing selection of software compared to what other distros bundle with the KDE version.
This is a convenience factor more than a direct drawback. The sparse selection of applications gives you the bare necessities. Whatever is missing is easily installed from the package manager.
Especially with the Plasma edition of SolydXK, you do not get a Linux platform that is ready out-of-the-box. The Plasma desktop is very configurable, but you need to spend some time roaming through settings panels to get things working your way.
If you are not familiar with KDE, adjusting the look and feel to get your ideal animations and such can be daunting. Likewise, if you are not familiar with the variety of K family packages, be prepared to spend considerable time reading descriptions and installing or uninstalling choices.
---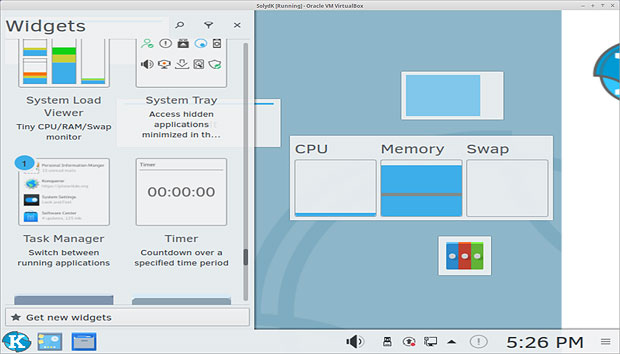 SolydXK's KDE edition has a variety of widgets to create a powerful desktop environment.
---
For example, the largest selection of software is in the utility realm. You get about one dozen K family applications, such as Gnote, K3b, Kate editor and KCalc. Most of the other menu categories are sparse, with one to three programs included per category.
For instance, LibreOffice version 5.2.7.2 is included, but the current release is pegged at version 5.4.4. Firefox ESR version 52.5.2 is the sole Web browser included. The standard release is version 57.0.4.
Many categories have but one option. The multimedia menu has only the VLC media player. The graphics category is filled with just Gwenview graphics viewer and Simple Scan.
The most impressively stocked categories are the System and the Utilities menus. There you find more than one dozen K-styled tools.
Bottom Line
Updated system components are now an urgent matter for all Linux distros. I was impressed that the latest SolydXK release includes kernel updates with the Meltdown vulnerability patch.
If you want a well-designed and well-maintained Linux distro, you can not go wrong with SolydXK. The Plasma edition has a lot of graphic embellishments to dress up your computer, but you will have to work at tooling the configurations.
Out-of-the-box, the KDE Plasma desktop looks plain and uninviting. Configuring Plasma is worth the effort when you have a variety of widgets and snappy applications creating a powerful desktop environment.
Want to Suggest a Review?
Is there a Linux software application or distro you'd like to suggest for review? Something you love or would like to get to know?
Pleaseemail your ideas to me, and I'll consider them for a future Linux Picks and Pans column.
And use the Reader Comments feature below to provide your input!