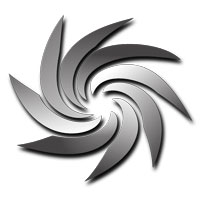 When I first reviewed the Game Over edition of SparkyLinux several years ago, I called it one of the best full-service Linux distros catering to game players you could find. That assessment extends to last month's release of the non-gaming edition of this distro.
The latest edition of SparkyLinux, version 5.0 "Nibiru," finds its true calling as a Linux distro that falls between those that are beginner-friendly and those that require some amount of Linux knowledge.
You can get a variety of editions with different desktop offerings, such as E19, LXDE and Openbox, from versions 4.5, 4.6 and 5.0. However, the best option now is the collection of upgraded features in the latest release.
SparkyLinux 5.0 is based on the testing branch of Debian. It features customized lightweight desktops that include LXDE, Enlightenment, JWM, KDE, LXQt, Openbox, MATE and Xfce. It comes with multimedia plugins, a selected sets of apps, and its own custom tools to ease different tasks.
Regardless of which lightweight desktop or window manager option you prefer, SparkyLinux gives you an operating system that is out-of-the-box ready for use. If you are a Linux purist with very particular distro demands, you can opt for one of the SparkyLinux minimalist releases.
For example, Sparky MinimalGUI gives you Openbox or JWM desktops under the hood and MinimalCLI provides a text-based interface. Both alternatives let you use the Sparky Advanced Installer to load the base system with a minimal set of applications.
Sparks Fly
SparkyLinux is not exactly a beginner-friendly distro, but Linux newcomers will find a much lower learning curve than many other Linux distros require.
The most satisfied user will have some working knowledge of how to set up a Linux system and use its core apps.
At first blush, you might get the idea that SparkyLinux is a Puppy Linux wanna-be distro. You can run it from a thumb drive. You also can supercharge its performance by loading it into your computer's RAM. The lightweight desktop offerings are intended to be fully hard-drive based, though. SparkyLInux does not use a frugal installation and special antics to provide persistent memory.
SparkyLinux is most attractive to two targeted user groups. One group wants an all-purpose home edition with all the tools, codecs, plugins and drivers preinstalled. The other group wants a distro either with everything ready and working from the first run with a minimal set of tools, or a base system waiting for them to set up their way.
Either way, SparkyLinux is a very functional Linux OS that can put a spark in your daily computing experience.
First Impressions
SparkyLinux uses Synaptic as the distro package manager. It gets its distro-specific packages from the Debian testing repository.
This release runs Linux kernel 4.11.6 as default. If you are more adventurous, you can opt to install Linux kernel 4.12.x from the Sparky Unstable repository.
SparkyLinux 5 has a clean and attractive main menu design. I selected the MATE desktop option because I have the least experience with it compared to the other desktop and window manager options.
---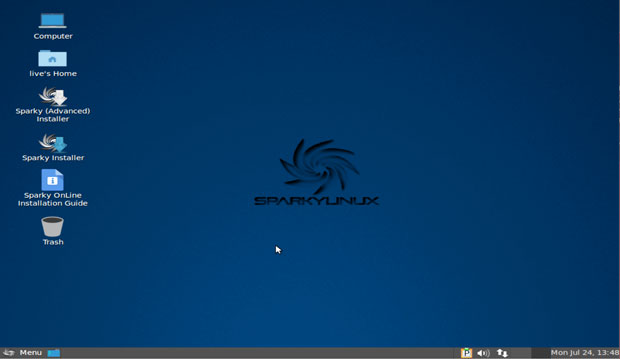 SparkyLinux5.0 provides a neat, clean MATE desktop as one of three default options,but numerous other choices are available.
---
MATE is a neat looking desktop environment that belies the lightweight desktop label. Other than missing some of the glitz and glitter of the special graphics effects you get with KDE or Cinnamon desktops, there is not much you can not do with MATE to get SparkyLinux to behave your way.
Workspace Switcher on the panel bar is preconfigured to show two virtual desktop spaces. Changing that setting is as simple as right-clicking on the switcher and clicking the plus or minus symbol in the pop-up workspaces menu. Follow a similar method for updating the date and time already displayed in the notifications area.
This convenient level of setup is largely a function of the desktop interface. Typically, you have to hunt down the settings in the system tools on the main menu. SparkyLinux has a very obvious focus on user interface convenience.
---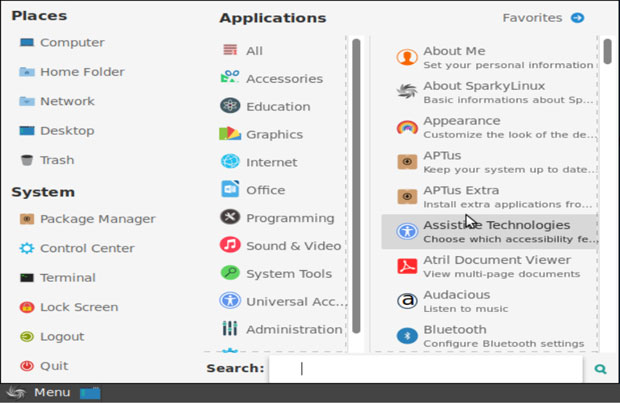 The mainmenu is clutter-free and very functional.
---
Installing It
SparkyLinux 5.0 has three installation options. The live session ISO has a direct link to the distro's online installation guide. This is very useful.
The Calamares installer is for general and experienced Linux users. The Sparky Installer provides an easy-to-fathom explanation of setting up partitioning choices based on the target computer's RAM size. This is the preferred installation option for newcomers.
The SparkyLinux Advanced Installer, forked from the Remastersys Installer several years ago, is a lightweight option that works well on older hardware that balks at running the main installers. The Advanced Installer has two modes: Yad-based graphical mode and text mode via a command line.
Be careful if you choose this installer option. The Advanced Installer requires greater attention than the other more automated installer options. This choice is less ideal for inexperienced Linux users.
Bottom Line
Other factors make using SparkyLinux 5 a smart decision. One is its use of a rolling release schedule that pushes the latest packages and edition upgrades as they are ready, without requiring a complete reinstallation.
Starting out, I referred to SparkyLinux as one of the best full-service Linux distros available. Of course, that is a subjective evaluation, but having installed and tested the latest editions of countless Linux distros on a weekly basis for years, I've developed a sixth sense for what makes a great choice and what does not.
SparkyLinux 5 is one of those great choices. Check it out.
Want to Suggest a Review?
Is there a Linux software application or distro you'd like to suggest for review? Something you love or would like to get to know?
Please email your ideas to me, and I'll consider them for a future Linux Picks and Pans column.
And use the Reader Comments feature below to provide your input!