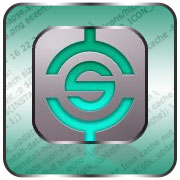 Synapse is a desktop utility that adds speed and convenience to finding files and launching applications. It does not eliminate the Linux distro's menu, favorites bar or panel icons. Instead, it cuts down on how often you resort to using them.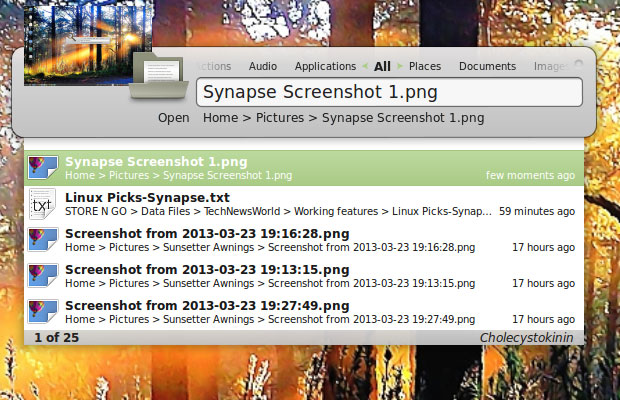 Synapse Search and Launch Utility
A semantic-based tool that makes use of the Zeitgeist engine, Synapse is a graphical launcher that pops up when you call it with the Control-Space key combination. Type what you want to do, and use the arrow and enter keys to navigate through a list matching your query. This is a mouse-free launching app.
If you previously tried launcher apps such as Gnome Do, you will quickly discover that Synapse goes far beyond that type of functionality. Even better, Synapse does not break my working rhythm the way clicking on a more traditional launch dock does.
Synapse combines finding files and installed programs with opening them. Its simple interface is a sheer pleasure to use. As you scroll thorugh matches of the search term, a thumbnail view of the image or file appears at the top of the pop-up window.
Universal Alternative
I tend to avoid using Ubuntu's Unity desktop with its lack of menu and cluttered Heads Up Display (HUD). Synapse on Ubuntu supplants HUD-like functions. Using Synapse with any of the desktop options in other distros is quicker and simpler than using the menus.
For example, Ubuntu's Unity HUD takes over the screen and still presents a wide array of files to search through. Synapse pops up a much more concise window that contains a far more narrowed list of file matches, thanks to the Zeigeist search engine. In fact, Synapse makes Unity far less necessary, which means I can run my Ubuntu-powered laptop more enthusiastically.
I also use Synapse for quicker access to files and applications in Linux Mint Cinnamon on my desktop and other laptop computers. My netbook's smaller screen balks at condensing Cinnamon's menu. It cuts off the search window and some of the icons in the favorites bar. So I run the Xfce desktop interface on the netbook, which is speedier than Cinnamon on that device, and use Synapse more often than the handy right-click full menu that the Xfce interface provides.
An Apt Name
Synapse is aptly named. It is a junction of input methods and the Linux OS's search capabilities. The idea for this app reportedly came from merging the Sezen file manager with the ability to run the Zeitgeist search engine from the panel with the features of the Gnome Do search and launch tool built in.
The result is the added functionality in Synapse that lets you rapidly search through categories of applications and files on your hard drive and scroll through the Zeitgeist log. Synapse embeds the ability to act on the search results from within the pop-up interface.
These actions are controlled by programs installed on your system and plug-ins you activate for Synapse. Changing the default action for any selected item in the search results is as easy as tabbing to another action choice.
Plug-in Power
The plug-in system is the real power behind Synapse. All of its functionality is based on the default plug-ins and the options they establish.
You can not add plug-ins from the developer's web site or elsewhere. However, ongoing development may add more that will be integrated with upgrades. Further development of the plug-in system can lead Synapse in new directions, according to Michal Hruby, the main Synapse developer.
Synapse now installs with plug-ins that control 11 functions. You can turn these plug-ins on or off with the click of an icon in the Plug-in tab in Preferences. No other configuration is needed.
What's Included
The Applications plug-in searches your desktop files. As you add or remove programs through your system's package manager or other repository manager, the Zeitgeist search engine automatically updates the entries in Synapse.
The Zeitgeist plug-in is part of the default installation and searches anything logged by Zeitgeist. The Hybrid search plug-in completes Zeitgeist results by searching for similar files.
The Commands plug-in runs any command you would normally issue from a terminal box, such as "sudo apt-get update" or basic file operations like copy or move, without using a file manager app. The Devhelp plug-in searches documentation using Devhelp.
Use the Gnome session plug-in to log out, shut down or restart the system. The UPower plug-in suspends or hibernates the computer. Typing these commands in Synapse is much quicker than sloshing through the point-and-click interface menu of any distro.
The Banshee and Rhythmbox plug-ins allow you to play or enqueue music files in either music application. If you do not have one or the other installed, that plug-in is not activated. Install the music application and restart Synapse to have it activated.
Word Power
Two of the default plug-ins are particularly handy for me. I spend way too much time reading a huge variety of content on my computer. The Dictionary and Dictionary Search features let me pop open Synapse, enter the word in question, and get an instant definition. Synapse does the heavy lifting so I do not have to stop what I am doing to load a web browser to search for and visit a dictionary site that contains the variation of the word I need.
Until now, I never bothered with the Gnome Dictionary. Instead I would always go online or use the built-in thesaurus feature in a word processor. In fact, I did not even have the Gnome Dictionary application installed on my computers. Synapse does the word quests for me.
Of course, I had to first install the Gnome dictionary and its three accompanying libraries. However, that was well worth the effort. The Gnome dictionary is very comprehensive and much faster than going out to the Internet for a word database. Plus, the Gnome Dictionary is local and does not require an Internet connection. It all amounts to speed and convenience.
Confusing Concept
Despite my raves about the dictionary convenience in Synapse, I still have some criticism of it. From my view, it does not work as described and as expected, but it does work.
Enter a word in the Synapse window. That goes to the web browser and automatically opens a Search list of dictionary sites to select. This is a standard response from querying the term "dictionary" in a web browser.
Getting a word's definition involves Synapse opening the web browser and getting the results page for dictionaries. Then I have to click on a dictionary and enter the word at that location, or enter the word in the browser's search window.
With the Gnome Dictionary installed on the computer, I can use Synapse to load that dictionary. Then I only have to type the word needing a definition. In an eye blink it appears in the Gnome Dictionary window. Synapse documentation, however, implies that Synapse will simply take the entered query word and fetch the definition in the default dictionary. It does not.
This seems to be a bug in the program. The Gnome Dictionary app has a preference panel that lets me set it as the default dictionary to access. That does not matter. Adding insult to injury is the blank help page for dictionary settings on the Synapse web site and the unresolved bug report on this very failure from earlier this month.
Bottom Line
Synapse is a very useful desktop utility that improves your interaction with whatever Linux flavor you run. The easy-to-use app pops up in the center of the screen when needed. Otherwise, it stays out of the way.
I have used a variety of docks and launchers over the years and tired of them all after a while. Synapse is such a basic integration with how I work that I am confident I will be keeping it around and using it often.
Want to Suggest a Linux Application for Review?
Is there a Linux software application you'd like to suggest for review? Something you love or would like to get to know?
Please send your ideas to me at [email protected], and I'll consider them for a future Linux Picks and Pans column.
And use the Talkback feature below to add your comments!