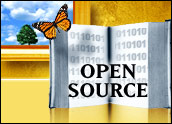 Popularity may be a menace as well as a benefit for the open source software movement, according to an analyst at Forrester Research in Boston, Mass.
In a report titled "Vendors Refine Their Open Source Strategies/The Risk of Subverting Open Source Freedoms Mounts," Senior Analyst Michael Goulde cautions the open source community about the corrupting influence profit-seeking software players could have on its ecosystem.
"As major software suppliers adopt open source software as part of their strategies, the risk increases that the goals of the open source movement — user freedom to use, modify, and distribute software — will be undermined," Goulde wrote in the report's Executive Summary.
Maintaining the Purity
More and more vendors are trying to cash in on the popularity of open source software while retaining the principles of their legacy business models, he maintained.
"As a result," he wrote, "it is becoming increasingly difficult for the traditional open source adherents to succeed in maintaining the purity of the model they created."
"The traditional open source project with a large community and volunteer contributors is going to be diluted by extensive vendor participation," he told LinuxInsider in an interview.
"The dilution doesn't necessarily mean that projects will be compromised," he added, "but there is that risk if vendors try to steer a project in a direction that's more favorable to their strategy."
Community Will Respond
Rod Cope, CTO and founder of OpenLogic, a packager of open source programs in Broomfield, Colo., maintained that the Forrester report was as much a warning to acquisition seekers as it was to the open source community.
"I think the message to the buyer is, if you don't respect the open source community they're going to do something about it," he told LinuxInsider.
"If they do come in with the message of greed and corporate takeover and they try to remove freedoms or remove licenses or something like that," he continued, "I think the community will respond by forking the project or start up a competing project.
"In either case, the open source community is going to continue around the project," he added, "so it's in the best interests of the company to not misbehave."
Exploring the Edge
Attempts by traditional software vendors to experiment with open source programming need not be nefarious, according to Russell Nelson, vice president of the Open Source Initiative.
"I think Goulde is noticing that vendors are exploring the edge of the open source effect," he told LinuxInsider." They'd like to sell as much as they can and give away as little as they can while still retaining the open source effect. This isn't a bad thing. It's simply a result of more people being interested in making money off open source.
"I'm not worried about this," he continued. "The open source effect enforces itself. No amount of 'cheating' or 'leveraging' or 'undermining' or 'exploiting' will enable you to make use of it without helping the public."
Mitigating Against Corruption
Dave Rosenberg, principle analyst with Open Source Development Labs, an open source advocacy group in Beaverton, Ore., argued that there were things in the open source ecosystem that mitigated against corruption of the movement's ethic.
"You have access to the source code so if someone wants to go off and build something on top of it or monetize it or whatever else, it doesn't preclude others from doing so as well," he told LinuxInsider.
"And there are things in place in terms of copyright and such that help to insure that code is protected in a way that is beneficial for all than to just one," he averred.
Powerful Force
Michael Tiemann, vice president for open source affairs for Linux distributor Red Hat in Raleigh, N.C., was very critical of the Goulde's report.
"His conclusion is contrary to virtually everything I've seen in my 17 year history of commercial free/open source solutions," he told LinuxInsider.
"I believe that the effect of open source on the proprietary vendors is a force 1,000 times more powerful than the force of proprietary principles on the open source community," he declared.
"From time to time we do see some charlatans claiming to be committed to open source when it is really the success of open source that they covet," he continued, "and from time to time we see them fail and blame open source instead of themselves.
"But looking for the effect of proprietary software on the open source community is like trying to measure the gravitational effect of the earth on the orbit of the Sun," Tiemann added.