T-Mobile officially unveiled its G2 smartphone, the successor to the world's first Android-powered mobile phone, touting its faster Web-browsing experience and direct integration with Google services.
The G2, which is designed specifically for T-Mobile's new HSPA+ network, features downloads at "4G speeds," according to T-Mobile. The network is expected to reach more than 100 million Americans in 55 major cities across the country when the smartphone becomes available later this month.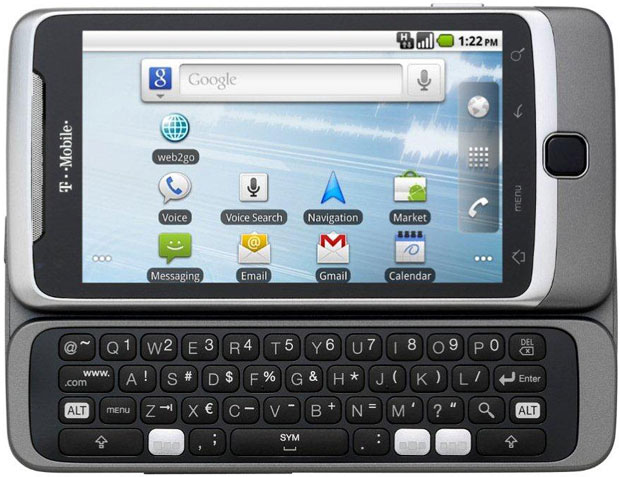 T-Mobile's G2 Android Smartphone
The G2 sports a 3.7-inch touchscreen and a Qwerty keyboard that swings on a unique hinge. Its Snapdragon MSM7230 processor, which clocks in at 800 MHz, will support longer battery life and multimedia viewing.
Evolving Market
"It's hitting on all of the right cylinders," Ramon Llamas, a research analyst with IDC, told LinuxInsider. "It doesn't seem to be too big or too clunky. I don't think it will scare people away."
The G2 is designed to provide customers with faster access to websites, applications, videos, file downloads and more.
Built on Android 2.2, the G2 offers seven customizable home screen panels, including a dedicated panel with one-click access to Google services such as the Android Market, which currently offers more than 80,000 applications.
"The G2 is not as revolutionary as the G1," said Jeff Kagan, an independent wireless telecom industry analyst. "I don't think it's going to rock the world. This will be a winner, but it won't be a breakthrough device."
A Google Phone
Still, users will still like its features and the 4G speeds that will be available, Kagan told LinuxInsider.
"4G allows you to do more things — like watching videos, which require more speed and bandwidth," he noted. "4G is important because it does give them speed. You can download more data and have better quality."
The T-Mobile G2 will be tightly integrated with Google Voice, Voice Actions, and several other Google offerings.
Voice Actions allows users to control the phone with their voice — to call contacts and businesses, send messages, browse the Web, listen to music and complete tasks.
The G2 will be the first smartphone to offer integrated access to Google Voice, allowing customers to create a new account using their current mobile number right from the home screen. Google Voice automatically transcribes voicemails to text so customers can read them like an email or text message either on their phone or on a computer.
Speed Is Key for Smartphones
The G2's Snapdragon MSM7230 mobile processor, which runs at 800 MHz, will be a selling point for users who want speed. It combines Qualcomm's new HSPA+ capabilities and second-generation applications processor. The Snapdragon MSM7230 is designed to deliver longer performance and quicker multimedia and Web browsing — with download speeds faster than other solutions currently in the market.
"Speed is one of the big touchpoints," emphasized Llamas. "People want speed. If you are going to do multimedia and video clips, it's great to have that speed."
The G2 also includes an HD video camera for recording high-definition videos, and a 5-megapixel camera with LED flash and autofocus. It offers access to personal and work email, as well as support for Microsoft Exchange, contacts and calendar; social networking; and instant messaging. In addition, the G2 features a pre-installed 8-GB microSD memory card with support for up to 32 GB, as well as a music player.
The multitude of features isn't for every smartphone user, however, said Kagan.
"There is no perfect smartphone," he remarked. "Customers have to choose based on what they want. Smartphones are constantly evolving and growing."
T-Mobile wants to "generate a lot of buzz" with the G2, Llamas said, in the hope of expanding its mobile broadband reach.
"It's going to be very competitive," he predicted.