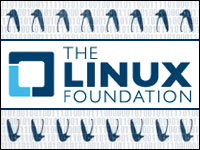 The Linux Foundation on Tuesday addedPNDA — the Platform for Network Data Analytics — to its project menagerie.
PNDA provides an open source, scalable platform for next-generation network analytics. It integrates data from multiple sources on a network and works with Apache Spark to crunch the numbers in order to find useful patterns in the data more effectively.
The project is now available in its initial platform release. Early PNDA supporters include Cisco, Deepfield, FRINX, Intersec, Moogsoft, NGENA, Ontology, OpenDataSoft and Tupl.
The Linux Foundation hopes that bringing this project under its purview — which gives it greater exposure to open source communities — will accelerate its features growth.
"The main significance is the legitimacy that becoming a Linux Foundation project confers on PNDA," said Charles King, principal analyst at Pund-IT.
"Bringing it into the foundation may also speed integration of new features, such as Hadoop distribution independence, container support and integration with deep learning frameworks," he told LinuxInsider.
Simple, Scalable, Open
PNDA's chief goal is to remove complexity by integrating, scaling and managing a rich set of open data processing technologies. The result is an end-to-end platform for deploying analytics applications and services, according to the Linux Foundation.
It addresses a critical need for a scalable platform that fosters innovation in reactive network analytics. It will benefit both service providers and enterprises, said Jim Zemlin, executive director of The Linux Foundation.
"The adoption of open source software has transformed the networking industry by reducing technology fragmentation and increasing user adoption," he said.
Target users include anyone developing big data analytics applications for network and IT use cases involving operational intelligence and business intelligence, said John Evans, a distinguished consulting engineer at Cisco.
Startup Features
PNDA's initial release enables end-to-end platform provisioning and management, along with application packaging and deployment. The platform's initial functionality makes it an easy way to monitor OpenStack implementations.
It is fully functional and available for download as a production-ready solution on OpenStack-based platforms.
Cisco contributed code for its feature set. Support for bare-metal and public-cloud provisioning is expected later this year.
Open source developers plan additional contributions to extend and innovate upon PNDA's initial capabilities. Features in the works include Hadoop distribution independence, platform infrastructure validation, container support, additional data publishers, and deep-learning framework integration.
Different Approach
PNDA fills an industry gap for an open analytics platform. Previously, the choices were limited to purchasing proprietary solutions or investing in custom development of siloed data processing pipelines for each application based on open source component software, Cisco's Evans told LinuxInsider.
"There is significant similarity and duplication of effort in building these data processing pipelines," he pointed out, while "the siloed approach leads to industry divergence."
PNDA offers a streamlined alternative by allowing users to focus on developing the applications, rather than developing the data processing pipeline, Evans explained.
Cross-Project Confluence
The network data analytics platform complements some of the existing major open source software-defined networking efforts. It also advances network virtualization functions.
"As an open source platform, PNDA provides a convergence layer for network data analytics. PNDA is also complementary to other open source projects developing orchestration and control platforms — for example, Openstack and OpenDaylight," Evans said.
In addition, PNDA supports network orchestration efforts such as OpenDaylight, Open Platform for NFV and FD.io.
It also offers synergy with the Open Data Platform initiative. ODPi defines a common runtime specification, reference implementation and test suite for Hadoop-based distributions, including PNDA.
Pushing the Envelope
In short, PNDA is working to take the confusion out of big data analytics. There are currently numerous open source analytics projects under way, with scores of participating vendors and hundreds of developers, Pund-IT's King noted.
"The difficult question for many businesses is simply where to start, and PNDA purports to supply that answer," he said.
The project's focus on network-attached data sources makes it good for monitoring and analyzing OpenStack implementations today, said King, but it's likely that its value will extend to a far wider range of processes and use cases over time.