Would you buy a high-end laptop built completely around open hardware and the Linux distro of your choice? Novena offers that opportunity, but it comes with an out-of-the-box experience that might be beyond the reach of the typical computer consumer.
That said, the Novena laptop's experimental technology has the potential to offer new options to a sluggish computer industry. Novena is an open-hardware computing platform that is flexible and powerful. It is designed for use as a desktop, laptop or standalone board.
Two engineers cofounded Sutajio Ko-usagi, an operations-oriented company focused on the manufacturing and sales of hardware to OEMs and hobbyists.
Since Sutajio Ko-usagi is difficult to pronounce in English, the Novena developers shortened it to "Kosagi," noted cofounder Andrew "Bunnie" Huang. Huang also runs the IP-oriented Bunniestudios.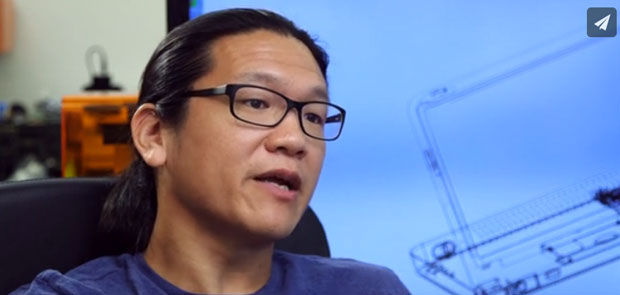 Kosagi cofounder Andrew "Bunnie" Huang
Huang teamed up with cofounder Sean "Xobs" Cross to change the market with a transparent notebook made of open source components. The concept started as an experiment in a make-it-yourself computer line. The niche offering is gathering momentum, however.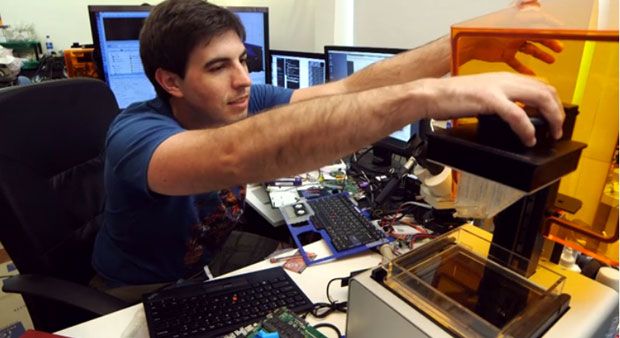 Kosagi cofounder Sean Cross works with theopen hardware laptop components.
"One big advantage to building a fully open source laptop is the knowledge that manufacturers did not alter the design of the hardware to introduce security risks," Huang told LinuxInsider.
Crowd Financing
Huang and Cross obtained financing for their startup's operations through crowdfunding on Crowd Supply. The Novena campaign ended May 18, after raising US$717,285 — far surpassing its $250,000 goal.
The engineers have tested the prototype, and pre-orders are coming in. They expect to start shipping by November or December of this year, according to Huang.
The Novena computers laptops are being manufactured by a contractor with whom they have worked previously. The distribution is being handled by Crowd Supply.
That is one of the advantages over funding through Kickstarter, said Huang.
The Hardware
Novena is a 1.2-GHz Freescale quad-core ARM architecture computer closely coupled with a Xilinx FPGA. It is designed for users who care about the free software and open source movement. It also targets users who want to modify and extend their hardware.
All the documentation for the printed circuit boards is open source and thus free to download. The entire OS can be built from source. Plus, it comes with a variety of features that facilitate rapid prototyping.
The i.MX processor family encompasses a quad-core platform running up to 1.2 GHz with 1 MB of L2 cache and 64-bit DDR3 or 2-ch. 32-bit LPDDR2 support. Integrated FlexCAN, MLB busses, PCI Express and SATA-2 provide excellent connectivity. The integration of LVDS, MIPI display port, MIPI camera port and HDMI v1.4 makes it an ideal platform for leading-edge consumers, automotive and industrial multimedia applications.
The Spartan-6 LXT FPGAs deliver up to eight 3.2-Gbps GTP transceivers and an integrated PCI Express Endpoint block. Both of these components are derived from Virtex FPGA family technology. They provide low-risk and low-cost solutions for serial connectivity.
Of course, this technology is probably much more high end than the typical Linux user needs. However, beyond hobbyist bragging rights, the Novena computer configuration could offer a computing solution not found anywhere else in the market — and it is open source technology.
Idea Kernel Grew Fast
When Huan first ventured into working with hardware, his efforts were fueled by the availability of schematics for his Apple II computers. He revisited that thrill by building a laptop of his own design from the ground up.
Last year, the two engineers gave a presentation at a conference where the idea for their own hardware surfaced. Interest in the project grew from there.
They built all the circuit boards. They built the chassis and everything that goes with it up to the operating system level. All of it is open hardware.
If You Build It, Will They Come?
Open source hardware has another benefit. That is, if you can hack it yourself, you own it. The laptop design includes everything a hands-on computer hacker would want to enhance and use his equipment, according to Huang and Cross.
Their reference to "hacker" refers to computer hobbyists who make innovative customizations to computer equipment.
The two decided to build an open hardware computing platform originally as a hobby. Both computer engineers, Huang and Cross spent their workdays designing equipment for other companies. They wanted to build a system for themselves for a change.
Hobbyist Hoedown
The Novena computer family has four models. All of them are built around a unique design. Still, they are not what an ordinary everyday consumer might want.
The screen uses a self-opening construction that lets users open the case easily to access the hardware under the keyboard.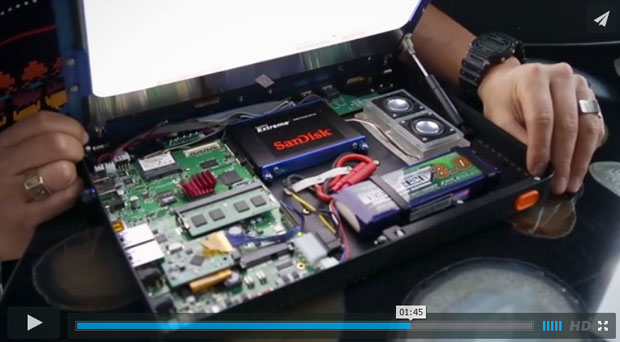 A pop-up screen design lets users easilyaccess the open hardware components under the LCD screen on the Novenacomputer.
The options are pricey, Huang acknowledged.
"The prices are a bit higher than you would normally expect to pay. Our customers are willing to pay for the interest in the type of model being offered," he said.
All configurations run on Debian (GNU/Linux) preinstalled. However, users can build or install whichever OS distro they prefer.
The Product Line
Just the Board ($550) provides the bare basics for users who want to build their case and define their own style. This option includes the main PCBA configured with 4 GB of RAM, a 4-GB microSD card, and an Ath9k-based PCIe WiFi card. It boots to a Debian desktop over HDMI.
The All-in-One Desktop ($1,315) comes complete, minus the keyboard and mouse. Included are the circuit board inside a hacker-friendly case with a Full HD (1920 x 1080) IPS LCD. It comes with an extra aluminum bezel to hack on.
The laptop ($2,195) version is the desktop and case plus a battery controller board and 240-GB SSD, and a user-installed battery. It contains the same case, board and LCD as the desktop version.
The Heirloom Laptop ($5,000) version has almost the same components as the all-in-one model. The sole exception is a 480-GB Intel 730 SSD. Of course, it's inside a stunning handcrafted wood and aluminum case made by Kurt Mottweiler.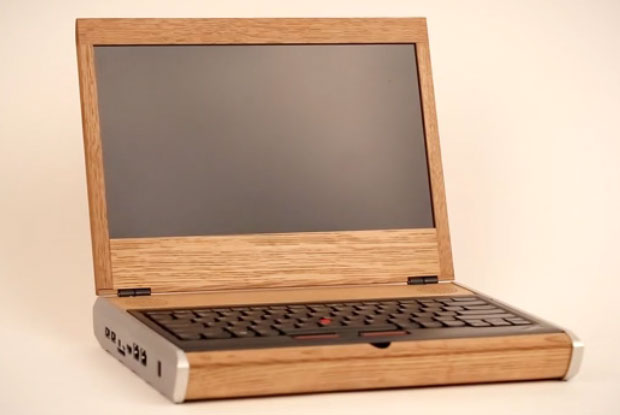 The Heirloom Laptop with its stunninghandcrafted wood and aluminum case sells for a pre-order price of a mereUS$5,000.
ARM Underpinnings
"We used ARM architecture in the past and found it to be a suitable choice for our planned design," Cross told LinuxInsider.
Because of the ARM structure, there is no question of BIOS. ARM is more open, he explained.
Cross and Huang have run a variety of Linux distros on their hardware. They settled on Debian Wheezy because of its reliability and community support.
That suitability plays into Cross's short-term goal to get as many of the design improvements and coding as he can into mainline Linux.
Changes Coming
The design plans for the near future involve better audio software for Linux in general. For example, Cross has written audio codecs that are much less expensive.
"Another goal is to improve on the laptop's design in a second-generation product that uses newer chips," said Cross.
He also hopes to benefit from the experience he gained in working with the present Linux kernel. That experience will help him make more improvements in the laptop's design and performance.
Huang wants to follow up on the strong Linux community interest in the open hardware concept. That interest may be directed to developing 3D graphics.
"I want to listen to our users and go from there," said Huang.
Why Open Hardware?
The lack of Linux-powered laptops in the mainstream market could couple nicely with home-grown equipment. Hardware developers have not flocked to selling Linux-installed laptops.
"The market is too small for the risk and development costs," Huang said.
Compared to what an established manufacturer would experience in potential sales, he and Cross have a small company with a relatively small market by comparison. The laptop market yields low profit margins. so a hardware maker would need to sell hundreds of thousands of units to recoup the R&D.
"Typically it is much safer for a mass marketer to get behind Windows," Huang said, although "some manufacturers do offer a Linux installation line and are doing well within that market."
Room for Success
Novena's uniqueness and its potential for success as open source technology give the new Kosagi company a viable shot at hitting its sales targets.
"Based on the way Novena is positioning itself, I believe it will have niche market appeal among bleeding-edge, engineering-oriented power users and technology gurus and purists," Laura DiDio, principal analyst at ITIC, told LinuxInsider.
Their marketing collateral says it all. It is an open source project, which means part of the joy and frustration of the device is that it is continuously improving, she explained.
"So essentially, the folks behind Novena are saying: We have provided you with all the necessary disclaimers — proceed at your own risk. However, if you are up for it, get ready for a wild and fun ride," said DiDio.
Still Risky Business
Tech gurus who are prepared to be pioneers and depend upon their own technical savoir-faire and the support of the Novena community can really break new ground in performance. However, the potential downside to any highly customized open source hardware and software environment is that it may not have the necessary integration and interoperability with standard desktop, laptop hardware and operating systems, DiDio noted.
"So that could be problematic," she said. "That does not rule out the possibility of success, though. The open source community is very large and vibrant. There is no shortage of people who are willing to experiment — and today's experimental technology always has the potential to be adopted as an industry standard five, 10 or 20 years from now."
At this point, an open source hardware laptop has limited niche market appeal to very bleeding/leading-edge adopters in specific vertical markets, DiDio noted. That market includes science and engineering, geologic and weather forecasting, aerospace and aeronautics, graphic design, videography and seismography.
"The Novena technology is not run-of-the-mill commodity stuff. It is not going to appeal to Joe or Jane average users," she said.
Timing Counts
Developing open source hardware laptops at this juncture might tie into some significant changes in client device computing, according to Jay Lyman, senior analyst for 451 Research.
"First of all, cloud computing is having an impact on nearly all devices and users, whether consumers or in the enterprise. Second, Novena enters a computing device market that is populated not only by desktop and laptop PCs, but Macs, Chromebooks, tablets and of course smartphones and other mobile devices," Lyman told LinuxInsider.
Cloud also impacts developers and IT admins, who must be more cloud-oriented not only in their application and feature development, but also in the deployment and management of their applications. So it may be easier for the device to find a niche of users, developers and supporters in this fragmented market, particularly given enthusiasm for open source software and open technology in many circles, he explained.
"When it comes to the manufacturers, there would be significant doubt about a new open source or open technology competitor in the market if it were not for the wild success of Android, an open platform and ecosystem that rapidly rose up to challenge the dominant, proprietary technology of Apple's iPhone," said Lyman.
That's not to say Novena is the next Android. Still, he noted, it shows the market — including providers and users — that open technology is capable of business success in addition to rapid innovation.