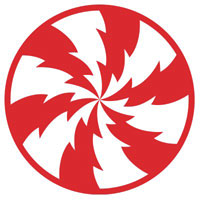 The Peppermint operating system is built around a concept not found in most Linux distros. It is a hybrid combination of traditional Linux desktop applications and cloud-based infrastructure.
Peppermint 7, the annual update released in June, is a lightweight distribution based on Ubuntu 16.04. It uses LXDE as the default desktop environment, and shows considerable growth since our review of Peppermint 5 two years ago.
The key to this process of linking full desktop functionality to cloud apps is an in-house developed application dubbed "Ice." Peppermint makes heavy use of site-specific browsers, or SSBs. The Ice application easily controls the process of creating one-click access to cloud-based infrastructure through the browser.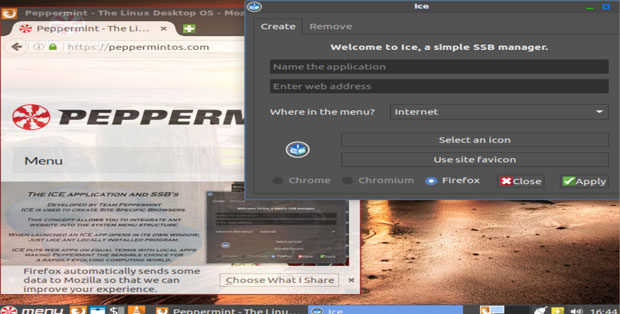 Peppermint's Ice technologyis a site-specific browser that lets you easily create a launcherconnecting a website with desired content or services.
Peppermint 7 comes in both 32- and 64-bit editions. The 64-bit edition, with full UEFI/GPT/Secureboot support baked in, runs a new version of Ice with full Firefox Web browser support, as well as Chromium and Chrome.
New in Peppermint 7
The latest release shifts to the Ubuntu 16.04 (Xenial) code base. This is in keeping with the developers' policy of choosing the best components from other desktop environments, wherever they may be, and integrating them into a cohesive whole with Peppermint's own software.
Peppermint 7 stays with LXDE core session management for lightness and speed, but it adds a more modern, functional and customizable main menu. Two other key changes are a swap of lxpanel for the Xfce4-panel and the Whisker menu, along with a new Settings Panel to consolidate settings into one place.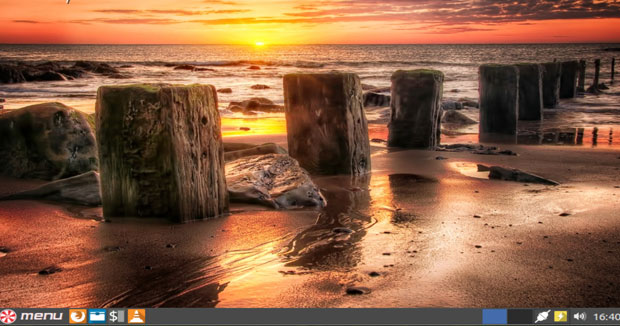 The Peppermint OS LXDEdesktop provides a familiar, uncluttered and simple computing platformwith plenty of access to additional software and Web-based services.
The change to the Firefox Web browser resulted from Google's decision to end support for 32-bit Chrome and move to PPAPI plugins that ended flash support in 32-bit Chromium. This is the first time since Peppermint 1 that the community has adopted Firefox as the primary browser, which is significant since the Ice app is closely aligned with the Web browser.
The return to Firefox required a rebuild of Ice to allow Firefox to open SSBs in a similar fashion to Chromium's "–app" mode. However, if you prefer the Chrome or Chromium browser, you can still install it as your default choice. The Peppermint developers kept full support for the creation and removal of SSBs in all three browsers.
New Look, Same Feel
Long-time users of earlier Peppermint editions will notice a new look. It is flatter with a dark GTK appearance and colorful icon choices. This default theme change is not reflected in the appearance of Firefox, however.
The browser has issues with dark GTK themes on some websites, so the Peppermint developers locked Firefox to a light theme independent of the system default. You still can carry the new theme into Firefox by using a new tool called "Firefox Themer" in the Peppermint Settings Panel to unlock/relock the Firefox theming.
Another change is the swap to Pluma from the gEdit text editor. This could be a nice upgrade. Pluma is a fork of gEdit 2 used in the MATE desktop environment. It brings more functionality through additional features and plug-ins.
The Peppermint developers made the switch to get around how gEdit handles windows decoration. Its odd behavior interferes with the rest of the system theming.
Virtual Snafus
I did not experience any issues with installing Peppermint 7 in Virtualbox for testing, but some users have reported trouble that is hardware-dependent. Those graphics issues cropped up during the install on recent versions of Virtualbox. The Peppermint 7 ISO reportedly goes into abnormal resolution that scrambles the graphics in Virtualbox.
The workaround, according to the Peppermint team, is to tweak the installation in a relatively simple way. When you first load the Live CD in the virtualbox, hit F6. When you see "Try *ubuntu" or "Install *ubuntu," hit the Esc key.
Next, look for white letters at the bottom of screen ending with: "-quiet splash." Change to this: "-quiet splash vga=791" (do not use parentheses). Then hit the enter key to boot.
This forces GRUB to hold the resolution at 1024x768x16. The VM instance should boot perfectly, so you can continue with a normal Virtualbox installation.
Icing on the Web
Peppermint takes a path that at first seems similar to the Google Chromebook platform or rebranded Cub Linux (formerly the Chromixium distro). Both use the Web browser as the OS or as an integral part of it, but the similarity ends there.
Peppermint's innovative approach provides installed software that runs without cloud interaction. The Peppermint OS is not tethered to the Google apps infrastructure.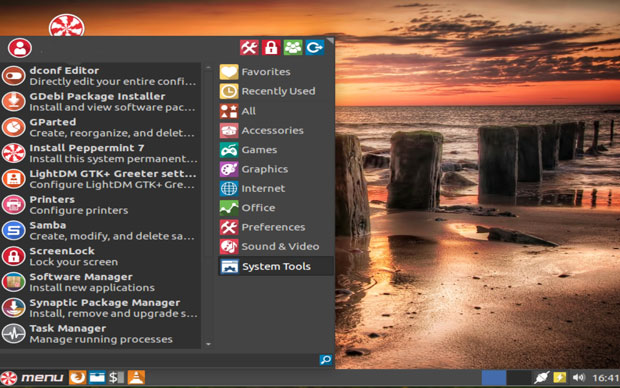 The Peppermint OS integratestraditional Linux software with cloud-based computing tools.
Instead, it uses the crafty Ice SSB, which lets users easily create a launcher that connects to a website with desired content or services.
Ice technology enables Peppermint users to connect to cloud applications by clicking additional menu items. The user does not manually navigate to the Internet location in a URL window within a Web browser. Rather, the browser contains and displays the Web application in a window.
Fully Functional Desktop
Peppermint runs a fully functional Linux distribution. You install Linux software and run cloud applications without being tethered constantly to the Internet. Several package repositories are provided in Peppermint 7.
Until you actually create a menu shortcut to a Web service, you easily can miss the convenience of SSBs. If you are heavily invested in Web applications, using Peppermint could be a no-brainer.
Ice allows an application to function more like a standalone window rather than running directly through the Web browser. This approach offers the advantage of additional screen space as well. SSBs do not include all the functions and menus of a browser.
Using the Ice technology in the Peppermint OS is much like launching a Web service or other Internet location on a smartphone or tablet. For instance, you launch Google Docs, Gmail, Twitter, Yahoo Mail, YouTube, Pandora or Facebook as self-contained apps on a mobile device.
However, these pseudo apps never need updating on Peppermint. Ice easily creates a menu entry to launch any website or application as if the package were installed on the hard drive.
Out of the Box
Peppermint 7 is a pleasant looking and easy-to-use Linux distro. It comes stocked with a handy variety of accessories and system tools. However, the standard fare of office suites is sorely missing. Other than a smattering of apps like Gmail and Google Drive, you get only a text editor. Even standalone spreadsheets are missing.
This is no doubt part of the philosophy behind the Web app approach that drives this distro. You have to pick office products to install.
Finding software to install is no problem — the Peppermint repository is well supplied with thousands of titles. The software center application is uncluttered and easy to navigate.
Just click the All Categories tab and enter the name of your favorite applications. My cursory survey found everything that I use in my daily computing workload. If you can not find what you need, however, switch to the Synaptic Package Manager.
Bottom Line
Peppermint is a solid Linux operating system with a record for good performance and reliability. It is an ideal choice for handling everyday computing chores.
LXDE provides a fast and friendly desktop environment. The entire desktop package and tweaked Peppermint 7 settings give you lots of options for creating a comfortable platform. My only dissatisfaction is the lack of much in the way of desktop animation effects. All it provides are semi-transparent application interfaces in the background.
The Peppermint community is headed by the Peppermint OS LLC, a software company based in Asheville, North Carolina. Founded in 2010, the open source company issues one major release per year. A partial upgrade rolls out periodically.
Want to Suggest a Review?
Is there a Linux software application or distro you'd like to suggest for review? Something you love or would like to get to know?
Please email your ideas to me, and I'll consider them for a future Linux Picks and Pans column.
And use the Talkback feature below to add your comments!