To buy a flashy new ultra-thin framed 3D TV or not: Like many consumers over the holiday buying hustle, I struggled with that question. I finally gave in and decided to buy one.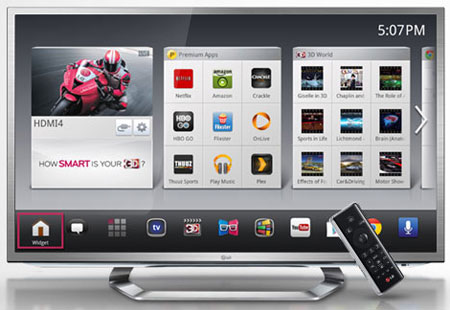 Embedded Linux is the brain that powers most smart TVs.
That decision was not an impulse-only submission, however. I was toying for a while with replacing my aging 42-inch plasma HD "dumb" TV set and finally bought a 55-inch 3D smart TV. In making that choice, I relied on the product-research skills my years of hands-on product testing of computers, mobile gear and software taught me. Ultimately, two factors were the deal makers — price and features.
Truth be told, I really did not need to replace my comfy plasma model yet. Dumb or not, it has an awesome picture that still rivals the clarity of the non-3D digital channels on my smart TV. I already work with a home-office full of desktop computers, laptops, netbooks and two tablets plus a high-end smartphone. My used-to-be high-end plasma TV works great connected to a game console that brings wireless Internet, a nifty Blu-Ray DVD player and a state-of-the-art external sound system.
The DVD player, game console and sound system still work fantastically connected to my new TV. The pre-installed smart TV apps are interesting, but so far not essential. The manufacturer's app store — it's an LG set — shows promise if it grows the types of apps available.
The Internet-capable game console already exposed me to the advantages of streaming videos from Netflix and limited access to interactive features and Internet-based entertainment options. But the smart TV packs many more nifty viewing and entertainment features into the larger display space.
One big problem now exists, however. I have a difficult time tearing myself away from the stunning 3D programming available from both my cable provider and the impressive free offerings from the LG cloud server. Plus, the 2D-to-3D converter feature built into the smart TV set lets me view anything on the screen as a pseudo-3D image. The lightweight glasses (six pairs included) need no batteries or charging.
Primer More Than Review
Be on guard if you are pondering an upgrade from your dumb TV to a smarter species. I discovered that not all smart TVs are created equal and use manufacturer-specific apps and features. About the only things in common when it comes to smart TVs are their reliance on an embedded Linux open source platform and their range of display screen technology.
Price is not always a reliable determiner of which set to buy. The smart TV technology is in its infancy. What you buy today may not survive the shakeout tomorrow.
Remember the industrial fight over Betamax and VHS and the BluRay DVD standards battle? The same results can happen with Plasma vs. LCD (Liquid Crystal Display) technology and the new battleground involving OLED vs. 4K LED screen technology.
What follows is not a narrow product review of the 55-inch 3D LM7600 series LG smart TV I purchased. Rather, I offer you highlights of my hands-on shakeout experience with my smart TV and a quick learning guide on what is involved in sizing up the purchase options. Thus, you will not see a star rating scale for this product discussion.
Linux Connection
TV makers for years have implemented elements of embedded Linux to run remote control devices and to control audio and video delivery in their products. Linux continues to be the OS platform of choice in some of the newest smart TV products on store shelves today.
OEMs are continuing to put Linux inside. For example, MeeGo is a Linux platform that delivers an Internet-connected TV experience with an open standards-based Linux stack. It runs Blu-ray players, set-top boxes and digital TVs.
Linux4.TV is an open source website for interactive set-top box technologies based on the National Semiconductor Geode SC1200 integrated processor and SP1SC10 development platform. This website provides open source drivers, applications, plug-ins and toolkits that form the foundation of a feature-rich interactive set-top box system.
Even More Linux
smart TVs continue with Linux where set-top boxes leave off. For instance, Embedded recently announced that Sony's Bravia LCD TV line is built with embedded Linux.
Samsung plans to launcha new version of its smart TV software development kit at the 2013 CES. This new version will let developers build applications for Samsung TVs on Linux and Mac systems.
My LG smart TV uses NetCast, an open source tool for transmitting data from one source in the network to multiple sources/ The data is delivered at full network speed using multicasting.
LG uses NetCast technology in its video-streaming smart TV feature. These NetCast services include CinemaNow, Netflix, Voodoo, Pandora, YouTube, Yahoo TV Widgets and Google's Picasa.
What It Is
Smart TV technology is a work in progress in its prepubescent stage. Think of the convenience now available from high-end mobile phones and tablets. Add to that mix the power of laptops to access the Internet and do advanced computing tasks and graphic editing.
Smart TV enters the fray somewhere in between. Like early tablets, smart TVs are consumer devices for entertainment, not productivity.
However, the current generation of smart TV is more a high-end television with Internet privileges than a low-powered computer that displays television programs. Depending on the appliance, the remote control serves as a limited mouse pointer and a finger to tap a virtual keyboard. Some smart TVs have wireless keyboards and ports for USB storage and external hard drive connections. In either case, full computer functionality is so far missing.
What It Does
Some smart TVs let you install platform-specific apps to add additional viewing and gaming features. Smart TVs run a complete operating system or mobile operating system software, providing a platform for application developers.
They can also provide access to user-generated content stored on an external device or in cloud storage. Almost all smart TVs today provide built-in access to interactive services and Internet applications such as YouTube, Facebook and a host of similar on-demand movie and music website services.
Some smart TV makers are developing their own app stores where both free and premium services are available. But so far, the apps do not provide a wide range of activities like the ones now available for mobile phones and tablets. smart TV apps so far are mostly vehicles for accessing interactive on-demand media, personalized communications, and social networking features.
Alphabet Soup
Television screen technology is becoming more involved than computer terminology. Here is a quick guide to the acronyms you must translate when making both smart TV and non-smart TV choices:
Plasma screens use pixels containing red, green and blue fluorescent lights to form an image. The plasma display varies the intensities of the different lights to produce a full range of colors.
LCD (Liquid Crystal Display) uses red, green and blue pixel florescent cells to glow when they receive an electrical charge.
LED (Light Emitting Diodes) involves a similar process to LCD screens but use backlighting instead of florescent cells.
OLED (Organic LED) is a flat light emitting technology that uses a series of organic thin films between two conductors that emit a bright light when electrical current is applied. They are termed organic because they are made from carbon and hydrogen.
4K LED, also called Ultra High Definition, produce four times the resolution of than 1080p HD LED screens and use lower energy consumption.
Technology Dilemma
Before buying a smart TV set, ask yourself if you really need it. Much like the netbook and the tablet, a smart TV may be an appliance you really do not need.
It does nothing your Smartphone and your computer do not already provide to you separately, but putting that combined functionality into your big-screen TV set can add a completely new dimension to your home entertainment options.
Consumers may be buying smart TVs for their enhanced capabilities but then fail to use the interactive features. I might fall into that category. After several weeks, I tend to grab my tablet or smartphone for their convenience while I continue to watch the TV full-screen.
Features But Few Users
As many as 100 million homes in North America and Western Europe will own television sets that blend traditional programs with Internet content by 2016, NPD In-Stat predicts. More than 60 percent of viewers check their email or surf the Web while watching TV, according to Nielsen's 2011 consumer usage report.
Consider these buyer turn-offs mentioned in a recent NBC News report:
About 15 percent of smart TV owners regularly use streaming music services; and
Most people tend to ignore the interactive aspects of their Internet-enabled smart TVs.
Other media reports show similar hands-off behavior by consumers who own smart TV sets. Clearly, smart TV owners use movie-streaming services like Netflix, Cinema Now, Vudu and Hulu Plus. But interactive features so popular on mobile devices remain largely untouched in smart TVs with pre-installed apps for games, email and social media widgets. It makes you wonder if manufacturers will continue to market this line of TV appliance if that trend continues.
Performance Features
I narrowed my search to two specific TV sets. The one I did not buy was the Samsung Series 7-7500 model purchased by a relative. Both smart TVs are 3D and are packed with nearly identical connectivity features and very similar apps.
Picture quality varied among both Samsung and LG product lines. Screen technology matters. Even if the screen resolution is the same, the type of screen technology affects the picture quality. This is true whether you compare one manufacturer's LED screen quality to a competitor's or a plasma screen to an LCD screen quality by the same manufacturer.
Sound quality is another item to compare. High-end TV set makers typically assume consumers will buy or already have external sound systems. TV makers are limited by size and power of on-board speakers. So compare the options in the audio adjustments that the smart TV set you buy provides. Sound quality is nearly as important as video quality on a large-screen smart TV.
Other Key Factors
If social networking and making Skype calls are important to you, make sure that your smart TV has an embedded videocam. If it does not, check to ensure you can plug in your own. Otherwise, you will not be able to use those apps as effectively.
Wired or wireless connection speeds differ as well. Some smart TVs only provide wireless connections, which are usually slower. Also, not all Internet service providers — and cable companies as well — offer the same broadband speed for the same price. Nothing discourages using the Internet features of a smart TV more than sluggish video streaming and slow connectivity response. So make sure what you buy will work well where you live, and know what that speed will cost you.
Perhaps even more important is the processor speed that powers your smart TV. The processor issue is very similar to processors in smartphones. Even with a satisfactory broadband connection, a less-powerful processor will bog down your smart TV's non-TV program processing.
No set standards exist. So expect a dual core processor to give you better performance than a single core processor. This is one of the constantly changing hardware factors in smart TV development.
Balancing Act
Do not confuse screen resolution with smart-TV technology. You can get the same screen technology in dumb TVs.
Ultimately, you must resolve two buying questions: the TV type and the screen type you want.