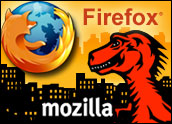 Mozilla Labs is working on the next generation of browser innovation, and it's all about integrating massively popular social networking features directly into the browser.
Mozilla Labs, a virtual research and development organization stemming from the Mozilla Foundation, is calling its latest project "The Coop," and it comes from one of the most common uses of instant messenger services and social networking sites: sending people links to jokes, pictures, videos and interesting news stories.
The Coop is a Firefox add-on currently in development as an "experimental prototype" that lets users keep track of what friends are doing online through an extra column on the browser that shows faces or avatars. The Coop will let users "subscribe" to friends, which then makes it easy to send the friend pictures, links, movies and online status information without actually leaving the browser and using a separate program.
A second phase of development would include the ability to keep track of what a friend is up to online — for instance, seeing the latest blog posts, uploaded photos or tagged Web sites or marked favorite videos.
Obvious Add-Ons?
So far, very little of this kind of collaboration happens directly via a Web browser, but it makes implicit sense. Isn't this an obvious idea?
"Things that link you to others are probably, in hindsight, a natural thing to put into your primary computer interface, and the browser is trying to become that," Rob Enderle, principal analyst for the Enderle Group, told LinuxInsider.
"It will probably take a while to catch on, and I'm not sure the market has yet settled on the tools it will stay with — that's probably the big difficulty here as it increases complexity," he added.
Market Share Challenges
Microsoft's Internet Explorer currently holds 78 percent of the browser market share, with Firefox coming in a distant second with 15 percent. Apple's Safari comes in at 4.5 percent. In order for The Coop to catch on, it will have to be user-friendly and effective — much like tabbed browsing, integrated search and easy bookmark management that had previously been hallmarks of Firefox until Microsoft and Apple created similar features for their own browsers.
For a browser that's not backed by a major software company, Firefox's success will be intimately tied to its innovation, which begs the question: what features are obvious browser add-ons?
"IM, e-mail and other notifications, as well as common tools like spell-checkers and translators are all natural extensions," Enderle said.
Whether any of these possible add-ons stick with the end user community is the big question, though.
"We don't yet know where The Coop will go or if it will evolve into anything," Chris Beard, Mozilla's vice president of products, told LinuxInsider. "We've released it, and it is available now as we look to solicit feedback and encourage discussion and debate about the possibilities of the social Web. All the source code and design are made available under open source licenses."