Wink, developed by Satish Kuma, is a software package for creating tutorial and presentation screen shots. It works reasonably well — when it works at all. However, getting it to run may not be worth the bother, given the better alternatives available. Wink's premise is a good one for anyone who needs to create a show-and-explain presentation on how to do things with a computer. Wink lets successful users capture screen shots of the actions they take on the desktop, wrap them into an animation, and export them as Flash, PDF or executable files for handy playback. Wink's output options may be its only distinguishing factor over other screen-recording options that are much less finicky to set up and use.
For example, RecordMyDesktop and Istanbul both record screen sessions into an Ogg Theora video file. Xvidcap is a small tool to capture whatever goes on within the borders of an X-Windows display. It lets you capture what you do either as individual frames or as an MPEG video.
I use what I conveniently refer to as "demonstration software" all the time. I frequently give small-group seminars on how to do basic computing tasks in Linux. Once I create one of these mini demonstrations, I can provide my group attendees with links to playback sources or even burn the presentations to a CD.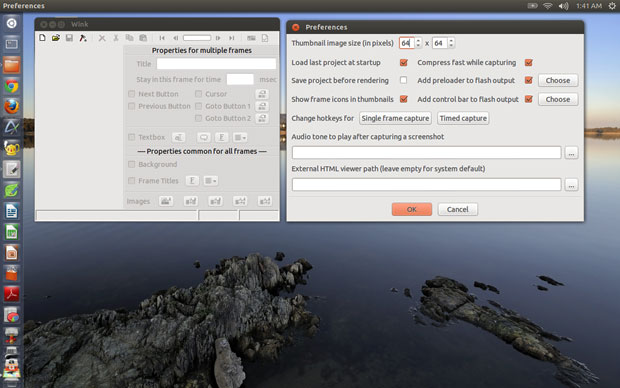 The Wink interface is skimpy with most ofits functions hidden from view.
Hard to Get
Obscurity is the first thing you discover about Wink when you start a quest to download it for Linux. It is not found in most, if any, package repositories for individual Linux distributions. No matter where you find it, Wink only comes in a limited version that does not suit every hardware option.
This is a fatal blow if you only have a computer built around the AMD architecture. Wink only supports the i386 Intel processor platform.
If you try to install Wink on a non i386 system, the process halts with an error message announcing that no binary files are found. In my case, that means I can not use Wink on some of my computers.
Tough to Install
Even on my Intel-based gear, my difficulties in trying out Wink were far from over. Wink for Linux is only available in tarball compressed format (tar.gz). Uncompressing the downloaded package is not an issue, but getting the resulting files to properly install most definitely was a big deal.
After decompressing, use a terminal window to change to the location of the uncompressed Wink files. Then enter ./install.sh and hope for the best.
Normally, open source software that is distributed within a distro's software center provides needed dependencies such as required libraries. Wink is not vetted for installation on any particular Linux distro, so you have to scour through error messages and find your own solutions. This is where Wink's developer fails to deliver.
Wink appears to be a relatively small operation. Thus, it lacks its own support forums. Users are left to search other user forums for help in resolving installation and configuration problems.
Tricky Stuff
The same issues existed when I tried installing Wink on two i386-based laptops running Ubuntu 12.10 and Linux Mint 14. Winks requires the libexpat library. Neither operating system had it installed by default, as no other software in either configuration uses it.
That library was readily available in both repositories, though. Since Linux Mint is a derivative of Ubuntu, that was no surprise. What was surprising, however, was the discovery that the latest version of that library was beyond the functioning ability of Wink.
Wink installed only after I installed libexpat. But it refused to run because it could not find the expected earlier version.
Command Line Trickery
Resolving this problem took some online detective work. I scoured a half dozen or more user forums looking for discussions involving Wink. There wasn't much help available, and what I found was sketchy. Still, it pointed the way to solving the installation glitch on my own equipment.
The trick involves telling Wink to see the newer version of the libexpat library as the older version. That is done with a single line of code entered in a terminal window.
Before entering the code, you must change directories to the location of libexpat. To find it, look in the system file tree or run a search for "libexpat.so" — the folder and subfolder locations may be different, depending on your distro. Be sure you use the exact directory names if they are different from my configuration noted in the code command below.
Once you find where the library is located, use the terminal window to change directories to that location and enter this command:sudo ln /lib/i386-linux-gnu/libexpat.so.1 libexpat.so.0 Of course, using sudo requires that you enter your password when prompted.
Getting Started
If all goes well, you will be able to run Wink. However, do not look for Wink in the menu. The installation shell process does not create a link, so you either have to run the Wink command from a terminal window or from a right-click option within a file manager, depending on your distro and your file manager.
With the Wink window finally opened on the desktop, actually using it is fairly simple. You can use the standard menu options to open two sample files to see a demonstration of how Wink presents a recorded desktop session — or you can select New to open the New Project Wizard.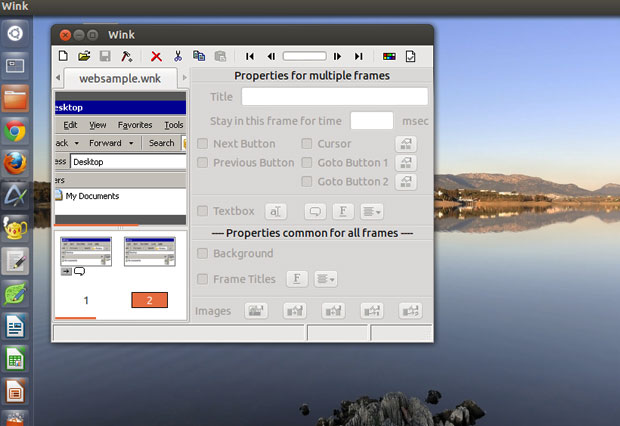 The Wink interface allows for basicplayback and some editing.
Starting a new session is a two-step process. The default settings displayed in the first Wizard screen work well. You can change them to suit your needs. The Start by capturing screen shots option is already checked. Click the OK button to advance to the Wizard's step two. Step Two requires no interaction other than choosing to minimize the Wizard window to the system tray. Press the Finish button to begin the desktop recording session.
The Start by capturing screen shots auto feature in Step One is confusing. Unchecking it removes most of the default options so you can not alter them. Then in Step Two, you set the screen capture area manually in a non-nondescript framing box.
Bottom Line
Wink does an acceptable job of recording and saving the accumulated screen shots. It gives you a file you can use as is or can edit using a video-editing product. It is relatively easy to use and has a detailed PDF help file if needed for using otherwise hidden advanced features.
The minimalistic menu gives no hint about accessing some of these features, but the documentation focuses almost entirely on the Microsoft Windows version of Wink. This is not always helpful, as some of the interface procedures are different in the Linux version.
Wink gets the job done, but it is notably an older software offering that lacks recent upgrades as well as suitable support. If Wink is to remain a competitive offering for Linux users, its developer needs to step up and resolve the lingering distribution and installation hassles.