Aiming to capture a piece of the market that has given the Raspberry Pi such a warm reception, SolidRun on Wednesday announced a new tiny computer of its own dubbed the "CuBox-i."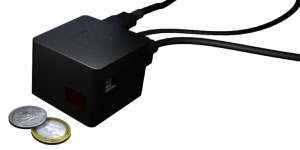 Available in four models with prices starting at US$45, the tiny computer includes an OpenGL|ES 2.0 GPU with OpenCL 1.1 embedded profile support; up to four i.MX6 Cortex A9 ARM processors with as much as 1.2GHz each; an ARMv7 instruction set, including NEON extension support; up to 2GB DDR-3; a multiformat hardware video decoding and encoding engine; an integrated video image processing unit; and HDMI 1080p output.
The CuBox-i runs both Linux and Android 4.2.2 Jelly Bean. Prices range up to $120.
'An Excellent Learning Experience'
"Given the open source SDK and tons of available software packages, our computers can be used in a huge range of scenarios limited only by your imagination, from embedded, multimedia, education, cloud client, HMI and many other fields, as well as all the fun projects you always dreamed of," said Rabeeh Khoury, CTO of SolidRun.
"Everyone can take these computers to their own playground and build their special projects with it," Khoury added. "It can be an excellent learning experience too."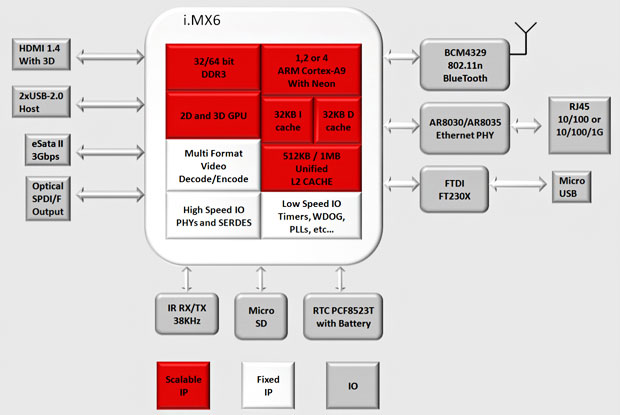 The CuBox-i Block Diagram
A host of peripherals are also available, including Ethernet and USB support, an infrared receiver, a microSD slot for operating system storage, WiFi 802.11 b/g/n and Bluetooth. The system also has a built-in real-time clock with a battery backup.
The CuBox-i comes packed in a 2 x 2 x 2-inch enclosure with a piano black or red finish.
SolidRun did not respondtoour request for further details.
Hobby Heaven
The device is not a mainstream consumer product, however. Out of the box it requires programming in order to operate.
"The end users aren't programming," Roger Kay, principal analyst at Endpoint Technologies Associates, told LinuxInsider.
This new generation of single-board computers, which includes Raspberry Pi, Odroid, DragonBoard and Rascal, among others, is made possible by advances in technology that allow for more processing power. Even with the advancements, however, they can look a lot like the early days of computers.
"That reminds me of when the computer industry was just getting started," Kay mused. "The Altair didn't have anything — it didn't have an OS."
The CuBox-i will appeal primarily to a core of hobbyists and makers with programming skills who want to build their own devices that will perform the way they intend them to.
"This class of product goes to the core of what PCs once were, more for hobbyists than for productivity workers," said Rob Enderle, principal analyst at Enderle Group. "These are great for kids and adults who just want to mess with technology on the cheap, and can be used in classrooms where kids take homework home for education."
'A Bit More Commercially Oriented'
The fact that the CuBox-i has an enclosure, however, set it apart from competitors including the Raspberry Pi.
"The CuBox-i seems to be a bit more commercially oriented," noted Charles King, principal analyst at Pund-IT. "That is, it is meant to support a bunch of multimedia devices and support any Linux operating system including Android. It seems to be a little more of a conventional small-footprint computer."
The device's price point could also be potentially appealing.
"This is the smallest and certainly the most well-packaged and aggressively priced device," King told LinuxInsider.
A Pocket PC
The Raspberry Pi has already enabled a seemingly infinite array of previously unforeseen applications, and SolidRun lists a number of possibilities on its own website as well. Examples include building an Android TV box, set-top box or entertainment hub for the home.
The device's open source SDK allows hobbyists and developers to use it to create custom solutions. It can also run Lite Desktop and a variety of open source applications, making it a sort of pocket PC.
"The Linux community is supposed to be a bunch of cowboy programmers that know what they're doing," Kay said, "but there aren't that many of those cowboys."
The CuBox-i also runs Linux-based Android, however, thus broadening the device's potential market.
A World of Apps
"I think the additional support for Android, from the standpoint of app support and availability, is intriguing," said King. "That opens up the entire world of Android-based games and productivity applications. It could be very easy to assemble a very workable desktop for well under $200."
In short, the CuBox-i addresses a maker market and encourages programmers to push the boundaries of what technology in small boxes can do.
"They fill an important niche that created the PC market as we know it but which most of the developed PC vendors forgot," Enderle told LinuxInsider. "The Steve Jobs and Bill Gates of our future will likely start with something like this."