TROM-Jaro Linux offers a new twist on the concept of open source as free software.
First released as a beta version last December, TROM-Jaro's second and current non-beta release was pushed out in June.
This new distro is a custom-built version of the popular Manjaro Arch Linux. It is probably more accurate to describe TROM-Jaro as a strategically modified version of Manjaro Linux. The unnamed developers used the Manjaro community tools to construct the modifications.
That rebuilding, of course, is perfectly legitimate in the open-source software world. TROM-Jaro is not a fork of Manjaro. It has the pronounced look and feel of the Manjaro base.
In fact, nowhere in the screen displays or application titles is anything branded as anything other than "Manjaro Linux." This is evident with the initial help screen that welcomes you to Manjaro! Even the installation screens do not hawk the "TROM-Jaro" distro name.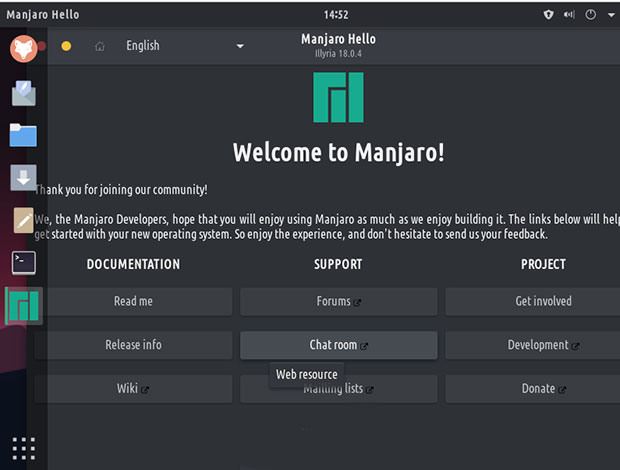 TROM-Jaro Linux is based on Manjaro Arch Linux with a heavy dose of tweaks but without its own branding.
---
TROM-Jaro is Manjaro Linux at its core, running a heavily tweaked GNOME desktop. The design strongly resembles a blend of what was the Unity desktop mixed with the latest GNOME desktop features and then some.
What you do not get in TROM-Jaro are some of the hallmark Linux applications and Manjaro and Arch-specific software. The new distro's developers excised anything that violated the concept of being Trade-Free.
Trade-Free vs. Sort-of-Free
Information on the identities of the software developers is not available. They identify themselves only as a team of volunteers who frequent the Manjaro Linux forum. They also are aligned with the concepts of the TROM Project.
TROM is supposedly a global organization that aims to showcase in detail what it claims is the root cause of most of today's problems — the lack of a trade-free social structure.
Trade-Free advocates propose what they say are realistic solutions to solve those problems. However, the Trade-Free movement is also about challenging peoples' values, explaining in simple language how the world works, according to details provided on the TROM-Jaro website.
The TROM organization also provides free educational materials and tools related to the movement. It publishes books, videos, and a mixed bag of media tools to further explain and track trade-free concepts around the globe.
Trade-Free Linux
TROM-Jaro developers created its customized Manjaro Linux distro to further that purpose. As applied to the software industry, so-called "free" software, such as Android and Google services considered free, actually comes at a steep price. Users must surrender their personal information to feed the monetizing that developers impose to maintain cash flow.
That is the connection between the new TROM-Jaro distro and Manjaro Arch Linux. Numerous Linux distros already provide an option for users not to install non-free software components. The TROM-Jaro community expands that solution by not leaving any such packages in its version of Manjaro.
In accordance with the principles held by the TROM Project, TROM-Jaro developers avoid distributing any software requiring user tracking, payments, or ads to be displayed in order for the software to work.
In a nutshell, software that meets that mandate is dubbed "trade-free." That is what you get in TROM-Jaro Linux.
For example, this distro uses a customized Firefox Web browser to block browsing elements considered not Trade-Free. This approach is perhaps a purer form of the open-source concept. Ironically, it falls into line with many of the characteristics that guide the development of Arch Linux.
Manjaro Crossover
Manjaro is considered trade-free, at least partially. That community does not collect users' data or ask them for money in order to use their operating system, according to the unnamed developer who posted information in the TROM-Jaro website announcement about the new distro.
However, the community does promote trade-based applications in the default Manjaro installations, such as Steam, Microsoft Office, Skype, and possibly others. Those developers want something from users in the form of trades.
Thus, TROM-Jaro's developers removed such packages and kept only existing trade-free packages and added others. Plus, the developers enabled AUR (Arch Users Repository) by default.
The goal is to let TROM-Jaro users find more Arch applications by default rather than explain to them how to enable it. The new distro's developers also have their own repository with a few packages integrated into TROM-Jaro.
A Better Manjaro?
Manjaro Linux can bring you the best of two worlds. It puts a user-friendly face on an Arch-based distro and gives you a choice of sensible and productive desktop interfaces.
Manjaro Linux — and add TROM-Jaro — is a fast, traditional, desktop-oriented operating system based on Arch Linux. Arch Linux itself is renowned for being an exceptionally fast, powerful, and lightweight distribution that provides access to the very latest cutting-edge — and bleeding-edge — software.
Most Arch distros are for experienced or technically-minded users. Manjaro-based distros — and TROM-Jaro now tops that list — are more user-friendly. Arch Linux derivatives are monsters to install and configure. Those processes require more than a passing knowledge of the command line interface. Manjaro Linux — and yes, TROM-Jaro –are different.
Both distros provide all the benefits of the Arch operating system combined with a focus on user-friendliness and accessibility. The prime directive for all things Arch is simplicity, modernity, and pragmatism.
Both Manjaro and its step-distro TROM-Jaro are independent of Arch and have their own development teams. Of course, The TROM-Jaro team primarily extracts the "bad" from Manjaro and tweaks the rest. They both target newcomers to Linux, not the more technically inclined experienced Linux user.
The Trade-Free Difference
The bulk of software changes and GNOME tweaking has to do with philosophical differences that drive Manjaro to be more user-friendly than Arch Linux and TROM-Jaro to customize Manjaro and the GNOME desktop.
TROM-Jaro is based on a rolling-release updating process. Users get the latest Linux updates very fast. However, the developers put a stop-gap measure in place to prevent software errors caused by too-fast updating.
They reduced the update check to once a week instead of daily to try and avoid such problems. Users can customize that delay in the settings sections of the Add/Remove Software.
Here are some key differences between TROM-Jaro and Manjaro Linux:
Minimal pre-installed applications
Automated backups before every update using Deja Dup and Timeshift
Native support for appimages, flatpaks and snaps
Customized Firefox to block ads and trackers
Additional cool backgrounds that are minimalist, sharp and simple
Customized extensions, in terms of defaults, like Dash to Dock
Disk Usage Analyzer, Disks and GParted tools for more complete control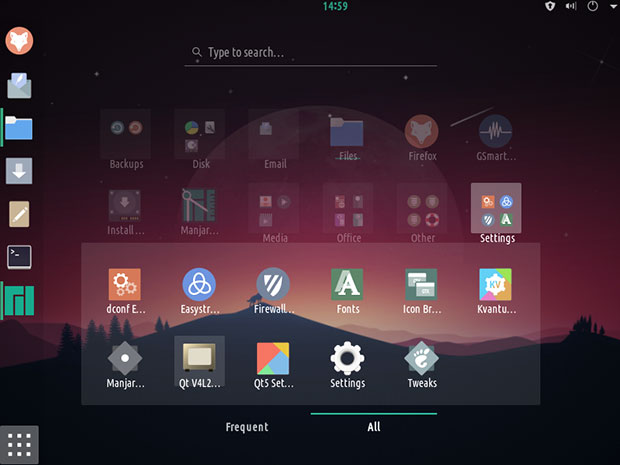 TROM-Jaro's Dash and Dock Bar bring a new twist to the GNOME desktop.
---
Really Cool Stuff
I particularly like the additional tweaking the developers brought to Firefox in TROM-Jaro. They tighten security.
They help users stay away from online trades such as data trade and attention trade. The default setting opts out of sending data to Firefox. A few extensions are installed by default for privacy and better usability.
For instance, Absolute Enable Right Click & Copy eliminates the trade-off that some websites impose on not letting site visitors right-click on content. Decentraleyes protects users from tracking through free, centralized content delivery.
Firefox Lightbeam shows in a graph display what websites collect about users and how websites are connected with each other. This is not enabled by default.
Google search link fix (prevents Google and Yandex search pages from modifying search result links when you click them);
If you are heavily involved in researching, you will love the Wayback Machine. Use it to find pages deleted from the Internet. You also can roll back websites to see how they looked years or months ago. You can archive websites/pages.
EasyStroke lets you transform the mouse into a gesture tool for screen navigation.
Not Normal GNOME
I am not overly thrilled with the standard GNOME desktop, but the TROM-Jaro devs did a lot to fix that for me. They did considerable tweaking.
A slick change is removing the Hot Corner from the top left corner of the screen. I'm not sure yet if this is a better fix than adding a delay to activating the hot corner feature to prevent unintended corner poking.
Desktop navigation has three parts: Activity Bar, Dock Bar, and Dash. Two tools handle changing anything: Settings and Tweaks.
The settings panel provides access to the main control center, where you can access the computer's account and operational settings. The Tweaks panel holds the tools for customizing the Operating System.
In TROM-Jaro, the top bar holds notifications, volume, audio devices control, date, and calendar. It also holds WiFi and Bluetooth access and access to the settings, as well as the shutdown options. Hover the mouse pointer anywhere on the top bar and scroll up or down to change the volume.
Navigating Around
Favorite applications are located on the left-side vertical Dock Bar. You can easily add/remove/reorganize them by right-clicking an icon for more options.
Customize this Dock Bar easily. Move it to any corner of the screen, hide it, change its size and color, and make it transparent. Change what happens when you click a favorite application or add keyboard shortcuts to interact with the Dock.
The Dash is the centralized display that fills the top center part of the screen when you click the Dock Bar dots at the bottom. You also can press the keyboard Windows or Command key.
Clicking the dots displays all installed applications on the Dash. You can sort them any way you want in folders. Activating the Dash allows you to search for anything within your system.
Clicking the keyboard keys shortcuts slides out the virtual workspace views from the right edge of the screen. You can drag and drop windows among the views. Click on a view to move to that full-screen workspace or add a new virtual workspace.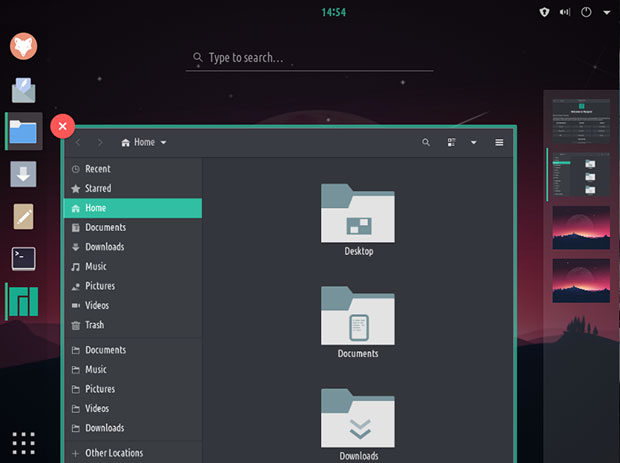 Using virtual workspaces is very simplified in TROM-Jaro.
---
Bottom Line
The TROM-Jaro desktop has its own unique look and feel. Much of that results from the developers' use of Zafiro icons and Vimix theme. They fit the overall "flat" TROM-Jaro design.
That design includes flat wallpapers and selected Gnome Extensions that bring different functionality options to the GNOME desktop. Be sure to check them out. Only some are turned on by default.
TROM-Jaro has a variety of themes and icons. You can install lots more to customize the appearance your way.
This distro supports four languages: English, Russian, Spanish, and German.
Be sure to check out the APPS section on the developers' website. There you will find a hefty list of recommended trade-free applications tested for use on TROM-Jaro.
---
Suggest a Review
Is there a Linux software application or distro you'd like to suggest for review? Something you love or would like to get to know?
Email your ideas to me, and I'll consider them for a future column.
And use the Reader Comments feature below to provide your input!