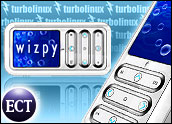 TurboLinux last week announced the release of a palm-sized USB device that comes with the firm's FUJI operating system embedded in its 4 GB flash memory.
Called "Wizpy," the device will allow users to run the Linux OS on any computer.
The company plans to distribute Wizpy initially in Japan in February. An English-language version of the device is expected to be available in the U.S. within a few months.
Portability a Plus
Wizpy measures 3.3 by 1.6 by 0.5 inches and weighs 2.1 ounces. It includes a 1.7 inch OLED (organic light-emitting diode) display, 4 GB of flash memory, an FM radio and support for various audio file formats.
Connecting this small device to any computer lets users have their own operating system and desktop without having to carry a portable computer.
"Instead of carrying a laptop weighing over 6 pounds, all you have to carry is a 2 ounce Wizpy to make any PC around the world your desktop environment," Takamitsu Nakao, Senior Manager Wizpy Department, told LinuxInsider. "As the cellular phone is replacing the conventional telephones, Wizpy is going to free us from carrying around a PC. The era of portable desktop has come."
All OS settings and users documents remain within Wizpy, leaving no record or file imprint behind on the host computer's hard drive.
'Take It With You' Access
When Wizpy boots up, it tricks the computer into seeing the USB device as a CD-ROM drive, which enables the Linux kernel to run instead of, say, Windows or Mac OS.
Company officials expressed hope that the device's "take-it-with-you" access to the Linux OS may simplify users' decisions to migrate from Windows XP or Vista to Linux.
"Our aim is to give consumers a choice to experience the cutting edge features. As you know, Windows Vista requires high-end PC hardware to enjoy its new features," explained Nakao. "However, Wizpy [allows] today's ordinary PCs to perform with top notch features."
At first, TurboLinux is marketing the Wizpy to business users and those who crave cutting-edge products. However, because of its ease of use, novices should enjoy Wizpy, as well, he claimed.
The company carefully planned the release of this product to coincide with Vista's roll out, Nakao added.
Free and Commercial Versions
The device comes preloaded with TurboLinux FUJI and a collection of open source applications that includes the Firefox Web browser, Thunderbird e-mail client, and Voice over Internet Protocol (VoIP) software to connect to the Skype Internet phone service. These bundled applications consume 1.56 GB of Wizpy's 4 GB total memory.
TurboLinux FUJI is a commercial distribution of Linux. According to the company, Version 11 is a hybrid operating system that combines the core security, stability and networking features of the Linux OS with special, improved compatibility with Windows.
The company offers commercial versions for desktop and enterprise server deployments. Its main components include the Linux kernel 2.6.12 with glibc 2.3.5, X.Org 6.8.2, gcc 3.4.3 and rpm 4.4.2.
Unlike other Linux distributions that bundle dozens of free open-source applications, TurboLinux requires participation in its paid service in order to install additional packages.
"Wizpy users are entitled to join our Internet service, Wizpy Club, [which] provides a wide selection of open source applications," Nakao said.
Company officials plan to release a second Wizpy model soon. It will include an SD card slot for added storage capacity and additional file transfer capabilities.
TurboLinux will sell the Wizpy in the United States for US$39.
Windows-Like Look and Feel
TurboLinux FUJI's look and feel resembles Windows desktop more closely than other Linux distributions, according to the company. In addition, it offers security and portability benefits.
TurboLinux FUJI allows users to configure a shared environment so they can share Windows and Linux files through an applet that resembles the My Network feature in Windows. Also, users can access the Windows Active Directory and login with their user account password.
Other features that mimic Windows XP include TurboLinux FUJI's support for drag and drop file manipulation, the ability to check print jobs via a print-status icon on the desktop, a file archiver available from the desktop, and one-click support for Adobe Acrobat PDF documents.
It comes with the kde desktop, which is one of several standardized desktop displays used by various Linux distributions.
A New Freedom
The Wizpy brings a new sense of freedom and portability to using the Linux OS, claimed Nakao.
"Wizpy brings back second-hand PCs to life. By doing so, Wizpy provides people an opportunity to overcome digital divide and provides a home for old PCs, therefore helping ease environmental problems," Nakao claimed.