Looking for an everything-included Linux distro designed for people who are just transitioning to Linux? Need an OS specifically tailored for the needs of students? Then look no further than UberStudent.
I have used countless Linux distros, many with features designed for specialty users such as writers, artists and musicians. None of them had the user experience you get from UberStudent. It works out of the box. UberStudent, developed by education specialist Stephen Ewen, is a Linux distro that delivers tools for learning task completion and academic success, targeting advanced secondary and higher education students.
However, it goes beyond that. I have been using UberStudent because its tools set and features array are neatly packaged in well-designed menus. While my student learning days are long gone, some of these specialty applications are very useful for note taking, task planning, and project organization for the non-school things I do.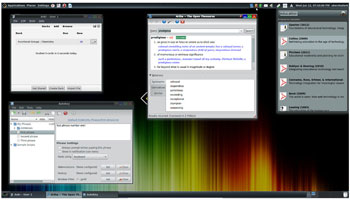 (click to enlarge)
Under the Hood
UberStudent is built from the Debian and Ubuntu branches of Linux. The latest version, 3.0, was released in June.
It is available only in the Xfce desktop running version 4.10. This is a good choice given the targeted user base. The tweaking Ewen included in this version, coupled with the fast and simple Xfce environment, makes UberStudent a productive, handy OS for anyone learning to use computers or transitioning from a Mac or Windows platform.
UberStudent is wrapped around Ubuntu 13.04's base code. It comes in both 32-bit and 64-bit versions built with the Linux 3.8 Kernel.
You can run the live DVD version on an optical drive or from a USB drive. You can even install it on Intel-based Mac machines, as well as Intel or AMD-based PCS with at least 1 GB of memory. The UberStudent ISOs also run in a virtual machine.
Hardened Against User Error
The developer made it very difficult for inexperienced users to break the system. This latest version replaces Ubuntu's update manager and software sources configuration tools with a forked version from Linux Mint.
Synaptic is the default Package Manager. However, it is configured to discourage doing updates from it in favor of the Update Manager. However, veteran Linux users can still use traditional apt-get methods on the command line for updating and installing packages.
With safety in mind, the Update Manager updates the system only with essential upgrades. This maintains the distro version as a stable, smooth-running system. This conservative approach is less subject to negative upstream issues or user actions that just update the system for the sake of updating.
In this same vein, the Software Sources tool makes it very difficult for new users to break their systems. One click restores the default settings.
Look and Feel
I like the appearance of UberStudent. It is not an old or outdated Linux desktop. But it does avoid the trappings and complexities of more controversial desktops — the likes of Unity, Cinnamon, KDE and the GNOME 3 redesign.
The Xfce style puts a very functional traditional panel at the top of the screen. It holds the Applications and Places menus near the left end of this panel. A Settings button launches the Preferences options in a menu window.
Hard-wired to this upper panel are launchers for the Chromium Web Browser, KeepNote note-taking application, Zotero reference manager and the LibreOffice 4.0.2.2 suite. The right side of the upper panel holds the standard notification icons and applets.
The standard Linux Panel on the bottom of the screen has the Show Desktop button, minimized application icons, Workspace switcher applet and the Trash icon. Right-clicking on the mouse opens a context-sensitive menu.
Special Bundles
UberStudent bundles several learning platforms not found in typical Linux distros. Plus, each application category in the menu has a sub-category of related menus. For instance, there are WebApps, Documentation and Resources.
KeepNote is a handy tool for non-students. UberStudent includes a tweaked version that has an example usage file showing how students might use KeepNote to organize their semester.
Also prepackaged are all of the needed Firefox and Chromium extensions in the UberStudent repositories. This includes both Zotero Standalone and Zotero Firefox editions.
Other Tweaks
Remember, this is a specially designed distro for those transitioning to Linux. So everything is configured to work out of the box. All the special applications share the same Zotero database.
UberStudent comes with academic templates that provide more student-centered computer assistance. For example, a script runs at first boot and places a set of templates for academic work into the user's home Template folder. These become available in the context menu as well.
Another Linux learning tool is the New-User helps feature. UberStudent contains helpful assistance in key places and ways. For example, whenever a program lacks good documentation by default, it is added in to a Documentation submenu of the program's menu entry.
Another example occurs with LibreOffice Writer. The second time you boot into UberStudent, a dialog will display asking if you wish to go to a brief tutorial about interoperability between word processor file formats. This is handy for non-student users who are new to Linux and exchange files with office workers and others computer platform users.
Even Pros Get Help
I particularly like the way UberStudent embellishes the Thunar file manager. A very useful set of custom actions is installed by default. You can "Quick View" or "Quick Play" every type of file you encounter.
My work as a wordsmith involves a lot of research and writing, just like in my student days. So I put to good use UberStudent's tools to gather, organize and analyze sources. These tools make it a cinch to write, cite and share research.
This is a big help for academic and business writing as well. The Zotero research tool works in concert with browsers and word processors. Together, these tools make powerful work-class productivity possible for students and non-students alike.
Still More Specialization
The preinstalled FreePlane app makes it easy to map relationships between concepts, ideas and digital content that extend beyond the classroom into the workplace and home office. Study better or press your memory skills with virtual flashcards made with Anki, an intelligent spaced-repetition memory training program. Artha, a thesaurus, works everywhere you see text in UberStudent. Just highlight a word and press the shortcut key to view alternative words.
Self Management tools in UberStudent help manage time, tasks, finances and social networks. Graphics tools bolster academic and workplace production chores too.
UberStudent comes with a variety of graphics-handling applications. Pinta is ideal for quick, straightforward image editing and graphics creation. Scribus handles desktop publishing. The high-end GIMP and Inkscape apps help you edit and create images with ease.
Bottom Line
UberStudent is an ideal Linux OS for students and educators — but its usefulness is not limited to academic pursuits.
It is one of the most frustration-free Linux distros I have ever used.
Want to Suggest a Linux Application for Review?
Is there a Linux software application you'd like to suggest for review? Something you love or would like to get to know?
Please send your ideas to me at [email protected], and I'll consider them for a future Linux Picks and Pans column.
And use the Talkback feature below to add your comments!