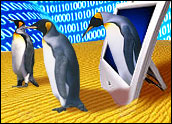 The latest version of the uGet Download Manager rekindled my interest in grabbing files without relying on a Web browser.uGet version 1.10.4. was released last month. Written in C, it uses GTK+3 for its user interface, and it is packed full with improvements. It is very reliable and stable, with 11 years of growth behind it.
The uGet website has received a makeover to better support users, according to Michael Tunnell of the uGet Project. To help spur a new round of development, the project team for the first time is seeking donations to support upcoming releases.
This Linux download manager application has a large inventory of features, but it is still very lightweight and low on resources. Download management for the Linux OS is not a crowded category, but with its efficient, user-friendly GUI and a few unique options, uGet excels over other download managers.
Why Use a Download Manager?
Convenience and speed are probably the two most important answers to that question. A download manager runs as a separate application to stream downloads outside the control of a Web browser.
I download dozens of programs a week for testing for potential reviews, so convenience counts. So does speed.
Many of the applications I want to download are available using various distro repository software managers, but they usually are not the latest versions, so I have to find a source and the developer's website, or pursue a link to the latest archived package. That takes time even before the lengthy download begins.
I find it much easier to tell uGet what I want to download. The download manager automates the process and performs the downloads in the background without demanding my hands-on attention.
Multi-Pathway Express
Speed is critically important. If you ever watched a near-paralyzed progress indicator on a download, you already know the agony of waiting. Speed matters.
To get it, you need to bypass the overworked and under powered Web browser. Its main function is not to maximize downloads.
A Web browser puts a download file on a single stream path. So even a 10 Mbps connection can be like a jalopy chugging along in the express lane. The file server has limited speed and might only chug the downloading file at 1-2 Mbps in the stream your browser gets.
Trying to download multiple files in a Web browser just adds to the sluggishness. That is where download managers come to the rescue.
The Features uGet
Download managers attempt to bypass the Web browser's inefficiency in working with the download server, and uGet Download Manager is more skilled in finessing those negotiations than many others. Much of that success comes from the combination of features it provides.
For example, uGet lets you place as many download requests as necessary into its queue to download simultaneously. As a download finishes, the queue automatically starts downloading the remaining files.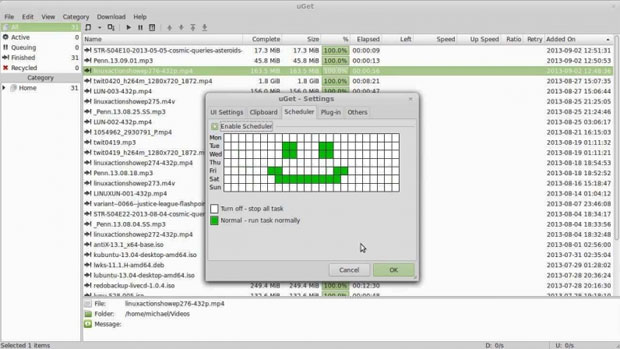 uGet Version 1.10.4's main window download schedulerlets you set conditions for an unlimited number of files.
Even when the download stream is interrupted, all is not lost. The resume function restarts the remainder of partially downloaded files should the connection be lost.
uGet Even More
Advanced Download Categories give you unlimited file-management options. For instance, the Clipboard Monitor tells the file types via an extension. You easily can place lists of files to download at any time by adding them to the clipboard.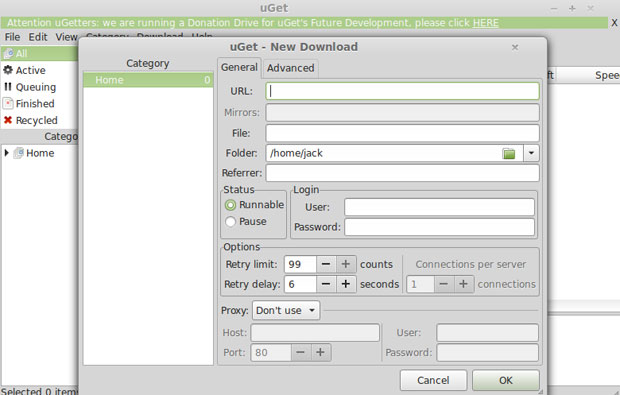 uGet's file download panel provides many options and conveniences.
The Batch Downloads feature lets you add an unlimited amount of files to the queue for downloading at one time. The multi-protocol support handles HTTP, HTTPS, FTP, BitTorrent and Metalink.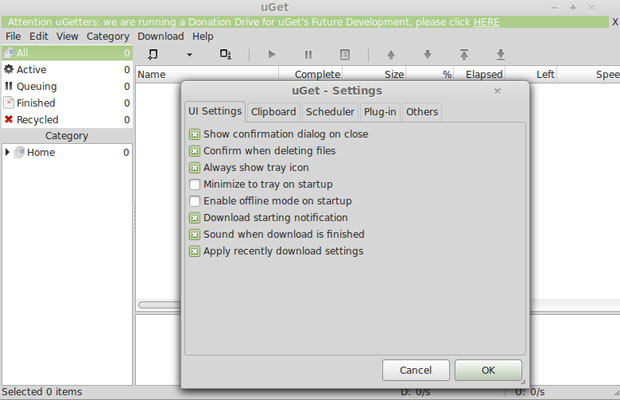 The GUI in uGet Download Manager makes batch downloading of files an easy process.
Another cool feature augments the Batch Download feature. With the multi-connection feature, uGet handles up to 20 simultaneous connections per download.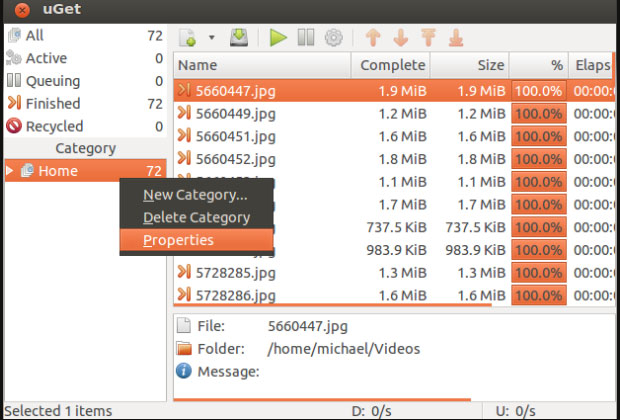 uGet makes puts scheduling multiple file downloads on the Internet fast track.
Special Touches
uGet fills the void that often exists when the distro repository lags behind the latest available release. Not everyone likes to manually add new software sources to the repository download app to keep uGet current. The new "Check for Updates" feature lets you know when to grab a new release.
A new message banner lets uGet users receive the latest news about tips and developments in upcoming releases. uGet is even easier to use with the improved Help Menu. Now links in the menu connect to the online documentation. You also can submit feedback and bug reports from these links.
Extensions let you turn over download control to uGet from within some Web browsers. Recent changes in Google's API broke the existing extension for Chromium and Google Chrome browsers, but Tunnell expected to have those connections fixed soon.
Lots of Extras
The list of features and user options is too numerous to fully include here, but one of my all-time favorites that keeps me using uGet is the option to have uGet shut down the computer after completing a series of lengthy file downloads.
Other feature favorites are the Retry Limits and Delays option and the Advanced Filename Overwrite option. The first lets me customize the maximum amount of times uGet retries a failed download and how long it waits between retries. The second lets me customize the file name before it is downloaded.
The User Agent Control feature has saved me many failed attempts to get a file from an uncooperative server. This option modifies the user agent a server sees to ensure downloading when servers have odd restrictions.
Getting It
Depending on the veracity of developers managing your distro's software repository, you might find the latest version of uGet already waiting — but that did not happen with the three different distros I regularly use.
The workaround is fairly easy. The uGet website's download page has links to numerous distro packages for a .deb file of the latest version. Another option is to enter commands into a terminal window.
Actually, the terminal window method is the preferred choice. The commands you enter into a terminal window add the Personal Package Archive or PPA, as well as get and install the latest version of uGet.
Use these commands:
sudo add-apt-repository ppa:plushuang-tw/uget-stablesudo apt-get updatesudo apt-get install uget
Bottom Line
I am very impressed with uGet. It is easy to use and very reliable.
If you rarely venture outside the package software provided with your Linux distro, you will not get much use out of uGet. However, if you already know the shortfalls involved with frequently downloading numerous files within your Web browser, then you might find uGet to be a superior download manager for your Linux desktop.