Valve Software on Friday announced the Steam Controller, the third part of its trio of initiatives designed to bring Linux-based gaming to the living room. Valve dubbed the controller "a different kind of gamepad."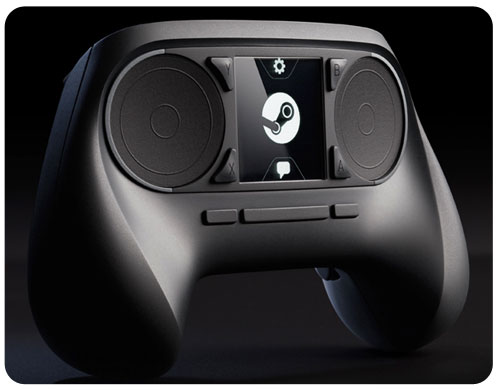 It features dual circulator trackpads driven by the player's thumbs; each has a high-resolution haptic pad at its base. These pads are clickable, allowing the entire surface to act as a button. They are meant to offer higher fidelity than traditional handheld controllers.
Valve's concept is to allow whole genres of games that previously were playable only with a keyboard and mouse interface to be playable on a TV. This includes the popular first-person shooter genre that often calls on precise aiming within a large visual field.
16 Points of Interaction
The new Steam Controller further offers a total of 16 buttons that replace not only the buttons on the mouse, but also the more traditional gamepad functions. Eight of these buttons can be accessed without needing to move one's thumb off the trackpads, Valve suggested.
In between the trackpads is a touchscreen that also can be clicked like a button.
Instead of the traditional "rumble" feature that current controllers provide as a way of delivering a tactile experience, the Steam Controller uses haptic technology, which sends vibrations to the touchpads.
"People are used to joysticks, but these haptic touchpads are a different approach," said independent video game analyst Billy Pidgeon. "This is quite different from other PC controllers."
Not Reinventing the Wheel
While Valve aims to create a new style of interface for gaming, "it's not a matter of reinventing the wheel so much as trying to design something that both PC and console gamers will like, and that both PC and console game developers can design for without requiring much extra work," Lewis Ward, IDC's research manager for gaming, told LinuxInsider.
"It's unique in that it tries to split the difference between a standard console controller and a mice and keyboard proxy," he pointed out.
"They wanted an input mechanism that would support all Steam games with little or no UI reworking necessary on the part of developers, and so the controller will — hopefully — have an intuitive feel for mice and keyboard PC gamers while obviously being designed for a 10-foot living room experience and being mappable to standard console controller UI schemes," Ward explained.
Console Gamers to the PC
This controller also could be a way to get traditional console gamers — those who aren't used to the mouse and keyboard interface — to try some of the PC-style games that Valve's SteamCloud might offer.
"Steam is trying to position it that way, but they don't have a previous controller for this to build on. Consider the console gamer who hasn't played PC as much, and this could be a gateway for those gamers," Pidgeon told LinuxInsider.
"This is good for some games, but it isn't a true replacement for the keyboard gamer," he said. Still, "it could bring the console gamer to the PC. There is also no reason why Steam in the living room might not support the keyboard as well. It would be stupid for it not to."
Going Rogue
The biggest concern is that some PC gamers might not be so keen to use a controller. Companies such as Microsoft have tried — mostly without success — to bring such devices to the PC.
"Computer gamers still prefer keyboard and mouse controls, so Valve is taking a risk by creating an alternative to the keyboard," noted Pidgeon.
That said, "Microsoft has done a number of controllers, including a pretty terrific joystick, and has allowed Xbox controllers to be used with the computer," he pointed out, "so there is some history that gamers could be open to alternative controllers."
There are limits, however.
"Going rogue and completely reinventing the UI for games would be a disaster. Steam doesn't have that kind of clout by a long shot," said Ward.
"What they can do is to try and find a happy medium between two different UI schemes and not blow it," he suggested.
"That alone would be quite a feat, and that's what this controller is all about. Its chances of success will mainly depend on the games as well as the price of the various Steam Machine bundles," said Ward. "The hybrid nature of the controller is risky, and it's impossible to make a call on how well it serves both masters — PCs and consoles."