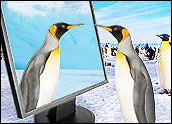 The VectorLinux distro does an impressive job of blending a traditional Linux environment with the performance of other more mainstream offerings.VectorLinux is not a newcomer to the Linux desktop world. Despite its more than 10 years in development, this distro is not as well known as other Linux choices.
Its motto, however, goes a long way in highlighting its purpose.
"Keep it simple, keep it small and let the end user decide what their operating system is going to be." VectorLinux does exactly that.
The VectorLinux family is a small, fast and light Slackware-based distribution that ships customized versions of Xfce and KDE. These two desktop environments are tweaked to be more user-friendly than other Slackware-style distros.
Despite the modifications, VectorLinux, retains the benefits of using Slackware. It is literally a have-it-your-way combination of choices. Despite the Open Source label, some of the options are not free as in FOSS (Free Open Source Software).
Less Bloat, More Speed
The VectorLinux team stays focused on keeping out OS bloat in the free standard edition. That's one key reason for sticking with XFCE option if you are looking for speedy performance on any hardware configuration.
The XFCE version stays within a smaller memory jacket that uses about 225 MB of RAM at idle. It does this in part by not including some hoggier apps such as the LibreOffice and OpenOffice business suites.
Instead, you get AbiWord for word processing and Gnumeric for spreadsheeting. Of course, you can easily add what you want to use. Since memory and hardware constraints were not a concern, I found that running LibreOffice had little impact on performance.
Quirky Install
Be sure to select the correct version for your needs. Not all of the download versions give you a live CD. Some are only installation CDs.
I am no newbie when it comes to installing Linux distros. Still, I found Vector Linux's approach to be a bit of a turnoff and more complicated than it should be. Do not make mistakes along the way — no obvious way exists to go back to a previous screen.
For example, installation was less appealing for me than other Linux distros. I resorted to default settings for much of the process. Far too many of the options were technically-based with a lack of hints or explanation of options.
Once past the installation, however, using Vector Linux was much more satisfying. It ran fairly fast. It had no trouble finding and accepting my three printers, two scanners and various external accessories tethered via USB. Best of all, setting up my wireless connection worked as it should.
Live Session Hell
Testing VectorLinux from its Live CD could be a little more polished. For instance, if you want to mount the hard drive of the computer running the live CD, you need the user and root passwords. Entering them is easier said than done.
A small note flashes on the login screen saying that the password is "vector" for both uses. Most responses in the VectorLinux forums repeat this information. But "vector" does not work in any form.
Actually, there is no password. Just leave the password entry blank and hit the enter key.
Good As New
I was surprised at the convenience and ease of use. The standard version of VectorLinux was much like using previous generations of Ubuntu (pre Unity and pre Gnome 3) when I ran XFCE with a docking app on some legacy laptops.
The desktop view in VectorLinux displays drive and system icons on the left side of the screen, a standard Gnome panel sits at the top of the screen with a menu launcher. A nifty Cairo dock on the bottom of the screen.
This is a pleasant desktop design to use. The VectorLinux version has desktop icon labels with transparent backgrounds and borders.
uses the Xfce (4.8) desktop, with a Cairo Dock at the bottom of the screen and an old-fashioned Gnome panel on the top of the screen.
Other Options
The VectorLinux family offers several relatives to the standard Xfce edition. The KDE edition, dubbed the SOHO (Small Office / Home Office) version, is not free of charge. It is preloaded with OpenOffice and other productivity tools for office professionals.
You can support the VectorLinux project by using the Deluxe and SOHO Deluxe editions for under US$30. Unlike shareware, the standard edition does not withhold any tools or usability features if you don't buy these editions.
Standard Edition Light is paired down and optimized for low-end computers. It uses a small memory footprint and light applications. This is a full featured system with multimedia, office and networking capabilities featuring LXDE, IceWM and JWM as Desktop Environments.
Repository Repertoires
As part of the Slackware design, VectorLinux uses Slapt-get and Gslapt for handling the installation of extra software. These apps resemble the Synaptic Package Manager and work much like similar to using Apt. Gslapt puts Office tools, Games, Networking applications, Command Line tools and more one click away.
Vasm and VasmCC make maintaining the system very straightforward. You can configure the network, mount additional media at boot time, share files with your network, for example.
This distro line also sports a few unusual design factors. One is the inclusion of Exaile as the music player. A continuation of Amarok in its pre-KDE 4 version, it uses the GTK graphical toolkit rather than Qt. That makes it a nice fit for the GTK-based Xfce desktop.
Another uniqueness is the inclusion of VL-QwikPicks. This is a program that adds a pretty face to the process of installing commonly used programs. This makes it easy to locate and download apps by category.
More Design Flairs
I like the finesse that the Vector Linux development team added to improve Xfce menu. It is easier to find installed software than other Xfce configurations I have used.
That menu follows through with a right click on the desktop. That action opens a cascading menu that unfolds with a complete list of installed applications, utilities and access to Desktop Settings.
A nifty nicety is the additional functionality of the desktop right-click menu. You can create several different sets of file compression archives, open a terminal, view a graphic file in Geeqie plus several more options.
Kool Klicks
The Cairo Dock adds a nice touch with animation as you move the cursor across the icons. The icons magnify as you mouse them and display options when available.
The dock's performance goes well beyond eye candy appeal. It disappears instead of overlapping with the active window on the screen. Better than the usual autohide function, the dock fades out and fades into view.
Perhaps the biggest distinction in this distro is its lack of an update manager. This makes using Vector Linux much like fiddling with Microsoft Windows. Without one, users update individual packages that may have security or other issues.
Virtual Koolness
For me one of the most important features of any Linux distro is the ease of accessing multiple desktops. VectorLinux is one of the easiest as it works my way right out of the box.
For example, the Cairo dock has the desktop switcher app preconfigured for four virtual workspaces. The indicator app shows four workspace squares with a number displaying the current view. Just click the box to go there.
A traditional workspace switcher is preset on the upper panel. It so happens that I use 4 so I did not have to change the default setting.
Bottom Line
VectorLinux is one of the most impressive of the Slackware-based Linux distros I have tried. It is easy to use and performs exceedingly well.
Aside from its quirky installation, the only real disappointment is the lack of enticing background images. The limited choices are all unappealing variants of the Xfce logo.