Virtual worlds, despite all the press attention of late, are still in the early stages of development. Virtual worlds came into existence several years before YouTube, MySpace and Facebook, but their adoption rates pale in comparison to these services. Only 7 percent of Internet gamers ages 13 and older visit a virtual world on a weekly basis, compared with 37 percent who visit social networking sites and 41 percent who watch short videos online with the same frequency, according to a recent Parks Associates survey.
Even more alarming — among the people who have ever visited a virtual world, only about 28 percent are active visitors (visiting on a weekly basis), much lower than the 62 percent and 52 percent for social networks and online video sites, respectively.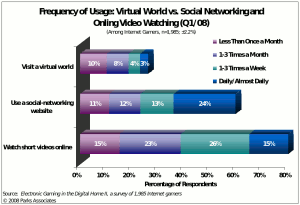 (click on image to enlarge)
Money to Be Made
Our survey did not capture the high-growth part of the industry. Kid-oriented worlds, such as Neopets, Habbo Hotel, Webkinz and Club Penguin, are attracting tens of millions of children, sometimes along with their parents, to log on daily. BarbieGirls, a virtual world Mattel launched in April 2007, signed up 3.5 million users in less than three months.
Several kid-oriented worlds are already raking in millions in revenue. Last year year Disney acquired Club Penguin for US$700 million. Although Habbo Hotel has not released its revenues, it has recently surpassed 100 million registered avatars worldwide.
Everyone's jumping on the bandwagon; more than 100 kids worlds will launch in the next 12 months, including several with significant brand equity such as "Cars" from Disney, "SpongeBob SquarePants" from Nickelodeon and Lego.
The Draw of Games
Two big success factors for child-oriented virtual worlds are that they are structured and provide interesting things to do for their participants. The No. 1 reason for visiting virtual worlds is to play games, and this is especially true for kids. For instance, more than 50 percent of Webkinz and Neopets users go there mainly to play games. In contrast, visitors to 3-D virtual worlds such as Second Life cited escaping real life, being someone else, and creating and managing avatars as their top three reasons.
In our view, such motivations lack sustaining power. In order for 3-D virtual worlds to grow their active resident base, they need to provide more organized and engaging activities. Many newbies to 3-D virtual worlds feel overwhelmed and bewildered when they first enter the wild, seemingly vast and unstructured virtual world. Some industry pundits are making the argument that whatever you can do on the 2-D Internet, you can do it better in 3-D virtual worlds. Such vision may prove true 10 years from now, but currently the technology is not mature enough and mass-market consumers simply don't see enough value to migrate to 3-D Internet.
Another key success factor is to better leverage the social aspects of virtual worlds, and the industry is moving in the right direction. Several companies, including Vivaty and Scenecasters, recently emerged to bridge 3-D virtual worlds and 2-D social networks such as Facebook.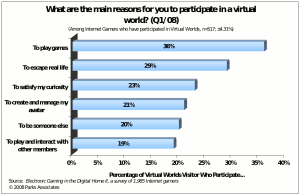 (click on image to enlarge)
The Year Ahead
Despite technology and business challenges, backers of 3-D virtual worlds are marching along. Large media companies such as Viacom are investing heavily, believing that the medium promises real opportunities. MTV already operates more than 10 virtual worlds, including Virtual Laguna Beach, Virtual Pimp My Ride and the upcoming Virtual Lower East Side, a world devoted to indie music. Large technology companies such as IBM, Intel and Cisco Systems are promoting 3-D virtual worlds for obvious reasons. In addition to media and technology companies, financial institutions, service providers, universities and pharmaceutical companies have shown significant interest in the medium. In 20 years, there will be no debate about the utility and importance of virtual worlds; they will be an indispensable part of consumers' connected life, similar to today's Internet.
However, most of our readers are likely to be more interested in what will happen in the next 12 months than in the next 20 years. We hereby offer the following near-term predictions:
Sony Home will finally launch and create lucrative opportunities as content providers deal and negotiate premium placement and marketing opportunities within the world.
Another 6 million to 8 million Internet users will try a virtual world in the next 12 months, and weekly active users will grow.
Increasing stickiness and trial conversion rates remain top priorities for virtual world operators.
Competition for eyeballs is heating up, especially in the child-oriented worlds; new worlds without significant IP will find it difficult to survive.
There will be many experiments with platform interoperability and universal avatars. Several efforts are already underway, including IBM and Linden Labs' collaboration in pushing an open standard and the China Recreation District initiative to build a virtual platform that can host millions of avatars.
Social networks will add 3-D virtual world features, and 3-D virtual worlds will leverage Web 2.0 lessons, including enabling more user-generated worlds. An Aussie startup, Mycosm, aims to provide robust tools for any consumer who wants to build a high-quality virtual world.
3-D virtual worlds will become more user friendly and compelling.
There will be more private virtual worlds or firewalled virtual worlds from large international corporations.
---
Michael Cai
is director of broadband and gaming for
Parks Associates
.
---