In what is becoming a recurring scenario for Ubuntu desktop releases, you will not see much new in Ubuntu 15.04, aka "Vivid Vervet" (as in East African monkey) unless you peer under the hood.Canonical last Thursday made its latest desktop release available for download. Canonical is Ubuntu's parent company and developer of the Ubuntu family of Linux OSes for server, desktop, cloud, phone and Internet of Things platforms.
Vivid Vervet's lineage stretches across a wide range of enterprise and consumer computing devices. Canonical earlier last week announced the availability of a family of Ubuntu 15.04 Linux operating systems that introduce new tools spanning cloud, device, client and IoT development.
That said, do not let your enthusiasm for burning a shiny new plastic Ubuntu installation DVD get the best of you. The release of Ubuntu 15.04 for the desktop includes mostly maintenance and bug fixes, along with new integrated menus and dashboard usability improvements.
I looked at Ubuntu's flagship desktop environment, Unity, but most of the technical improvements are rolled into Ubuntu's other desktop choices as well. These include Matte, GNOME and Kubuntu.
A Solid Experience
This latest release varies little from last year's 14.04 LTS and 14.10 releases, but don't take that as a criticism. Avid Ubuntu users will welcome the fixes and polishing. They certainly make the desktop experience better.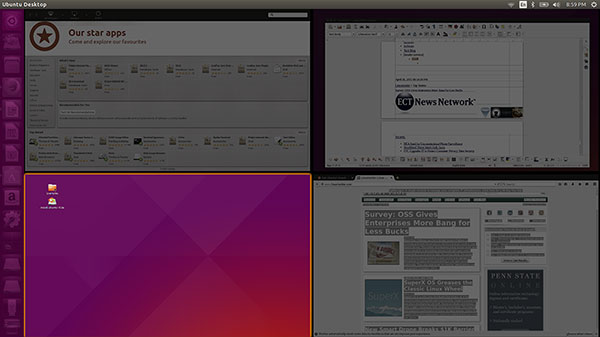 Ubuntu 15.04 is a well-executed maintenancerelease with major software updates, but little else is new.
Perhaps the most significant technical change in this desktop release is the adoption of Systemd to replace the default init manager system. A significant number of continuing Linux distros are joining the SystemD party line after the Debian Technical Committee arm-twisted the move to leave Sysvinit behind.
Despite all the hoopla that vilified both options last year, you will not notice much, if any, significant changes in Ubuntu 15.04. Perhaps a slightly speedier boot and more fluid log-in screen is all you will see.
Other communities over the last few years were feuding over the merits of Sysvinit versus Systemd. In the interim, Canonical developed its own initialization approach, called "Start."
Making Systemd the default "was a decision to prevent fragmentation of Linux itself. It was a monumental amount of work. If we did a good job, no user should ever notice," Canonical VP for Professional and Engineering Services Jon Melamut told LinuxInsider.
Noteworthy Changes
Ubuntu 15.04 has a partial Linux kernel upgrade. It uses the Linux 3.19.3 kernel. It features improved graphics and file system support. You will have to wait for the next Ubuntu release to get the even newer Linux kernel 4.0 with its no reboot patching feature.
Another potentially key change in this latest Ubuntu release may ease the annoyance some users feel over its appearance. This new version uses a local menu system, replacing the global menu as the default.
The difference is the local menu system embeds application menus inside the window border instead of at the top of the screen. Of course, you can change that preference in the system settings panel. Go to System settings/appearance/behavior to switch back.
If you are color-sensitive, prepare yourself. The desktop background is now overly purple.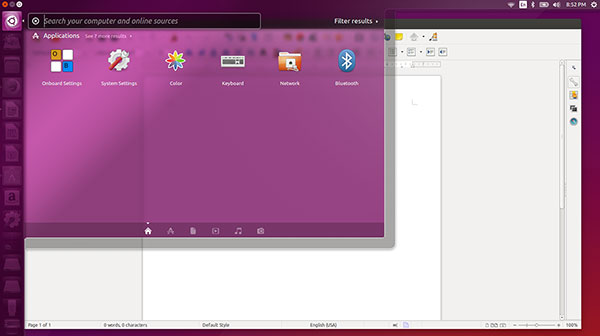 In Ubuntu Vivid Vervet, the only new thing tosee is a color change to shades of purple.
Updated Packages
As with most new Ubuntu releases, nearly all of the major applications are refreshed to their newest versions. This includes applications, system tools and accessory programs. Many of these packages came from an automatic sync from Debian's unstable branch. Others have been pulled in explicitly for Ubuntu 15.04.
Some pleasant surprises include Firefox 37.0 and Chromium 41 for the Web browsers. Pulseaudio is updated to version 6. This paves the way for a move to BlueZ 5 in the next release.
LibreOffice 4.4.2.2 is the default office suite, bringing increased business productivity. Updated features in the suite include improved change-tracking in Writer; enhanced mail merge performance; and improved shapes, which now can have fully formatted content with tables. Also new is the support for digitally signed PDF exports.
Some other updates in the LibreOffice suite are the addition of statistics functions in Calc and password protected documents in Impress. Both Impress and Draw have support for slide transitions.
Missing Mir
I was disappointed by the absence of one potentially major improvement to the under-the-hood functionality in this new desktop release. I am referring to the anticipated switch to Unity 8, with Mir as the new display server for the desktop.
The latest Ubuntu desktop release offers verylittle to get excited about. The much-anticipated upgrade to Unity 8 withMir as the new display server for the desktop is missing in action.
Developers have not yet ironed out the kinks in that changeover. The touch-friendly replacement for Unity 7.3 seems to be a lot less developer-friendly.
In a release that claims very few innovations, having a better Unity shell would have demonstrated some serious progress.
Bottom Line
Although Ubuntu 15.04 leaves me wanting more, it is a solid Linux distro. It upholds the high standards and industry-leading position earned for the nearly constant introduction of new things in each major release.
That said, it is one new release too many with little or no pizazz. Canonical is making huge strides elsewhere in its ecosystem, but if it leaves users hungry for too much longer, the company might find its base eroding, as users shift toward more innovative Linux desktops.
Ubuntu 15.04 is one release that many Ubuntu users can skip and not miss a thing.
Want to Suggest a Review?
Is there a Linux software application or distro you'd like to suggest for review? Something you love or would like to get to know?
Please email your ideas to me, and I'll consider them for a future Linux Picks and Pans column.
And use the Talkback feature below to add your comments!