Voyager Live 16.04 is a Linux distro that could be an ideal choice for everyday computing tasks — but first it has to step away from its branding with Xubuntu.
The once-per-year release of Voyager Live, which hit servers last month, is an Xubuntu-based distribution showcasing the Xfce 4.12.2 desktop environment. Its features include the Avant Window Navigator, or AWN (a dock-like navigation bar), a limited Conky desktop display of basic system information, and more than 300 photographs and animations that can be used as desktop backgrounds. It will receive three years of security updates.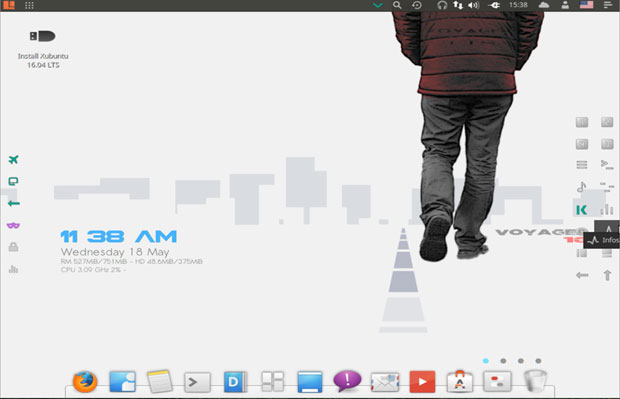 Voyager Live 16.04 relies on anXubuntu foundation to take the Xfce desktop in a new direction.
I reviewed the Voyager-X release last year and found it somewhat lacking. Despite a catchy redesign with customizations of both Xubuntu and Xfce, this latest release continues to suffer from the same basic shortcomings — mostly branding issues resulting from a lack of attention to details.
Look-alike Linux distros crowd the field, so Linux distro developers need to be mindful of branding and packaging issues that can detract from powerful first impressions. This is an issue French developer Rodolphe Bachelart, the creator of the Live Voyager series, still needs to give more priority.
The Voyager website is written mostly in French. The pages are bland, with almost no information about the operating system. They display a distracting mix of English and French phrases. The website is peppered with links to related Linux content, but those pages are mostly localized in French.
Even the Voyager website's pages that contain more detailed distro news display content in French. Sure, it's just a minor inconvenience to click the Google translate button in the Web browser, but little things like that can accumulate and turn off potential faithful users.
Take, for instance, sloppy consistency with product branding. The installation icon is labeled "Install Xubuntu 16.04.1 LTS." Another problem is the localization issue. Even though the installation is an English-language version, French continually pops up in some menu items and message displays. With a once-a-year release cycle, getting the language localization accurate and consistent needs to be a priority.
Under the Hood
Bachelart has made a strong effort to expand on his philosophy of having Voyager offer a wide range of options for different people who do not have the same computer practices. Voyager Live makes it easy for users to delete stuff they do not use or want, and keep software packages that suit them. Voyager and Xfce blend into a distro for common causes based on lightness and flexibility.
The latest software features gives Voyager a modern look and feel, and its Xfce desktop is more flexible.
Xfce 4.12 combines with the Xfdashboard and plugin along with the Xfce4 hot corner functionality to bring a navigational fluidity not previously present in distros running the lightweight Xfce desktop. The addition of the latest Plank version to the functionality of the Docky dock on the bottom of the desktop makes it easier to launch applications.
Voyager Live is built around Xubuntu 16.04 LTS Xenial Xerus. It runs the Linux Kernel 3.16. The combination gives it a solid foundation to ensure stability and long-term support.
Software Sufficiency
Voyager comes with an impressive inventory of top-rated software packages to provide a wide range of built-in uses:
Kodi Media Center 16.1
Mpv Media Player
GIMP 2.8.16
Gthumb
Pitivi 0.95.1
Clementine
RadioTray
Kazam
Bleachbit
Firewall Gfuw
Firefox 46
Pidgin
LibreOffice 5.1
Gnome Calendar
Very few Linux distros supply users with add-on packages to get the latest features easily. This is one of Voyager Live's strong points. It includes a post-installation script to let users quickly and easily select and download special software integrated into the Xfce framework.
Dynamic Duo
Voyager Live's clumsy integration with the Xubuntu base is far from its downfall. Rather, the flawless installation process with the post-installation step produces a Linux OS that is clearly different and is not just an Xubuntu clone.
Voyager and Xubuntu share a common software library. Software updates are handled through a generic updater package linked to the Ubuntu PPA. Plus, they both provide more options with the Synaptic Package Manager.
They also share in common the same code and same development cycle. Ditto for providing access to the same APT deposits.
Desktop Design
The user interface is very comfortable. It combines several elements that make you wonder if you are using a tweaked GNOME 3 shell or a highly customized desktop cloned from Xfce.
In a throwback to more traditional Linux distros, the panel bar sits across the top of the screen. It holds an unusual collection of icons and notifications.
The bottom of the desktop holds a launch dock that has some of the characteristics of an actual second panel par. This Plank is an Avant Window Navigator or AWN style dock-like navigation bar at the center bottom of the screen.
A vertical row of five icons sits along the left edge of the desktop. These icons provide quick access to various system tools and settings.
Right-clicking anywhere on the desktop opens a complete applications and system tools menu. This is classic Xfce functionality. Voyager Live's UI goes much further with the convenience factor, however. A traditional menu icon in the far left corner of the top panel drops down a full menu. Next to the menu button is a button to open the XfDashboard. A duplicate dashboard icon sits in the center of the Plank row.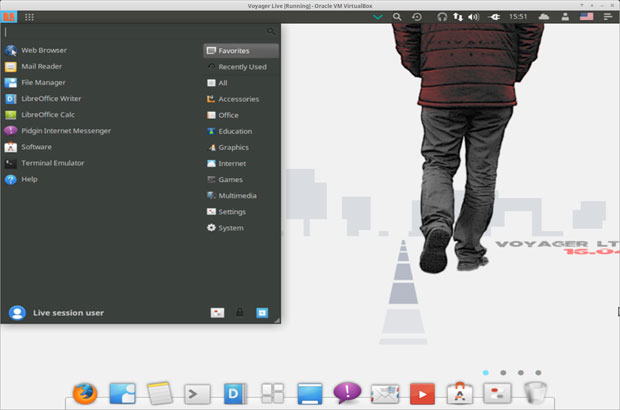 Voyager Live puts its own spinon how the menus and other user interface elements work to provide adifferent computing experience.
This UI integration eliminates the need for a separate workspace switcher applet running on the top panel. The XfDashboard takes care of this. Click it to have a GNOME 3-style mini view of the workspaces slide out from the right edge of the desktop. This arrangement makes navigating among workplaces super simple.
Bottom Line
Voyager's integration of elements makes it a novel alternative to Xubuntu.
Branding problems and French language intrusions aside, Voyager Live performs well and offers a look and feel that complements its stellar performance.
Want to Suggest a Review?
Is there a Linux software application or distro you'd like to suggest for review? Something you love or would like to get to know?
Please email your ideas to me, and I'll consider them for a future Linux Picks and Pans column.
And use the Talkback feature below to add your comments!