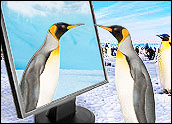 Though it's struggled when it comes to kicking in doors in the consumer market, Linux has clearly found a welcome home in the enterprise, and it appears to be making itself more comfortable with each passing day.
"It's the fastest-growing server-side operating system of any of them that are out there — Unix, Windows, you name it," Jim Zemlin, executive director of theLinux Foundation, told LinuxInsider.
"The reason it's growing so fast," he continued, "is because in a down economy, companies now know that Linux will save them real money."
Free, With a Caveat
As fresh company eyeballs examine Linux, its value proposition may be obscured by its reputation as a "free" operating system. If the OS is free, one might ask, then what are outfits like Red Hat, Novell and IBM trying to sell me?
The answer is support. While anyone can download a free version of Linux, there's more to maintaining an operating system — especially when it's being used across an enterprise — than just downloading it.
"In most cases, you'll find that for enterprises, the cost of ownership is actually less when you go with a paid subscription from an enterprise distribution provider," Kerry Kim, product marketing manager for Suse Linux at Novell, told LinuxInsider.
Do-It-Yourself Illusions
Although some companies have the in-house talent to support an operating system, they still may decide not to do it. Even in that case, Kim noted, a company has to ask itself, is that what employees who should be working on core products and services be doing?
"If it's not a core competency for you, you may actually end up spending more time and money supporting your own environment than having somebody else do it for you," he asserted.
"It's an illusion to think that if you do it yourself, it's cheap or it's free," Kim said.
"We have a lot of customers who have purchased support subscriptions from us after supporting their own environment for a while," he added. "It wasn't that they couldn't do it. It's just that they found that to do it themselves, it cost a lot more."
Managing Change
A significant challenge for enterprises is managing technology change, according Marco Bill-Peter, senior director for global support services at Red Hat. Some of that burden can be handed off to a distributor when a company uses a supported version of Linux.
When changes are made to the operating system, a distributor like Red Hat will vet and incorporate those changes in the version of Linux being used by its subscribers.
Vetting can be very important and something not likely to be done by go-it-aloners. If someone gets some bad code into an upstream version of Linux, a go-it-aloner is likely to adopt that version unaware of the consequences.
"I know one customer that used an open distribution of Linux and got into a real problem with their whole server farm," Bill-Peter told LinuxInsider.
"That wouldn't happen with Red Hat," he continued. "Because something is upstream doesn't mean we'll back-port it to our current stream."
Technical Support
Both software and hardware changes are managed by a distributor.
"We work with hardware vendors to make sure our distribution works well," Bill-Peter added.
Subscription distributions also have the advantage of being plugged into a support network.
"If your distribution is a supported distribution, you get technical people to look at a problem and resolve it, usually in the shortest possible amount of time," Inna Kuznetsova, director of Linux strategy at IBM, told LinuxInsider.
Maximizing Performance
What's more, she pointed out, distribution vendors often have partnerships with application vendors to ensure that an installation works at maximum performance.
"When the customer gets a system with a supported version, it means that it's tuned up for best performance," she maintained. "It produces the best results."
"If you get a free distribution, then you are on your own," she added. "Should you have a complex enough environment or large amount of users, you may experience an unnecessary loss of productivity."
Send Lawyers, Code and Money
Another bonus point offered by Bill-Peter: code lawyers.
"One of the bigs fears enterprise companies have is how do they know that the open source code that they get is legitimate?" he asked.
Red Hat has lawyers researching the licenses behind the code in its Linux distribution to make sure it's legally safe to use, Bill-Peter explained.
From Free to Parachutes
Linux distributors offer a broad range of service options, including call center service, Web-based self-service, online forums and resident on-site support. Depending on how much a user wants to pay, service response times can be as short as one to four hours, or as long as two business days.
"You can get Linux support in almost any shape or form imaginable, from free support to parachuting an expert into your location who won't leave until the problem is fixed," observed the Linux Foundation's Zemlin.
"Linux can be free if you don't need a high degree of support," he added, "but when you do need a high degree of support, you can be assured that it will be available and that there's enough competition in the marketplace that the cost is going to be reasonable."