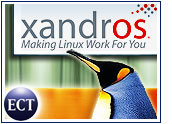 Custom Linux provider Xandros will release a free Linux OS called "Freespire 5" during the fourth quarter of 2008. This next version of Freespire will be based on the Debian GNU/Linux "Lenny" release rather than the Ubuntu Linux platform Freespire 4 uses.
The move spearheads a new Xandros consolidated desktop strategy following its acquisition in July of Linspire, the developer of the CNR software distribution platform. Linspire also developed the commercial Linux OS called "Linspire" and the community-supported Freespire Linux desktop OS.
No Need
Prior to the acquisition, Xandros had distributed the Xandros Desktop Professional Linux and a free Open Circulation edition of Xandros Desktop Linux. Xandros is integrating the former Freespire Linux version developed by Linspire into the new Freespire 5 Linux OS. Xandros will not offer the previous Linspire Linux OS nor develop a new version of it.
Xandros will follow its release of the free Freespire 5 with the Xandros Desktop Professional 5. This OS version will be built on the same open source code base used in Freespire 5 but will include additional commercial elements, primarily for enterprise customers.
"The commercial version of the Linspire OS is folded. We have no need for it," Larry Kettler, president and CEO of Linspire — now a division within Xandros, told LinuxInsider.
Old Roots
Company officials are calling the retooling of the upcoming Freespire 5 to Debian instead of continuing its Ubuntu roots the "Freespire Initiative." The idea is to help Xandros consolidate its base of users.
"It will bring the final piece to providing an end-to-end Linux solution," said Kettler.
However, the Freespire product is continuing and will grow. An active community is supporting it. The transition, however, is a little bit fluid right now, he added.
Dual Gain
Some of the details behind the Linspire acquisition are only now surfacing. Until now, officials have been very tight-lipped about their reasons for acquiring Linspire and burying only one of its three products.
"Acquiring Linspire was part of a twofold marketing plan to advance the popularity of Linux on the desktop," Andy Typaldos, CEO of Xandros, told LinuxInsider.
One reason was to put the pieces together for a geek-free desktop Linux solution. The second reason was to provide customers with a one-stop software shop for open source packages for a variety of Linux distros.
"With Freespire, we have that product. CNR is a pure add-on for OS integration," Typaldos said.
Growth Factors
The presence of Asus Eec PC on store shelves is one driving factor that will push the Linux desktop. This Linux-based laptop with no hard drive broke the barrier of having Linux on the desktop for everyday users, according to Typaldos.
"Now, not just geeks can buy Linux off the shelf. It's exciting to see them using Linux and they don't even know it," Typaldos said.
Xandros is going to enhance the user experience by having available applications and content for Linux. As part of this overall usability plan, Xandros will soon announce a media download for music and audio through the CNR (Click-N-Run) platform it acquired from Linspire.
Linux Central
Kettler runs the CNR part of the operation. The CNR platform standardizes the process and eliminates the complexity of finding, installing and managing Linux software for the most popular desktop Linux distributions.
Linspire developed the CNR platform in 2002. The upgraded service that will be offered by Xandros will be a Web 2.0 structure, said Kettler. It will be available before the end of the year.
CNR will be the only marketplace where Linux users can search for program packages by category or other variables. The packages will be vendor-supported. Also, it will be a gathering place for collaborative Linux communities. Each offered product will have its own wiki, and both free and commercially sponsored packages will be available, he explained.
Xandros' CNR product will eliminate the need for single platform repositories of Linux packages based on distributions. For example, the offering can be branded, so a Linux vendor or hardware maker can provide its customers with a link that will appear to go to that company's Web site. However, the customer will arrive at the CNR page that has Linux programs for that particular product, explained Kettler.
Unified Linux
People do not want to buy an operating system if it does not have enough applications to meet personal and business needs, said Typaldos. Xandros' new marketing strategy aims to solve that problem. On the commercial side, CNR breaks that vicious cycle by creating and delivering Linux content.
"A combined Xandros/Linspire development effort will return Freespire to its Debian GNU/Linux roots and put it in sync with Xandros Desktop Pro," said Typaldos. "We will have a leading-edge code base while preserving our commitment to Debian, stability, Windows interoperability, and ease of use."
This commitment allows Xandros to meet the needs of a wide range of users, from open source enthusiasts to demanding enterprise clients. In addition, Xandros is intensifying its commitment to the Freespire open source community, which will now help to drive both the Freespire and Xandros products, he added.
"This is really some of the most exciting news since the announcement of Freespire 1.0," said Tom House, Freespire community organizer. "This is what we were hoping to see — both the continued development of Freespire and a return to a Debian base."