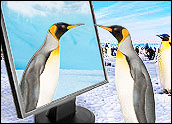 The Linux OS is free, but that doesn't mean it won't cost you more than pocket change to keep it working in your office.
Depending on which of the many consumer or enterprise flavors you select, the price tag for support can range from your own invested hours scouring community help forums to spending thousands of dollars per month in IT salaries or third-party support.
Say you have a business, and you have decided to go with Linux over Windows or Mac. Maybe you will just switch your servers to Linux at first. Or perhaps you start with the desktops of your small office staff. What happens when something goes wrong? How do you configure, troubleshoot and maintain the system?
When questions arise or trouble strikes, you do not want to ponder the answers standing in line at your neighborhood book store, thumbing through a copy of Linux For Dummies.
"Windows users tend to get local help without paying Microsoft. Getting commercial support depends on a company's circumstances," Dan Kohn, COO of the Linux Foundation, told the LinuxInsider.
Pay to Start
For small to mid-size businesses, starting with Linux is not cost-effective when using existing staff to lead the support efforts. A paid Linux consultant can get the migration started without surprises.
Many companies migrating to Linux start out small. This gives the companies' existing computer gurus time to get familiar with the new operating system.
"We see Linux use in businesses progressing to the level of in-house support. Typically, the use of Linux is incremental. When starting out, companies will rely on outside help. Then they will evaluate their in-house talent and adjust accordingly," Doug Small, director of marketing for open source and Linux at HP, told LinuxInsider.
In-House Option
Relying on support from within the company can be risky. The level of support a particular user needs varies with the company — and with the Linux distribution.
"The issue of support for Linux is critical. Many users are getting more expert with Linux, but they are not yet at the same level with their skills in-house as a Windows support staff is," Small explained.
Large-business users of Linux should start out with commercially supported versions from day one, urged Kohn. Spending money for commercial support from the Linux distributor is far more cost-effective than absorbing the cost of lost business and paying to fix a disaster when Linux servers stop, he reasoned.
"For start-ups, where every penny is scarce, start out using the free Linux versions. They have a huge amount of online help groups to provide support. Usually an in-house team can get problems solved if the workers are willing to put time into checking the forums," said Kohn.
When in-house self-help consumes more effort than a company wants its workers to spend, it is time to get real help, he noted.
Third-Party Help
Companies migrating to Linux have to be realistic with support issues. Linux is getting more mature, but the need for skills locally is still more prevalent than many companies can provide in-house.
"Top companies employ technicians who can handle fixes. Generally it is not cost-effective to have in-house staff available when there is nothing to fix," argued Kohn. "It comes down to weighing the choices."
One key factor in weighing the need for in-house versus paid Linux support is the comfort level of the resident computer gurus. Companies have to consider the comfort level against the task importance.
The more complex the tasks become, the higher the need grows for outside support. More mission critical needs should be supplemented with outside help, Small advised.
"Many of our customers prefer remote maintenance and support rather than spending money in house. This is a cost-effective approach for them," he said.
Changing Gears
Running the Linux OS is not the same as running Windows or Mac computers. One Linux distribution does not have to fit all needs. This is an important concept to keep in mind when evaluating support options.
It is not uncommon for a business to migrate to Linux without outside help, according to HP's Small. As their support needs outgrow the capabilities of in-house support, companies can bring in third-party support as needed. This is often the case when a company ramps up for full production on Linux.
"At that time, a company may decide to switch to a better Linux distribution for more support," Small said.
Better Choices
One strategy to provide a better level of Linux support is to pick a Linux distribution with which a company can grow instead of changing later on to avoid poor support. For instance, before deciding what is more efficient and/or economical, the company must bear in mind that it should align its infrastructure to the business.
"Therefore, whichever support model you choose must cover each technology and all the business applications running on it," Guibert Englebieen, CTO of Argentina-based IT outsourcing provider Globants, told LinuxInsider.
An in-house employee will not have the necessary level of processes, scalability and expertise to solve a specific technical problem, especially at the OS level, noted Englebieen. At the same time, a Linux distributor may only provide support services to one tier, such as the operating system, for example. Thus, a company will not be able to receive a complete set of services to support its Linux use properly.
For mission critical applications Englebieen suggested following a different support path. He recommended using a team of specialists for providing support to each IT layer with emphasis on the application.
"When choosing the correct support for your Linux applications, you need to have access to a team who is familiar with all your technologies and is sensible to your business," he said.
Fragmented Layers
For many in enterprise considering a move to Linux, the OS seems like something new, but it is not. Linux has been used mostly for the IT administrative environment, noted Jan Volzke, global marketing manager for mobile security at McAfee.
While Linux is still not viewed as a major OS rollout for consumers, active alliances now are pushing to change this, he said.
"Linux is the perfect example of a fragmented market. The support community for enterprise will have a different set of players than the consumer support for desktop users. As Linux becomes more used by consumers, the support role will change as more people get involved," Volzke told LinuxInsider.
Security remains the downside in support as more users take on Linux, he said.