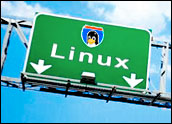 For over a decade, Linux watchers have predicted that one day the open source operating system will become the dominant player — and yet that day never seems to arrive. Already, of course, Linux has a very healthy share of the server market and a growing place on the desktop, but it's the rise of Internet-connected devices like smartphones, tablets and netbooks that may finally catapult Linux into the mainstream.
Why? Because users of these convenient, portable devices don't really care what operating system they run, as long as their devices offer downloadable apps and fast access to the Internet. The rise of cloud-based computing, where users access applications via the Web, has also driven an uptake in Linux. Some 80 percent of an average computer user's time is spent within a browser, and if all of your applications and documents are stored online, there is little need to run a huge operating system and install programs locally on your machine.
Linux on the Rise
Market statistics bear out the rise in Linux on smartphones, tablets, netbooks and even PCs.
In the first quarter of 2010, smartphones with the Linux-based Android operating system outpaced the iPhone for the first time, according the NPD Group — with Android phones cornering 28 percent of the market vs. 21 percent for the iPhone.
Android phones had 11 percent of the mobile application download market in 2009, but that share will rise to 23 percent in 2014 and 33 percent in 2015, according to ABI Research.
In 2009, more than 35 million netbooks were shipped worldwide, with 32 percent of those running a Linux operating system and 68 percent running Windows, according to ABI Research. The number of Linux-based netbooks is expected to continue to rise.
Some 4 million tablets will ship this year, but that number will rise to 57 million by 2015, according to ABI Research. While many of these will be iPads, there are many lower-cost, higher-performance Linux-based tablets that will corner a large share of this market.
For the second year in a row, Linux is gaining market share on the developer desktop, gaining 13 percentage points in 2010, while Windows lost 16 points, according to the Eclipse Foundation.
But perhaps the most telling sign of Linux's imminent dominance is the MeeGo standard. This open source Linux project develops a common set of standards for a Linux operating system to be used on netbooks, desktops, smartphones, tablets, in-vehicle devices, connected TVs, media phones, and other consumer electronic devices. Supported by The Linux Foundation, Intel, Nokia and dozens of other hardware and software companies, MeeGo will make it easier than ever before for OEMs to build devices running a robust, easy-to-use, consumer-focused Linux operating system. MeeGo will also make it easy for developers to create apps that will run across netbooks, PCs, tablets, smartphones, in-home electronic devices and more — helping create a wealth of open and inexpensive apps for today's consumers.
Momentum Gaining
Google Android is certainly a driving force behind the recent rapid uptake of Linux on smartphones and other mobile devices, and there's no doubt it will also play a decisive role in the burgeoning tablet market. While there are far fewer apps in the Android marketplace than in the Apple App Store, that will change quickly as thousands of developers see the massive potential in creating Android apps.
Manufacturers, on the other hand, are constantly on the lookout for ways to differentiate their products by offering a slicker, more compelling user interface. Windows has long constrained OEMs in this regard, which is why so many OEMs believe the consumer-focused MeeGo operating system may be the first platform that enables them to create devices that rival the look and feel of Apple's user interface. While most people may love the look and feel of an Apple device, not everyone wants to pay the premium for their products. A Linux-based netbook, tablet or mobile device will cost much less and deliver much the same experience as an Apple product — which is why the device-centric world is a boon for Linux.
Think of it this way: Three years ago, when Asus launched a Linux-based netbook, it was radical. Now, it's commonplace, with over a third of all netbooks shipping with a Linux-based OS. The rapid penetration of Linux into the netbook and smartphone markets has been incredibly fast by all industry standards — and there's no reason why Linux won't penetrate the tablet market just as quickly. Linux has quite simply become a must-have for OEMs — because it drives down costs, enables customizability and boosts performance.
For OEMs that are still shipping Windows machines — and of course that is still the majority — many are opting to add a Linux-based companion OS that can do things like bypass Windows to get fast access to Web-based apps.
Why are these Linux-based companion OSes so popular? Users are tired of waiting for a slow and clunky Windows OS to load just to check their email or log onto the Web. Because of their iPhones and Android phones, they are now used to a fast, always-on Web experience — and they want their PCs to behave the same. As users demand more and more simplicity and faster access to the Web, the natural evolution from a Linux companion OS to a full-scale Linux OS is easy to see.
Even though I serve on the Board of Directors of The Linux Foundation and basically live, breathe and sleep Linux every day, I don't pretend to be an oracle into the future of Linux. But it seems clear that the market forces are behind Linux today in a way they never have been before. With the Web-based, device-centric computing world becoming the norm, flexible and robust Linux could finally become the OS of choice for device manufacturers. In fact, millions of consumers won't even know or care that they're using Linux; they just want elegance, simplicity and always-on Internet access. Linux, quite simply, delivers what consumers want.
---
Mark Lee
is CEO of
DeviceVM
.