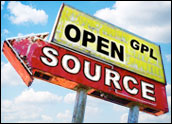 Like ERP and CRM before, collaboration is the next big space in software. By the numbers: SharePoint is a billion-dollar business. IBM Lotus is a US$700 million business. Forrester Research claims Enterprise 2.0 will grow to a $4.6 billion industry by 2013.
Collaboration software is evolving to mean much more to its users than it did a few years ago. When it once meant intranet/extranets and content sharing, now it can be described more appropriately as "enterprise collaboration." This definition encompasses
CRM dashboards: The dashboard is one of the most commonly used components of today's complex CRM systems, and yet many companies are paying full-seat costs for the use of the dashboard alone. Collaboration software can bring the connection to CRM alive, without the costs of adding new seats.
Enterprise intelligence and analytics: Collaboration software makes it possible for non-programmers to make better use of their data. Powerful code available through enterprise collaboration means business analysts don't need to wait for a programmer to analyze business data.
Improved tracking of collaborations and content changes: Such improvements lead to better management of processes and business decisions and improved knowledge-worker efficiency. This feature of today's collaborative platforms is also very important to the type of content that requires more stringent management in terms of accuracy, compliance, discovery, security and/or privacy, such as repair manuals or official memos.
And more: Enterprise collaboration is enabling increasing amounts of customized code that even employees with only moderate technical ability are able to write.
Open Source Collaboration Is True Collaboration
We believe open source will be the clear winner in this space because it doesn't seek to own the platform, the protocol, the exchange format or the community.
Open standards help business people avoid headaches specific to hardware, data exchange formats, and protocols. Those become elements of the entire package, and the customers can focus on the business solutions they are trying to solve instead of the processing behind it.
There is some mythology floating about that open source is only for the small company that has zero IT budget, but this is slowly being dispelled, particularly in the collaboration space, by open source usage by massive organizations including Intel, Mozilla and Intuit.
More businesses have come to understand that the attraction of open source is about community input from those passionately driven to create powerful code that works. As far back as November 2008, Gartner was reporting that 85 percent of businesses already used open source. The open source community is in and of itself a collaborative environment, so it's no wonder that open source is popular when it comes to the development and adoption of collaboration software.
More IT companies continue to open their code in an effort to have developers use this open source model to improve upon that code. Google recently revealed that its conservative estimate is that it has released about 14 million lines of code, probably more than any other company.
Who Wins?
The winner in the collaboration space will
Be platform-based: The benefits of enterprise collaboration are so immense that it's counter-intuitive to assume a point product (such as forums, micro-blogging or chat) could drive enough value and impact to justify the investment. Collaboration solutions should help break down information silos and bridge teams, creating an information fabric of previously disconnected systems and people. This requires a robust architecture that supports the seamless integration of those disparate systems, along with ability to support hundreds and thousands of users across geographies.
Be optimally designed to support the nuances of collaboration: Often when we talk about collaboration, the information being shared can be in several transitional states, so product architecture and design is a key ingredient for success. As an example, RESTful applications are designed to take advantage of programmable interfaces for the efficient import and export of data sources — an absolute requirement for any collaboration solution. Taking it a step further, products that are both open standards compliant and open source based could prove to be the most attractive option available for businesses, as they are completely empowered without any vendor-lock in. This allows flexibility to reign supreme.
Nurture community involvement in solving common business challenges: This final point builds upon the previous two bullets (a platform, purpose-built, via open standards). A proven benefit of community engagement is the ability to identify and solve business challenges with a higher rate of velocity in contrast to traditional product development. Creating an open and extensible, standards-based platform allows for continued development, outside of the vendor roadmap. Developers, business partners and customers alike should be able to develop their own solutions onto the platform — to meet unique or broad market needs.
It's an exciting time to be in the collaboration and open source spaces. If you happen to be in both, then you're riding high, and the future looks to be full of opportunity.
---
Aaron Fulkerson
is CEO of
MindTouch
.
Follow Aaron Fulkerson on Twitter
.