Mainstream consumers typically do not know the Linux operating system powers their email service, favorite websites, television sets, and even their mobile phones and computers in some cases. Now, Wind River Linux is making inroads into the operation of electric-powered cars.
The commercial embedded Linux developer, headquartered in Alameda, Calif., delivers software for mission-critical intelligent systems. It is helping to accelerate digital transformation across industries, including automotive, aerospace, defense, industrial, medical, and telecommunications. Its Linux tools and lifecycle services for automotive use help manufacturers build and support intelligent edge solutions.
"The role of software is increasingly important for the automobile industry. Linux software can unlock new possibilities to grow value for both car makers and consumers," Avijit Sinha, chief product officer at Wind River, told LinuxInsider.
Wind River Linux can help automotive innovators implement modernized development frameworks that leverage AI in the cloud and at the edge. Combined with software lifecycle management capabilities, it enables them to accelerate their innovations and drive the realization of software-defined vehicles forward, he explained.
Open Source Advancement Fuels EV Technology
Wind River recently partnered with two up-and-coming Chinese electric vehicle (EV) manufacturers to integrate innovative Linux technology. Both electric car makers hope to use Linux to speed their entry into competing with established gas-engine auto manufacturers in Europe and North America.
Mobility technology brand Zeekr and Horizon New Energy Automobile Co., also known as Hozon or NETA Auto, are relative newcomers to the EV industry. Zeekr, founded in 2021, transitioned to the European market in Sweden and the Netherlands in the fourth quarter of 2023. Hozon, founded in 2014, produced its first concept car in 2017 and opened a research center in California's Silicon Valley in 2018.
Zeekr's design goal is to create a fully integrated user ecosystem. Its technology utilizes sustainable experience architecture (SEA), including its own battery technologies, battery management systems, electric motor technologies, and electric vehicle supply chains.
The company's name is a composite of three concepts about non-gasoline engines:
"ZE" stands for Zero, as in the starting point of infinite possibilities.
"E" represents evolving the electric era.
"KR" references Krypton, a rare gas that emits light when electrified.
Hozon selected Wind River Linux to develop the Hozon Automotive Intelligent Security Vehicle Platform, according to an Oct. 10 announcement. The platform is a hardware and software framework for high-performance computing gateways and vehicle control scheduled to go into production starting in 2025. It integrates open-source frameworks and tools, enabling the rapid development and deployment of software applications.
"Hozon is pushing the boundaries of innovation in its vehicle development," said Dai Dali, the company's chief technology officer. "It is important to work with both an auto and a Linux expert who possesses the highest levels of professional services ability combined with long-term support and localization capabilities, including expertise in performance optimization, security, and safety."
The collaboration between Hozon and Wind River also includes work on next-generation automotive infrastructure software to enable software-defined vehicle capabilities such as advanced high-performance computing, internal and external networking between vehicles and infrastructure (V2X), and advanced driver assist systems (ADAS).
Linux Tech Motivated Partnering
According to Sinha, Wind River will embed its Linux software in the future Zeekr Electronic and Electrical Architecture (ZEEA) platform to actively power the software-defined vehicles of the future.
His company's advanced Linux platform enables teams to develop, deploy, and operate reliable and secure embedded solutions on a purpose-built Linux operating system. What attracted Sinha to the Zeekr partnership was the company's pioneer efforts in new technologies.
Zeekr will use Wind River Linux in its Central Security Computer — a service gateway that manages the vehicle's backbone ethernet — to advance autonomous driving, intelligent cockpit, and in-vehicle E/E architecture.
"Our collaboration with Zeekr has been extremely positive. They have a good team with highly professional and experienced team members. They have developed an advanced system in a very short time. Their innovative take on things is also refreshing," said Sinha.
Wind River's Industrial Linux Edge
Wind River's software differs from other Linux and proprietary auto systems in use today. It focuses on the non-IT use cases, with a solid emphasis on application and development for industrial use, noted Sinha.
"These markets are traditionally more demanding than others, and we were able to leverage this experience to differentiate from the more traditional offerings that tend to be 'good enough.' Additionally, we have a very strong services team with a lot of experience in customizing for and supporting customers with specific needs," he said.
Wind River is a founding member of, and for more than a decade has been a contributor to, the Yocto Project (YP), an open-source collaboration project that helps developers create custom Linux-based systems regardless of the hardware architecture.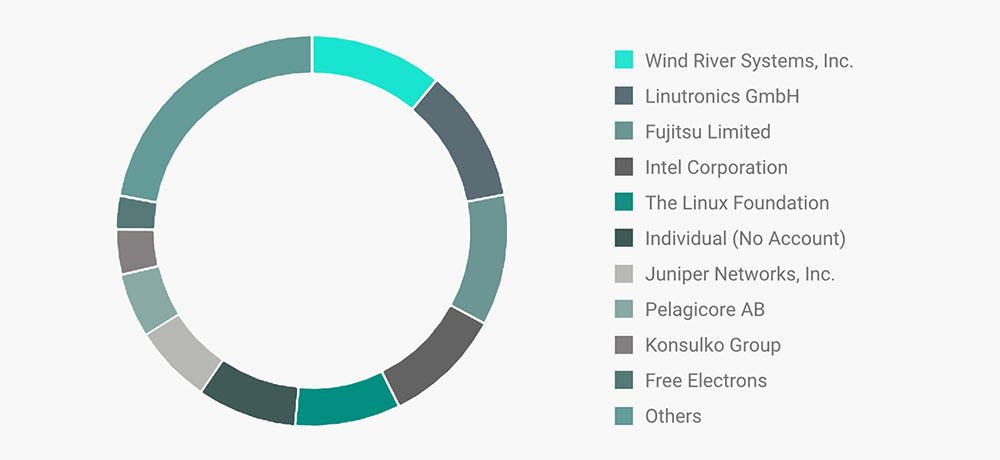 Top 10 organization commits to the Yocto Project (Image: Wind River Systems | Source: The Linux Foundation)
---
The company is also a member of the ELISA project (Enabling Linux In Safety Applications), closely watching embedded Linux use in safety applications.
Both of these projects are organized as a non-profit under the banner of The Linux Foundation.
Sinha noted that Wind River Linux provides the security, safety, and reliability required for billions of devices and systems. This software finds applications in everything from collaborative robots and commercial and military drones to connected cars and factory floors, as well as the intelligent communication networks that support these applications.
His company has a lengthy track record of helping customers solve complex technology challenges on their journey toward the new intelligent machine economy. Innovation has been part of the company's DNA for more than four decades.
Wind River's technology has been instrumental in a range of groundbreaking projects. For example, it has played key roles in NASA space missions, such as the Artemis I mission, the James Webb Space Telescope, and multiple Mars rovers. Additionally, it contributed to pioneering work in 5G technology, including NASA's first successful 5G data transmission from outer space.