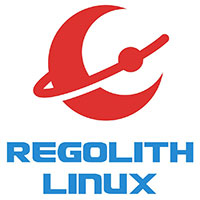 Regolith Linux brings together three unusual computing components that make traipsing into the i3 tiling window manager world out-of-the-box easy.
Much of the focus and attraction — as well as confusion — for newcomers to the Linux OS is the variety of desktop environments available. Some Linux distributions offer a range of desktop types. Others come only with a choice of one desktop.
i3 provides yet another option, but it is a much different choice that offers an entirely new approach to how you interact with the operating system.
Window managers usually are integrated into a full-fledged desktop system. Window managers control the appearance and placement of windows within the operating system's screen display. A tiling window manager goes one step further. It organizes the screen display into non-overlapping frames rather than stacking overlapping windows.
The i3 tiling window manager in Regolith Linux serves as what essentially becomes a standalone pseudo desktop. It automatically arranges windows so they occupy the whole screen without overlapping.
---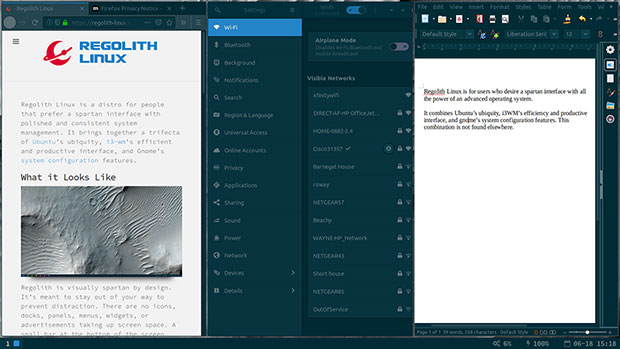 An otherwise barren desktop quickly gets crowded with equal-sized tiled windows. Here we see the Firefox Web browser on the left, Control Panel in the center, and a LibreOffice document on the right.
---
Regolith Linux brings together three computing elements not found anywhere else. It is part Ubuntu's ubiquity, part i3-wm's efficient and productive interface, and part GNOME's system configuration features.
Different Strokes
Regolith Linux is designed for people who prefer a spartan interface with polished and consistent system management. You will not find many distros using the i3 tiling window manager.
The few distros that offer i3 as a sort of desktop option are built into Arch-based distros. The i3 wm components usually need elaborate installation and detailed configuration steps. That becomes a deterrent to trying the tiling window manager.
Regolith Linux changes all that. Developer Ken Gilmore stuffed the i3 tiling window manager into Ubuntu for stability and easy access. If you download the live CD version, you get a ready-to-go Regolith distro with all the Ubuntu software infrastructure.
Another option is to add the Regolith Ubuntu PPA to an existing Ubuntu 18.04 (Bionic) or 19.04 (Disco) system and swap out the Ubuntu desktop with Regolith's tweaked i3 tiling window manager replacement.
Release 1.0 is based on Ubuntu 18.04; release 1.1 is based on Ubuntu 19.04. Either version will update to the latest files.
"All Regolith packages work fine on Ubuntu 18.04 and 19.04. Essentially the goal is to create something simple, polished and productive," Gilmore told LinuxInsider.
New Approach
Regolith Linux is very new. Gilmore released the first edition of the Ubuntu installer with the Regolith distro on April 19. The PPA installation on an existing Ubuntu instance is about one year older, first appearing around March 2018.
"There are still many rough edges to be addressed, of course, but overall I feel the interface is particularly compelling to those that would like to work efficiently," said Gilmore.
Almost all of the developmental work goes into little things that most people do not notice, he added. He sees that work as 90 percent polish.
His plans for continued development include keeping the 1.x development focused on the strategy of using existing open source projects and customizing them as needed to provide the best possible user experience with i3. However, he does not plan to get into actually changing any upstream code.
"I plan on releasing a 2.x development track which is more ambitious in that I plan to modify several UI (user interface) components that Regolith relies on (i3bar, Rofi, gnome-flashback) to further simplify and polish the user workflow. This is a longer-term goal, and I don't really have specifics yet," he explained, apart from lots of ideas.
Those UI improvements involve reducing the bar to only a few pixels deep and pushing a lot of the ambient information such as date/time and workspace map to a full-screen modal similar to the way Rofi (a window switcher) is rendered for program launching (Super-space).
More Work Ahead
Since the i3 window manager is largely a keyboard-driven interface, very little in the way of a graphical user display exists in Regolith Linux. The control panel is accessed with the keyboard shortcut Super key + c, for example. Once the control panel launches, you can arrow down a list of settings or use the mouse.
The default key bindings are kept in a .config file that is edited using the gEdit text editor. Gilmore plans to make UI changes more aggressively in the 2.x development. He passes along all developmental changes directly as rolling release updates.
---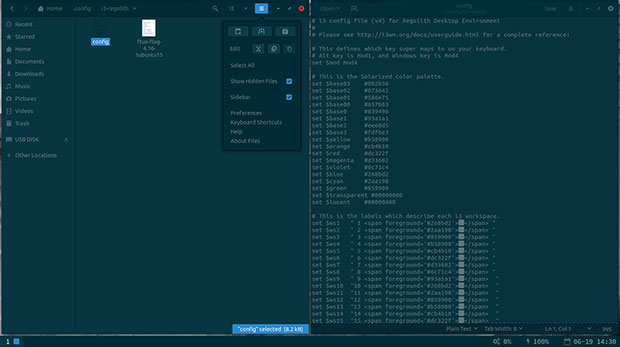 The left window shows the File Manager in the .config folder. The right window displays the Regolith.config file in a text editor.
---
The developer issues updates to two PPAs: regolith-unstable for testing and regolith-stable. Once package updates have been pushed to regolith-stable, both PPA users, as well as distro users, get the updates via Ubuntu's package update mechanism.
"I will add more ISO versions if needed but do not have a specific schedule or plan for global versioning. In fact, that Regolith is a distribution at all is simply because that is the best way for a lot of users to get the software," noted Gilmore. "Users are familiar with the ISO approach, whereas PPA installations may be too technical."
Keen on User Focus
Ultimately, Gilmore said it is not his goal to "capture" users or empire-build. In fact, he has documentation on regolith-linux.org for users who wish to build their own thing or revert back to stock Ubuntu.
Regolith makes no attempt to hide the fact that it's just Ubuntu with a different desktop environment, according to the developer. From my view, he would be perfectly justified in establishing Regolith Linux as a distro in its own right.
Familiarity with GNOME and Ubuntu help more experienced users settle into using the i3 window manager as a desktop environment, although the tweaking and integration Gilmore devised brings a whole new look and feel. If you are new to Linux or do not know Ubuntu, Regolith Linux *IS* a unique distro experience.
Gilmore plans to utilize configuration strategies that make it easier for neophytes to play around and share bits of configuration. He wants to make it easy to roll back changes when something goes wrong.
"And I would like to incorporate some of the subtle transitional animation elements we have come to expect with mobile UIs.," Gilmore said. "Additionally, a lot of work remains for documentation. I want to provide a much more inclusive first-time user experience which gives a new user the 'big picture' and walks them through the UI, how to do things, etc., rather than just dropping them to a desktop with a cheat-sheet window."
On the website, Gilmore wants to provide a full how-to section for people to build their own Regolith-like projects. Debian packaging was really hard for him to learn relative to the complexity of what the process involves. His goal is to help others if he can.
Common Ground Draws Users to Linux
Computer users do not have to be spoon fed what the megacorps want customers to use, according to Gilmore. Regular people often produce far more beautiful and creative environments than those from large software companies, regardless of how talented their designers are.
"How we interact with our computers is our choice to make," said Gilmore.
When asked to describe the typical person interested in his new distro, his response underscored what makes Linux so inviting: "I think of myself around 2017 when I came to the realization that the Mac platform was a dead-end for professional developers. I had no idea what I should use next, as long as it wasn't any of the 'stock' desktops (windows/mac/ubuntu)."
Not that anything is wrong with Ubuntu by default, Gilmore clarified, noting that it is designed for people who prefer the traditional Windows/Mac UI metaphors.
"For me, Windows was out by default and so that left Ubuntu, as my employer only allows that version of Linux due to IT management and security concerns," he said.
Taking a Test Drive
Regolith is visually spartan by design so it is not a distraction. It has no icons, docks, panels, menus or widgets taking up screen space.
A small bar at the bottom of the screen shows information such as workspaces on the left end and system status indicators on the right end.
That is the extent of any similarity to an Ubuntu desktop of any variety — or any other Linux distro interface for that matter. The window header does display the expected icons to minimize/maximize, resize, or open window menus. However, they are just a throwback to their GNOME Ubuntu roots. The only window icon that actually works is the X to close the window.
If you are comfortable with terminal boxes and their commands, you can do absolutely anything you want without the missing GUI, right-click on the mouse, icons on the desktop or cascading menus. All it takes to open a terminal window is to use the default keyboard shortcut Super Key+Enter key.
Otherwise, press the Super Key+Space bar to get a scrollable list of installed applications. Just use the up/down arrows on the keyboard. You can point to a title on the center of the screen.
---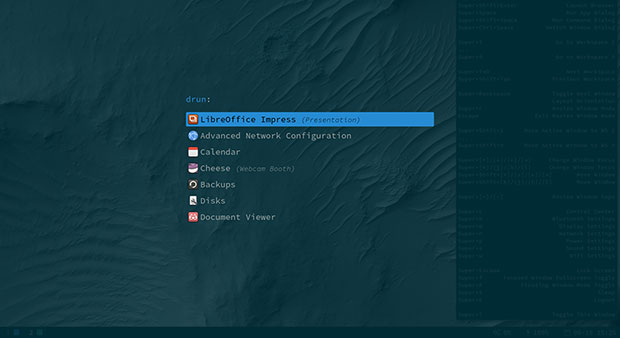 The Super+space keys launch the applications list in the center of the screen, leaving the keyboard shortcut list shaded but visible on the right.
---
Just do not click on it. Nothing happens. Instead, press the enter key to launch the program. You can close the menu list with the escape key.
Navigating the Desktop
One of the most glaring interface hurdles for me was adjusting to the workspace landscape. i3 has no workplace switcher applet on the bottom panel.
Key mappings are already configured. Press the Super key and a number to jump to that workspace instantly. By default, Regolith has 19 workspaces waiting for you.
Each new workspace you open has its own small colored box that sits with its number in the left end of the bottom of the screen. You rotate among the workspaces with the Super key+number keyboard shortcut.
In any workspace, you can open as many applications as you want or need. The first one opens full screen. The second one changes the screen display to two equal shares. The third one automatically divides the screen into three windows of equal size.
Everything stays in view so there is no need for the Alt-Tab window switching feature. You have no scale or expo animation displays either
Bottom Line
Overall, i3's minimal visual design does not prevent you from using a modern system with file management features. They are all available, but you must access them differently.
Every workplace screen shows a vertical Konky-style panel with a list of the most commonly used keyboard shortcuts. You can change the default keyboard bindings or add new ones by going into the File Manager, selecting the Show Hidden Files option, and opening the Regolith.config file in the text editor.
---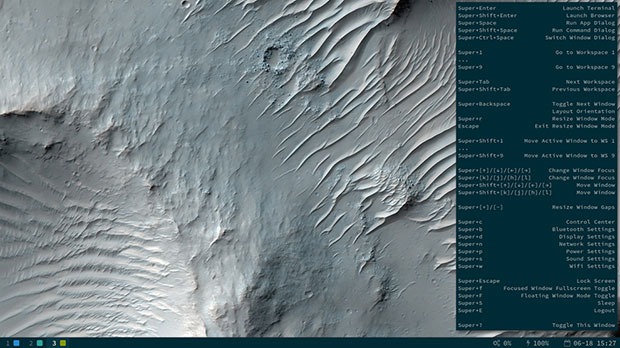 Each workspace screen shows the keyboard binding Konky display, a vacant desktop, and bare minimum details on the bottom bar. Activated workspaces are shown as different-colored squares on the left end of the bar.
---
Study the syntax pattern from what is already there. Then add your own comment line and the new mapping or edit an existing one. Remember to save the file.
If you decide to tackle this awesome but strange i3 tiling window manager environment, be sure to read through the developer's Getting Started guide.
Want to Suggest a Review?
Is there a Linux software application or distro you'd like to suggest for review? Something you love or would like to get to know?
Please email your ideas to me, and I'll consider them for a future Linux Picks and Pans column.
And use the Reader Comments feature below to provide your input!