The ZE Rescue Diskis a very handy rescue tool to fix damaged or missing hard drive sectors that prevent a computer from booting into its operating system. It runs automatically as a boot-repair rescue tool at startup from the optical drive.
ZE Rescue Disk provides what was a missing link in permanently recovering from failed boot sequences. It resolves the problems that cause GRUB ( GRand Unified Bootloader) to go haywire on systems that have multiple OSes installed. It even resuscitates single OS computers that fail to boot.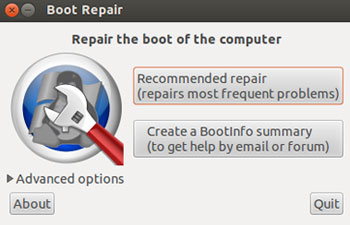 ZE Rescue Disc starts with a basic menu that offers a comprehensive solution.
The booting process can fail on Windows as well as Linux operating systems. If the boot process fails on a computer with the new UEFI/SecureBoot with Windows 8 or LVM/RAID systems, the chances of boot failure are compounded. When a computer sports multiple OSes, the chances of boot failure can be much greater. ZE Rescue Disk can fix these boot problems.
ZE Rescue Disk goes one step further than other boot rescue solutions I have tried. It not only bypasses the fault preventing a successful boot, but it resets the GRUB menu so the computer no longer needs a jump start to get booted.
Stuff Happens
My fears about boot failures pop up when I install Linux distro upgrades or add another Linux distro to an existing configuration. I often literally hold my breath at that point in the installation process where the computer reboots to access the new hard drive real estate.
Inevitably, some computers fail to restart. Instead, they issue a cryptic error message on the screen. The wording differs, but the result is always the same — the GRUB menu has become corrupted, rendering the computer bootless.
Sometimes the computer only boots into Linux or into Microsoft Windows. The multi-boot selection menu either does not display or does not work.
When this type of failure strikes, the only recourse is to reach for a boot rescue disk. That might mean grabbing another computer to hop online in search of solution.
Old Solutions Failed
I recently installed Linux Mint 14 over an existing installation of Linux Mint 12 on one of my test computers. The Mint distro does not let you upgrade from its repository the way that Canonical's Ubuntu and other distros do. The result was the infamous error message.
I reached for the two boot rescue disks that usually get me into a failed boot computer. Super GRUB2 Diskand Rescatux Diskboth failed to jump start the ailing computer. I have used both of these boot repair products with much success.
Super GRUB2 on its own can not permanently fix a corrupted dual boot process. But it rarely fails to bypass the problem to get the intended OS booted. As long as the Super GRUB 2 disk starts the computer, everything works fine. Rescatux is an equivalent emergency fix that can get you to your desktop and access your critical files. Sometimes, it even fixes the trouble.
Among other chores, Rescatux usually fixes GRUB and GRUB2 errors and rebuilds Debian/Ubuntu GRUB menus. It also checks and fixes file systems. It will even fix the Windows MBR (Master Boot Record) and blank the Windows password. The key word here is usually. This time it did not do its job.
Better Than Others
That Linux Mint 14 situation led to my discovering the ZE Rescue Disk. It solved the problem on the first attempt. This rescue disk product has a variety of solution options and some advanced features to choose when initial repair efforts are not enough to solve the problem.
The ZE Rescue Disk has two initial start up options. You choose the one that matches your computer's architecture: 32-bit session or 64-bit session. The menu also give you a failsafe version for each of these. The failsafe version creates automatic backups of the boot configuration files.
ZE Rescue Disk is built around a light Debian+LXDE environment in order to repair even old PCs with little RAM. These options are available from within the same ISO. Download the ISO file and burn it to a CD.
ZE Rescue Disk in Action
Insert the repair disk into the CD drive and reboot the computer. A black screen with white text offers the choices to run. Select the 32- or 64-bit option.
The rescue disk then loads, diagnosing the cause of the boot fault. You will see a menu on the screen with two buttons. The first one is labeled Recommended Repair. On your first attempt at recovering the boot, choose this one. The second button creates a boot information summary report that you can use to seek help via email or support forum.
A third option is found in the lower left of the menu box. It offers a drop down list of advanced features. If your initial attempt to fix the boot problem is unsuccessful, restart the computer and then work your way through these additional solutions. If these choices do not fix the problem, return once again to the first menu screen and click on the second button.
Advanced Options
If your booting issues are so severe that you need the advanced features, the process is driven by choices provided on a series of panels. Clicking the down arrow on the Advanced Options button of the main repair screen presents five tabbed panel options: Main options, GRUB location, GRUB options, MBR options and Other options.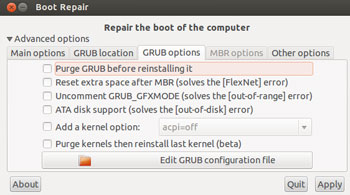 Advanced options in ZE Rescue Disc are easy to navigate and select.
On each of these panels you check/uncheck the choices. At the bottom of each panel, you can click on buttons to get more information, quit the process or apply the choices.
Bottom Line
ZE Rescue Disk is provided under the GP open-source license. It is one of the most complete and user friendly boot repair solutions I have used. I am impressed with its ability to connect users to follow-up support via email and forum discussions.
Information on the home page does not identify who developed ZE Rescue Disk. Other details about this project are sketchy. But it worked for me. It did more than bypass the GRUB menu problems; it permanently fixed the problem.
Want to Suggest a Linux Application for Review?
Is there a Linux software application you'd like to suggest for review? Something you love or would like to get to know?
Please send your ideas to me, and I'll consider them for a future Linux Picks and Pans column.
And use the Talkback feature below to add your comments!