C.H.I.P., a Linux-based mini-PC priced at just $9, is receiving an overwhelming response on Kickstarter. Launched last Thursday with a funding goal of $50,000, it has chalked up more than 16,000 backers who have shelled out upwards of $815,000. The project still has 25 days to go.
The tiny open source device, made by Next Thing Co., has been dubbed the "Raspberry Pi killer."
The Raspberry Pi "was pretty phenomenally received, and it was for the hobbyist market, so its $25 price addressed much of that market," said Wayne Lam, a principal analyst at IHS Technology.
"But when you get down to $9 and are basically mass producing this device, you're offering greater mass market appeal," he told LinuxInsider. However, "this isn't a finished product, so it remains to see how much interest it has among consumers."
Breaking Down the C.H.I.P.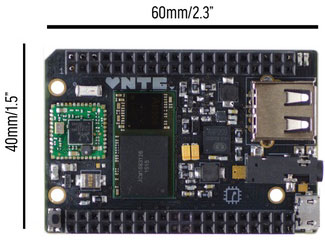 Measuring just 1.5 x 2.3 inches, C.H.I.P. comes with 512 MB of DDR3 RAM and a 1-GHz processor. It offers WiFi and Bluetooth connectivity.
Its built-in composite output port lets it work with any size screen, old or new. Users can add a VGA or HDMI adapter for a few dollars more.
C.H.I.P. runs Debian and can be used with LibreOffice to create and work with office documents.
It runs the Chromium browser.
C.H.I.P. comes preloaded with the Scratch programming language and a collection of open source apps, tools and games.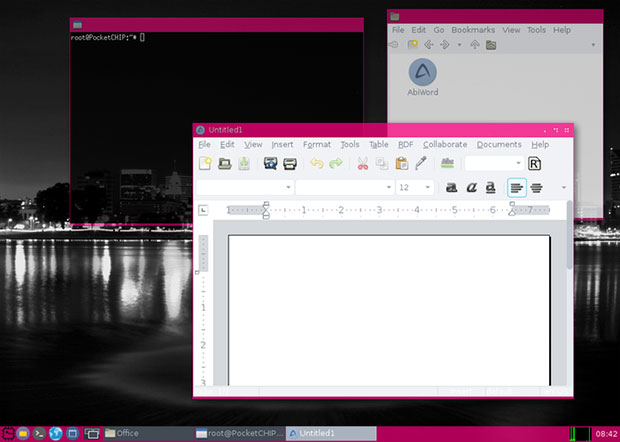 It includes a fully integrated battery power circuit. Attaching a 3.7v LiPo (lithium polymer) battery lets users take it on the road.
A $50 version, called the "PocketC.H.I.P.," consists of a 3,000 mAH battery; a 4.3-inch 470 x 272 pixel resistive touchscreen; a full Super-Clicky QWERTY keyboard; a rugged injection-molded shell; and GPIO breakouts.
What You Get for Your Money
All 5,000 barebones C.H.I.P.s with composite cable priced at $9 and scheduled for December 2015 delivery have been snapped up.
At this writing, about 3,700 of another limited batch of 5,000 C.H.I.P.s with composite cable — scheduled for delivery in January 2016 — still could be ordered for $9.
Bundles ranging from $19 up come with a variety of extras, including various combos of a C.H.I.P. With batteries and adapters.
For $49 or more, backers get one PocketC.H.I.P. and one C.H.I.P. More than 1,800 backers shelled out for this one as of Monday.
A $150 special package for kernel hackers nets a prerelease alpha C.H.I.P. Model, plus five C.H.I.P.s and one PocketC.H.I.P., as soon as they roll off the production floor. Delivery is slated for this September to anywhere in the world. The catch? These backers have to help develop C.H.I.P. software.
All hardware design files, schematics, PCB layouts, and bills of materials are free to download, modify and use. That includes the documentation and source code for the Allwinner System on Chip and Power Management Chips used.
"This is for hobbyists, but the number of folks that can actually take a product like this and turn it into something interesting is impressively large," said Rob Enderle, principal analyst at the Enderle Group.
"It's pretty raw at the moment, so this would be for the most advanced or adventurous of the set," he told LinuxInsider. "Most everyone else will likely prefer the Raspberry Pi, which has a far richer ecosystem at the moment, and thus is worth the extra cost."
What Is and What Might Be
One of the use cases advanced by Next Thing Co. is in classrooms — for $500, backers get 10 PocketC.H.I.P.s and 10 C.H.I.P.s, to be delivered anywhere by May 16. So far, 10 backers have signed up for that bundle.
Granted, a more mature ecosystem is needed before most classrooms can use the C.H.I.P. effectively, but coupled with inexpensive components and priced at $40 max, it "could do wonders for the One Laptop per Child effort," Enderle suggested.
It might also find a commercial use, Philip Solis, a research director at ABI Research, told LinuxInsider, because it could be used for developing and prototyping products for the Internet of Things.