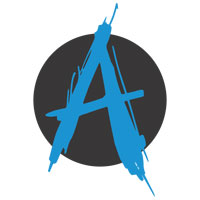 Anarchy Linux, the distro formerly known as "Arch-Anywhere Linux" has changed my tune about the terrors of Arch-based Linux as a suitable operating system. In general, however, Arch-anything presents a challenge that may not be worth the effort for typical desktop needs.
A potential trademark violation forced Anarchy Linux developer/maintainer Dylan Schacht to rebrand Arch-Anywhere, his homespun distro. To his credit, this Linux distribution has much to offer in terms of user-friendliness. It could teach most other Arch Linux variants some valuable lessons. Still, there's room for Arch-Anywhere/Anarchy Linux to improve.
Anarchy Linux was released a few weeks ago with the same mission as its former iteration. It aims to bring the Linux revolution to the world. That could be why it does not come with the typical Arch Linux complexity.
Regular readers of Linux Picks and Pans know that I have experimented with numerous Arch Linux offerings, only to throw most of the ISO platters in the trash and skip the review. I have found only a few exceptions.
Several weeks ago, I discovered ArchLabs Linux on the heels of rejecting Arch-based Parabola Linux. Anarchy Linux has much to share with ArchLabs as a fun and efficient alternative.
Anarchy Linux is really just Arch-Anywhere in the early stages of shedding its old name throughout the signage of the distribution. Structurally and technically, Anarchy is no different from Arch-Anywhere. Still, whatever you call it, this Linux distro gives the Arch Linux family a more pleasant user experience.
Unfriendly Heritage
From a user's viewpoint, Arch Linux is infamous for its troublesome installation and configuring processes. It comes with a few more stumbling blocks than other Linux options. This, together with archaic software management routines, make most Arch Linux releases too hard-core for many Linux users, especially Linux newbies.
The Anarchy Linux ISO brings some modern touches to the task of semi-automatically installing a custom Arch-based system. Once you get past installing it, Anarchy Linux provides a nice experience. However, getting there can be a challenge for less-experienced users, because the Arch Linux philosophy still exists under its hood.
For example, most Linux distros provide an automated installation routine that comes with a standard set of everyday applications. However, Arch Linux offerings are designed to start with a bare-bones system. You can add the software you want rather than ignoring the bloat or removing what you don't want.
---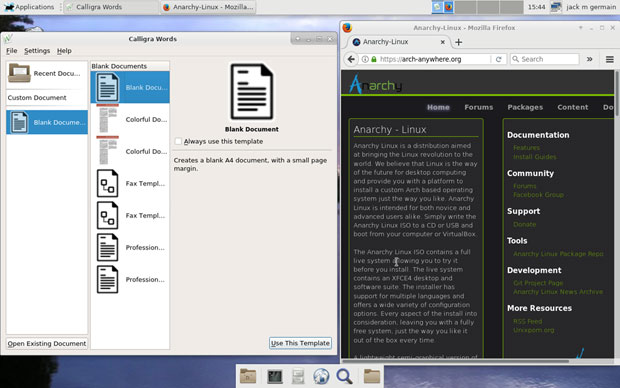 Anarchy Linux has a vast number of application options and configuration settings to let you create a custom OS.
---
One problem with this, if you do not know much about Arch Linux, is that the application titles are drastically different. It takes a trial-and-error approach to figure out what packages to select.
Tricky Meaning
Another usability quirk with Arch-based Linux distros involves the notion of "live session ISO." Many Linux distros are packaged in an installation format that lets you run a demonstration mode that boots a fully functional Linux OS from files installed on a DVD or USB drive. This lets you try out the functionality of the distro and its different desktop environments.
That generally is recognized as a "live session." You normally can install the distro to the hard drive from within the demo mode, but not so with a typical Arch-based Linux distro. Instead, you burn the ISO files to the installation medium to boot the computer. That gets you to a prompt to begin a command line installation. It lacks any graphical interface.
Arch-Anywhere/Anarchy Linux boots you to a character-based semi-automated installation from a command-line driven script routine. That is what this distro calls a "live session booting environment." It is a better method than purebred Arch Linux methodology, but it lacks the opportunity to try out an actual working OS that reveals any conflicts with your particular hardware.
An exception to this not-quite-really-live demo session exists with ArchLabs Linux. That Arch-based distro actually gives you a live demo ISO and a much more automated installation routine.
Control Master's Delight
Arch-based Linux distros offer something that you do not get with more user-friendly Linux families like Debian Linux. You get to control what happens. You get to make the OS your way. That is critically important to some Linux users who want to cut the clutter and plug system weaknesses.
Fully automated installations force you to compromise on personal preferences in favor of default settings and stock software. Anarchy Linux lets you decide how to handle hardware options and Linux kernel versions. With this distro, you also select various alternative base system installs, plain vanilla configurations or more flavorful options.
So you have much more freedom to mix and match your OS' content. Of course, with all the choices to make before you can install the distro, Linux newcomers often are left feeling overwhelmed and confused.
I found Anarchy Linux to be one of the easier Arch installations. It was so easy, in fact, that I let my guard down toward the end of the process and had to reboot and do it all again from scratch.
Serious Misstep
One of the last installation steps involves entering a root password to perform administrator duties on the system. The final step is entering usernames and login passwords.
The installer is a character-based interface. The options are executed by tabbing to Add or Done and then hitting the space key to select and the Enter key to carry out the desired action. That lets you create your username and password for logging in.
Other Linux distro families usually start with providing username/full name/password. Arch-based systems end with that chore.
When I rebooted the system and attempted to log in for the first time, Arch would not let me in. So I had to redo the process all over again.
The second time was the charm. That was when I started enjoying a more familiar experience.
Look and Feel
What I really liked about the Arch-Anywhere/Anarchy Linux installation process was the automated hard drive partitioning. Arch Linux systems rarely provide that. You typically have to use the gParted utility separately to prepare the hard drive and then load the bootable ISO to handle the OS installation.
Another really nice feature is the ability to choose almost any desktop environment during the installation process. This makes the distro much more flexible, as you can select a very lightweight desktop for older, resource-deprived hardware and ramp up the desktop capabilities for very modern hardware.
---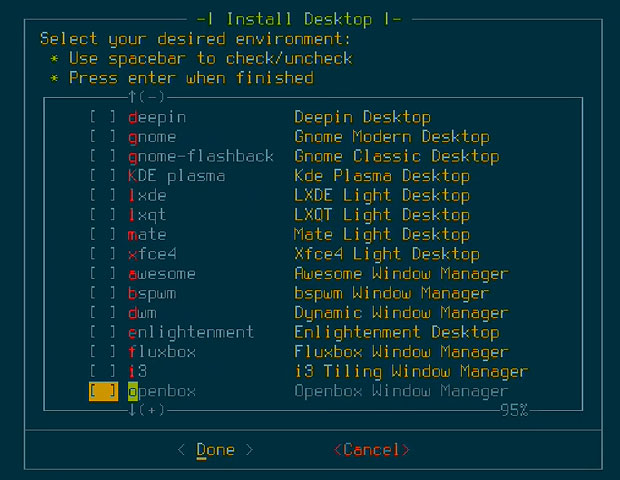 Anarchy Linux comes with an ample selection of desktop and window manager options.
---
Arch-Anywhere/Anarchy Linux bundles a large variety of desktop options, including Deepin, Gnome, Gnome-flashback, KDE Plasma, Lxde, Lxqt, MATE, Xfce4 and Cinnamon.
You also can select from numerous window managers for really lightweight operation instead of the more memory-intense desktop environments. These include Fluxbox, Awesome, Tiling Window Manager, Openbox, Dynamic Window Manager and bspwm.
I chose the Xfce4 desktop, mostly to accommodate the legacy laptop I was using as a testing platform. Remember hearing about Windows Vista? Well, this laptop did a crappy job of running that OS when they were both new.
The combination of drivers and software, along with the desktop configuration I selected during installation, allowed this aging computing relic running this Arch-based Linux OS to perform like a rocket.
Bottom Line
Arch-Anywhere/Anarchy Linux is one of the nicest Arch-based distributions I have encountered. However, Anarchy Linux still requires familiarity with terminology and processes that usually are not needed to install Linux distros from a fully-functioning live session installation disk. Not having a demo mode to preview how the OS runs on your particular hardware can be a time-consuming setback.
However, once you have Anarchy Linux up and running, it will give you a very pleasing computing experience. Much of what happens after installation depends on the desktop environment you selected.
If you have a desktop preference or prefer one of the included window manager environments instead, you can forget about the sullied reputation that comes with Arch Linux distros. For many reasons, Anarchy Linux is a winning choice.
Want to Suggest a Review?
Is there a Linux software application or distro you'd like to suggest for review? Something you love or would like to get to know?
Please email your ideas to me, and I'll consider them for a future Linux Picks and Pans column.
And use the Reader Comments feature below to provide your input!