In what could potentially be a huge win for Android, Swedish automaker Saab has selected the operating system as the basis of its IQon in-vehicle infotainment system.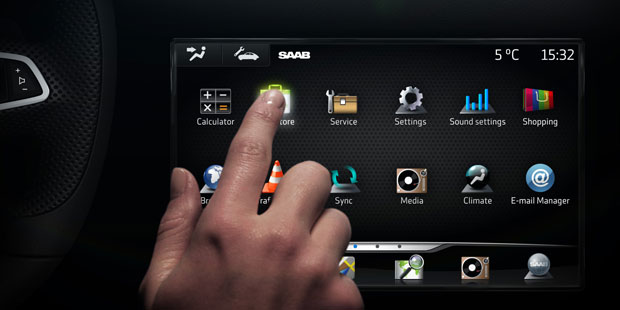 The Saab IQon system
Saab will open up the API (application programming interface) for IQon to third-party developers and set up an app store to which they can post their apps after approval.
Users will be able to download any apps they like from the store, although Saab didn't provide any details about pricing.
Saab did not respond to requests for comment by press time.
Android Is My Copilot
IQon provides an embedded computer platform in a vehicle with a modem that automatically connects to the Internet when the vehicle's owner switches on the ignition.
Vehicles equipped with IQon will have an 8-inch touchscreen that provides access to services. These services will include audio and entertainment streaming, on-board music storage and online navigation.
It's possible that IQon will also monitor a vehicle's inner workings — the API Saab plans to issue to third-party appdevs will provide access to telematics, systems monitoring and diagnosis.
The API will let developers access more than 500 signals from different sensors in a vehicle. These measure vehicle speed, location and direction of travel, driver workload, yaw rate, steering wheel angle, engine speed and torque, inside and outside temperature, barometric pressure and the sun's position, among other things.
Developers will be able to create apps specific to particular countries. The apps will let users personalize in-car services.
All apps have to be evaluated and approved by Saab before being placed in its online Saab IQon app store.
The idea is to let infotainment services evolve during the lifetime of a vehicle's product cycle. It's likely that vehicles equipped with IQon will automatically download upgrades to the Android operating system as well as apps.
IQon will also enable remote communications between vehicle and dealerships.
The IQon system was displayed in the Saab PhoeniX concept at the 2011 Geneva Motor Show, being held from through March 13.
Saab is already testing out the IQon system in a fleet of cars.
Score One for the Little Green Man
"This is a huge play for Android," Jim McGregor, chief technology strategist at In-Stat, told LinuxInsider.
The embedded device market is "jumping all over Android with good reason," McGregor continued. "They looked at Linux a few years ago and it wasn't free, and it became more of a nuisance than using embedded operating systems from traditional guys like QNX or Wind River."
What does he mean, Linux isn't free?
"You need help in porting it, and there are other costs," McGregor pointed out. "Android is free and there's a difference, because Google provides a kernel that you know is consistent, you know it works and you know where the drops are."
A member of the XDA Developers' Forum has developed an in-vehicle infotainment system based on Android 2.1. You can see it on YouTube here.
New Driver
Still, Android is brand-new to the automotive infotainment market, Mark Fitzgerald, an associate director at Strategy Analytics, pointed out.
"One of Android's biggest drawbacks is that it's largely untested in automotive and will compete with established OSes," Fitzgerald told LinuxInsider. "QNX is by far the largest player, followed by Microsoft, VxWorks and uITRON," he added.
That's right, Microsoft. Ford's Sync in-vehicle communications and entertainment system, which was available in 12 of its 2008 model year vehicles, runs on the Microsoft Windows Embedded Automotive operating system.
SYNC is a connectivity platform for users' mobile phones, Ford spokesperson Alan Hall told LinuxInsider. It doesn't include an embedded cellular data connection.
However, Ford recently added a WiFi radio as part of Sync in new vehicles equipped with the MyFord Touch interface, Hall said. This lets users bring in their own 3G or 4G connection through a USB modem dongle or Bluetooth; SYNC will then take that and create a WiFi hotspot that will handle up to five devices.
Possible Issues With IQon
It's not clear what the IQon service will cost. However, its automatic connection to the Web may not result in skyrocketing wireless bills.
"Most automotive-related apps are not bandwidth-heavy, although very heavy Internet radio use, and downloading video and huge map files may be an issue for cell carriers," Strategy Analytics' Fitzgerald said.
"Think of the Amazon Kindle model," In-Stat's McGregor suggested. "Perhaps IQon could do certain stuff offline; or it could lock out certain functions and perform them only during certain times."
Typically, Internet connectivity for in-vehicle infotainment systems is used for updates which are not that large and are not critical elements, McGregor stated. For example, the system might check for an update and download it, but not install it until the next time the user turns on the ignition.
Attacks by hackers are possible, but the danger is slight.
"The industry is working on preventive measures because opening the entire vehicle bus to a connected infotainment system does leave the door open to hacking," Fitzgerald remarked.
"But, as you know, nothing is 100 percent secure," he added.