The Garmin-Asus partnership Wednesday announced the new Garminfone, an Android-based smartphone that will be available on the T-Mobile USA network.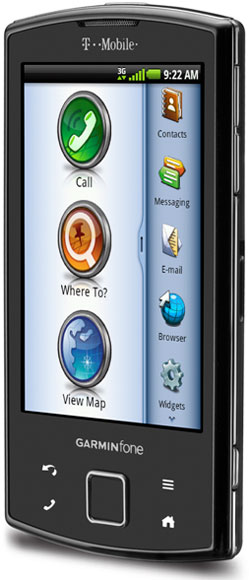 The new Garminfone, Garmin's first Android-powered smartphone
This 3G device has a 3.5-inch screen and will be available later this year.
The Garminfone follows last year's release of the Nuvifone G60, which was not generally well-received by critics when it debuted in the U.S. last fall.
The Garminfone's Guts
The Garminfone has a customized, enhanced experience on top of Android 1.6, T-Mobile spokesperson Alexandra Trask told LinuxInsider. This includes many of the features of Android 2.1, she said.
The Garminfone is fully integrated with Garmin's navigation maps. Users can get directions to get to any address they receive in a text message, email, calendar appointment, Web page or in a contact book.
The device can also "remember" where owners have parked and help them get back to their cars.
The Garminfone comes with integrated Google mobile services, including Google Search by voice, Google Maps, YouTube, and access to the Android Market.
It has a touchscreen with pinch and zoom features. The screen automatically switches between day and night modes.
The Garminfone has a 3-megapixel camera with autofocus that automatically geotags images. It comes with pre-installed travel apps that provide real-time information about traffic, the weather, gas prices and local events.
Users get voice and on-screen directions for driving, walking or taking public transportation, and the Garminfone will automatically reroute owners when their routes are blocked.
The Garminfone comes with Garmin Voice Studio, an Android app that lets owners record and share custom voice directions with others.
The device will be available exclusively on T-Mobile later this spring, Raz said.
Through a Phone Screen, Darkly
The Garminfone is the third smartphone Garmin has unveiled so far, but the first to run Android.
In 2008, it first offered a glimpse of the Nuvifone, which it billed as "the navigation phone." This was a 3G phone with local search and, of course, maps. It was offered exclusively by AT&T.
In 2009, Garmin announced a strategic alliance with Taiwanese manufacturer Asus to develop and distribute cobranded GPS-enabled smartphones to be called the Garmin-Asus Nuvifone series. These included the Nuvifone, which was rebranded as the Garmin-Asus Nuvifone G60.
The alliance was an extension of the two companies' relationship — Asus was the original device manufacturer for Garmin's smartphones.
In February, Garmin-Asus announced the Nuvifone A50, a smartphone based on Android that has a touchscreen and a 3MP camera. This is scheduled for release in Europe in the first half of the year.
In April, the alliance launched the Garmin-Asus M10 Smartphone, which ran Windows Mobile 6.5.3. This was a rebranded Nuvifone M10.
Cracking the Smartphone Market
As yet, Garmin has not met a large degree of successful in the smartphone market.
"I don't think the reviews of the previous Garmin phones were that positive, and the costs of the services they offered were high," Allen Nogee, a principal analyst at In-Stat, told LinuxInsider.
However, the company appears to have learned from its mistakes. "Garmin's first mobile phone, the Nuvifone, just extended the proprietary operating system it used in its personal navigation devices and used its own hardware," Chris Hazelton, a research director at the 452 Group, pointed out.
Garmin might do better with the Garminfone up to a point because it's an Android device.
"Android has a following, so people would be more inclined to buy an Android phone that happens to be made by Garmin than they would a Garmin phone which has to stand on its own," Nogee said.
However, the Android smartphone market is very fragmented, and even the Google Nexus One smartphone is not doing as well as expected. Whether or not Garmin can make any headway is open to question.
Fighting Yesterday's War
The Garminfone's sales could suffer because the device is navigation-centric even though this is a smartphone, the 451 Group's Hazelton told LinuxInsider.
That's because the Garmin's maps are stored on the device. While this provides quick access, the maps are not as up-to-date as Google or Yahoo maps, for example, which are downloaded from the cloud. "Google and Yahoo maps both download the latest map data each time you start their mobile apps," Hazelton explained.
Further, Garmin might be aiming at the wrong market.
"The Garminfone is targeting a shrinking market in that navigation is no longer a primary activity on a handheld device, but a feature found on almost all smartphones," Hazelton said. "The BlackBerry, the iPhone, and other Google Android devices provide good enough navigation, but they also excel at other features like email, Web access and multimedia."
Demographics also come into play. "Much of phone use originates with the under-18 crowd," In-Stat's Nogee pointed out. "Does this crowd really care about navigation features?"
Nogee suggests Garmin follow the iPhone's lead and put up an app market. "It would be wise for Garmin to work with application developers and create all sorts of apps that this phone would enable," he said.