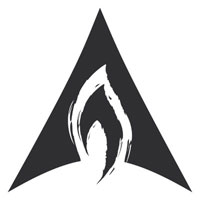 If you want to stretch your Linux desktop acumen from the Debian Linux lineage to Arch Linux, ArchLabs might be a better choice than Parabola.
Arch Linux is something of a black sheep when it comes to installing and configuring a Linux distribution. It presents a few more stumbling blocks than other Linux options, which could make it a less welcome alternative to some users. Arch Linux distros are notorious for their intense installations and sometimes-challenging software management processes.
Distros based on Arch Linux usually are not good choices for newcomers to the Linux operating system. Users need a better handle on how Arch Linux works to use Arch-based distros successfully. Considerable background reading is necessary for things to make sense with minimal frustration.
I have offered that cautionary advice numerous times in reviews of less-well-known Linux products, and recent experiences prompted it once again. I discovered two seemingly worthy distros that provided an opportunity to revisit the trials and tribulations of working with Arch Linux derivatives.
Parabola Linux caught my interest, so I rolled up my sleeves and devoted many hours to dealing with installation instructions not usually found with more user-friendly Linux choices. Hard-core Parabola Linux users rave about its speed and its minimalistic design. Installing and configuring Linux via terminal commands is still the ugly side of working with some — but not all– Arch Linux setups.
For typical Linux users looking for something new to try, Parabola's difficult installation would be a deal breaker. However, it might be a good choice for users with advanced terminal jockey skills.
I did not want to penalize Parabola with a low review rating based on installation issues, so instead of fully reviewing it, I switched to another Arch-based distro. ArchLabs Linux doesn't come with the nasty requirement to use obscure terminal commands just to get a live session loaded.
A Tale of Two Distros
Parabola Linux is a community-driven distro with a goal of providing a fully free operating system that is simple and lightweight. Free, of course, means that the distro's software and kernel meet the Free System Distribution Guidelines (FSDG) and package requirements listed by the Free Software Foundation (FSF). Parabola is based on Arch (the GNU/Linux distribution) and provides packages from it that meet the free mandate.
Parabola appeals to diehard Linux purists. That is true generally of Arch Linux, which is a relatively obscure Linux platform. Parabola offers numerous intriguing elements that could provide regular Linux users with a bit of distraction. With so many Linux distros loaded with never-needed software, Parabola's minimalist approach is refreshing and appealing.
ArchLabs is also an Arch-based Linux distribution running the Openbox desktop. Its look and feel were heavily influenced and inspired by BunsenLabs Linux in the first few releases, but the developers have gradually pursued a more distinctive look and feel. What began as a BunsenLabs clone with greater emphasis on simplicity has grown into a distro with its own persona. (The BunsenLabs distro picked up where the shuttered CrunchBang Linux left off a few years ago.)
Both Crunchbang Linux and BunsenLabs Linux were based on the Debian lineage. Porting that philosophy over to the Arch Linux methodology resulted in some subtle differences in ArchLabs. One major Arch Linux trait that ArchLabs Linux avoids, however, is Arch's penchant for being a bastard to install and configure.
Even better is the fact that ArchLabs Linux is a rolling distro. Thus, you will get regular updates from ArchLabs without having to do system reinstallations from scratch. When you do install ArchLabs Linux, you get a pleasant graphical interface thanks to the Calamares installer.
Failed Install
I lost interest in Parabola Linux when the Live Session installation refused to load on several of my test computers as well as in a Virtualbox setting. The outcome was the same in every case.
The installation/loading process ground to a halt with a message that no Internet connection was detected. The message included a link to directions for using terminal commands to find the type of hardware present and commands to configure the process in order to continue.
Parabola Linux requires an Internet connection even to load the live session. Without that session loading, access to any additional hard disk installation was blocked.
Live session versions of Linux distros normally load independently of an Internet connection. Then you can use the distro's live session to set up a connection with system tools if no connection or hardware is detected.
Try as I did, the instructions did not work. The directions explained that the process no longer assigns network interface names according to the wlanx and ethX naming scheme. The new interface style required using the ip link command to discover the names of the hardware's interfaces.
ArchLabs to the Rescue
None of that happened with ArchLabs Linux. The live session loaded as expected without my having to jump through any terminal command hoops. Once running in the live session mode, an Internet connection automatically was enabled. That opened the door to a very pleasant user experience. The hard drive installation proceeded without issues.
The project's latest snapshot, ArchLabs 2017.09 Minimo, displays new branding and ample fine-tuning over previous builds. One of the most impressive tweaks in this September release is a welcome script which runs when the user first logs in.
This script, AL-Hello, helps those who are in a hurry or want an alternative to installing individually the software not included by default. You can install up to 60 different apps and utilities, including image and video apps, Web browsers, office apps and much more.
The AL-Hello script lets you choose a default panel — Tint2 or Polybar — and your choice of Nvidia or Bumblebee drivers. Running the script is not mandatory for a running system, but it does make it much easier to get a fully expanded desktop.
Look and Feel
ArchLabs developers provide users with a very functional desktop that has a light footprint. The minimalist design goal is very successful. It starts out small, and you can add what you want as you use it.
The 950-MB live ISO contains 780 packages that shrink to 646 packages after installation. To help keep a minimalist approach, this release has a reduced assortment of themes and icons. This keeps the focus on speed and reliability rather than on a glitzy appearance.
Of course, you easily can add themes and extra icon sets using Oomox. This nifty tool lets you make your own GTK3 and Openbox themes. You can base your theme either on Numix or Flat-Plat. Dozens of themes are available to create your own custom.
The default desktop wallpaper is the only wallpaper that comes with this release, but you can download more images using the AL-Hello script. All wallpapers are in 4k resolution for extra crispness. They are not fancy, but the lightly colored additions add a bit of comfort over the dark default background.
Using Polybar
Polybar is the default panel. It offers a very pleasant user experience. It is a handy Conky alternative — click on some of the icons or values to discover nice functionality.
One is a counter telling you the number of open windows you have on the various virtual desktops. It ties in with Skippy-XD, a tool I had not previously encountered. If you click the number count, you trigger an expos-type display of the currently open windows. You also can access this feature on Polybar with a middle mouse click.
---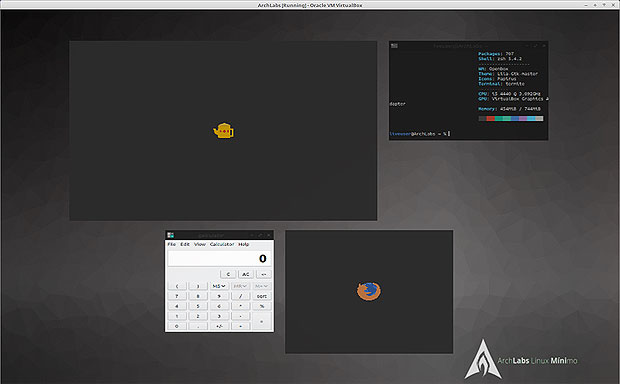 Skippy-XD integration bringsan Expo-style thumbnail display of open windows for quick navigation ofapps running on different workspaces.
---
Skippy-XD is a standalone application that provides a full-screen lightweight window picker feature for X11 with compositing support. It is similar to the Mac OS X Expos feature.
If you are familiar with the expo display in heavier desktops like KDE, GNOME and Cinnamon, you'll like it here.
Normally, Openbox and other lightweight windowing environments lack an Expo-style display.
Another neat trick with Polybar is the ability to control the volume by scrolling anywhere on it. Plus, Polybar has a shortcut to most of the default apps and frequently used utilities. Click the menu symbol to get a two-tier menu.
---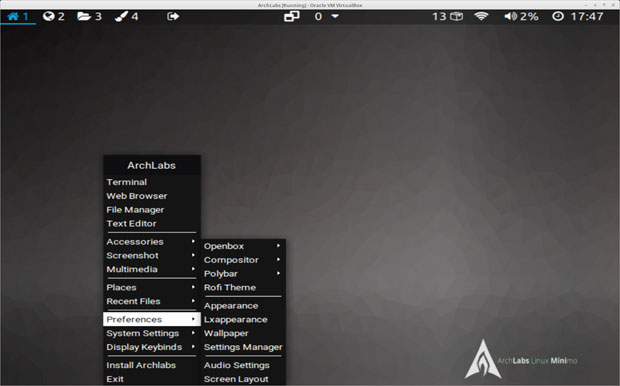 ArchLab Linux has a minimaldesign that combines the Openbox desktop feature of right-clicking to popup the menu with Polybar integration for access to basic systemfeatures.
---
Other UI Conveniences
The functionality of this lightweight Openbox integration impressed me. So did the selection of default applications.
For example, Audacious is the default music player. MPV is included for movies and video. It comes with VirtualBox modules and LXAppearance, a nifty tool for changing themes and icons.
More cool stuff happens when you first open the Web browser. It lands on an option in obmenu to switch your menu from static to dynamic.
The dynamic menu adds all the applications and utilities installed to your obmenu — it is easy to use, too.
Right-click on the desktop and select Switch Menu from the list in obmenu. To switch back, re-select the Switch Menu option.
Thunar, the file manager app, is tweaked to show home directories in the side panel automatically.
The i3lock-screen feature blurs the screen behind the lock screen password window. Super+k will launch the lock screen from the keyboard. Alternatively, you can use the Polybar or Obmenu entries.
---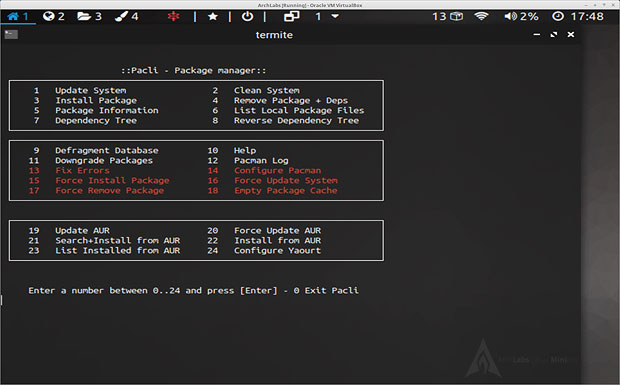 The Arch Linux style packagemanager relies on keyboard entries rather than a mouse-driven graphicalinterface.
---
Bottom Line
ArchLabs Linux was a very happy discovery. It did a lot to change my impression of Arch Linux. It especially made up for the problems Parabola Linux posed.
I found that the Archlabs distro was an excellent Linux OS option to install on several very old laptops from the post Windows XP era. I have gotten far too comfortable using resource-intensive distros on my newer desktops and laptops. Archlabs Linux is a fun and effective alternative.
Download ArchLabs Linux here.
Want to Suggest a Review?
Is there a Linux software application or distro you'd like to suggest for review? Something you love or would like to get to know?
Please email your ideas to me, and I'll consider them for a future Linux Picks and Pans column.
And use the Reader Comments feature below to provide your input!