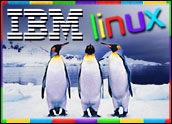 Red Hat and IBM today announced a global initiative to help accelerate the development and adoption of Linux-based solutions in emerging markets, such as China, India, Russia and Korea, as well as in established markets worldwide.
The two companies will provide software developers around the world with technical resources, expertise and implementation services to help them port and certify their new applications on IBM software and hardware and Red Hat Enterprise Linux. The goal is to make it more easy for developers to build build standards-based solutions that won't lock customers into a proprietary operating environments.
Interarbor Solutions Principal Analyst Dana Gardner told LinuxInsider that the co-branded initiative is another feather in Red Hat's cap in the midst of an interesting Linux landscape.
"Red Hat appears to be a hot date these days," he said. "And [Sun President and CEO] Jonathan Schwartz is getting a little more seductive rather than condescending in his positioning towards IBM. We are also seeing some interesting turbulence at Novell. Some of its larger shareholders are pushing for change of strategy, perhaps not as happy with the growth around their Linux strategy. Red Hat must feel pretty good."
Responding to Market Shifts
Red Hat and IBM are responding to what they see as a shift in emerging markets as the number of customers demanding technology solutions based on open source and open standards continues to accelerate.
According to an IDC study, industry sales of Linux servers surpassed the US$1 billion mark in revenue for the fourth consecutive quarter, while in the second quarter of 2005 worldwide Linux sales grew 45 percent.
"Linux is taking off in different parts of the world and IBM is making an effort to empower ISVs to leverage the growing market opportunity by providing assets to develop or port applications to Linux on POWER platforms," said Todd Chase, program director, IBM Innovation Centers.
Empowering ISVs
As part of this initiative, Red Hat will provide ISVs with copies of Red Hat Enterprise Linux with supporting documentation and access to Red Hat Network. The company will also facilitate onsite registration for Red Hat's Technology Partner Program to help ISVs certify their applications on Red Hat Enterprise Linux on IBM hardware and middleware.
At the IBM Innovation Centers, IBM will offer ISVs consulting support and technical expertise to help them migrate, test, develop and implement their applications for Red Hat Enterprise Linux on IBM platforms. Big Blue has enabled more than 1,300 ISV applications for Linux on POWER, and the company expects to grow that number by 200 new applications per quarter.
Chase said the collaboration with Red Hat will help the ISV community worldwide test and certify their applications at IBM Innovation Centers for Red Hat Enterprise Linux on IBM platforms, expanding customer choice to deploy Linux-based applications in their existing environments.
"Red Hat has established leadership in emerging markets such as China, India, Russia, Korea and Japan and we are excited for this opportunity to work with IBM to take the next steps to enable the global ecosystem of developers and ISVs," said Tim Yeaton, Senior Vice President of Marketing at Red Hat. "Red Hat Enterprise Linux on the IBM POWER platform is becoming a standard, low-cost solution for global ISVs and their customers."
The Long-Term Moves
Analysts said the Red Hat has reason to be excited. The IBM partnership demonstrates that Red Hat is not merely a one vendor or one market solution. Red Hat is becoming pervasive and global.
"IBM is perhaps recognizing that SuSE and other Linux distributions have vulnerabilities in some of these markets," Gardner said. "So the notion of Linux and open-source remains very attractive in many places, but which distribution should be implemented is perhaps a question that IBM and Red Hat are working to make more clear. It's going to be a long-term process. So it's not a slam dunk, but the momentum is clearly there."