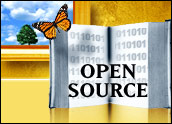 The open-source movement has been expanding beyond the world of software development recently into the biotechnology research arena. U.S. BioDefense Inc, based in City of Industry, Calif., is trying to capitalize on this evolving trend by developing an open-source stem cell research platform.
The small, publicly held contractor for the U.S. Department of Defense is developing the open-source platform to allow researchers at universities, government agencies and private firms to read, distribute, modify and contribute to stem cell and other biotechnology research.
"The platform will provide tools to help members collaborate on research through the use of project management software tailored for the needs of researchers and scientists," said David Chin, chief executive officer at U.S. BioDefense. The tools will include features such as member tracking, group discussion capabilities, task management and report generation.
Chin told LinuxInsider that the open-source platform will allow U.S. BioDefense to further the development of stem cell technologies at a much faster rate than what is standard now. "The platform will increase the size and depth of our network of experts interested in stem cell technologies, and will assist us in identifying ripe technologies ready for commercialization," he said.
Leading the Charge
Chin aims to boost the company's top-line growth by focusing on selling open-source collaborative technology and research tools as well as commercializing leading edge technology. "The proliferation of open-source development to industries beyond software has prompted U.S. BioDefense to aggressively lead the drive," he told LinuxInsider.
U.S. BioDefense is also trying to use the platform to capitalize on the US$3 billion Stem Cell Research Fund approved by California voters last year. The state-sponsored fund will finance embryonic as well as adult stem cell research. According to Chin, U.S. BioDefense also wants to work with the U.S. Department of Defense on biotechnology research.
Eventually, the open-source platform may be used in other areas of biotechnology. Chin said that economic benefits are currently hard to quantify. Success, he said, is largely dependent on the rate of adoption. "But if you can use the open-source software development community and the accomplishments that they have achieved as a reference point, then you can understand that the benefits that can be realized are tremendous," Chin said.
The idea of open-source biotechnology has been gaining momentum since the recent launch of BIOS, the Biotechnology Innovation for Open Society — a non-profit cooperative, which received funds from the Rockefeller Foundation. "Bios," in Greek, means "life."
Funding Challenges
"There are so many technologies sitting on the shelf," said Marie Connett, deputy chief executive officer at CAMBIA, a non-profit research institute in Canberra, Australia, that is taking part in BIOS. She said there is not enough money to fund many of the technologies.
"Some of these shelved technologies and suppressed ideas could make a real difference if they can be connected to those seeking solutions to local problems and who have the local expertise to bring them to trials and adapt them to markets," Connett told LinuxInsider.
CAMBIA, whose name is an acronym for Center for the Application of Molecular Biology to International Agriculture, helped with the recent launch of BioForge, an online collaborative research platform designed to bring together technology owners and researchers. Members of BioForge will be able to use certified BIOS licenses to distribute their work, which encourages sharing of the core material, while still allowing patenting of products.
Tricky Model
Michael Swenson, research manager at Life Science Insight — a subsidiary of technology research firm IDC and based in Framingham, Mass. — said it might be a bit of trick for companies like U.S. BioDefense to develop a business model based on an open-source platform.
"It is possible, but it relies on this approach catching on with a significant number of researchers working on stem cells," Swenson told LinuxInsider. He compared the developments currently underway in biotechnology research to open source software development.
"For all the open-source software projects that make it fairly big, there are hundreds that never capture enough momentum to go anywhere," Swenson said. "But, if it is successful at attracting top researchers worldwide as contributors, it has the potential to accelerate research and to ultimately create greater access to the results of stem cell research throughout the world."