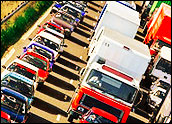 Linux, the ubiquitous free operating system that by some estimates currently runs over half of all servers and is swiftly making inroads into operating systems from computers to mobile phones, is now targeting the automotive industry.
As the cost of electronic components in automobiles continues to increase, the battle is being waged between Linux and proprietary operating systems. MontaVista Software, based in Sunnyvale, Calif., is just one of a handful of software companies that provide Linux-based software for device-specific applications in automobiles.
"Linux is an ideal solution for automotive entertainment and navigation systems that require high reliability, high performance networking and bandwidth," Glenn Seiler, director of product marketing at MontaVista Software, told LinuxInsider.
Niche Solutions
Automotive software is a subsegment at MontaVista Software. It also provides Linux-based software for device-specific applications for medical and industrial markets.
"As in all industries — telecom, financial, medical, etc. — automotive providers are going to have to embrace Linux based solutions to remain competitive," Seiler said.
The automotive industry is choosing Linux because it offers vendor neutrality, lower cost of entry and faster time to market, according to Seiler. "There are more Linux developers becoming available on the market and the 'time-to-debug' is usually much less," he said.
National Scientific Corp., based in Scottsdale, Ariz., has also entered the automotive market using Linux-based software. It recently released a Linux-based platform that uses mobile sensors called Travado. It provides real-time tracking of a vehicle with streaming, real-time video transmitted over a cellular or WiFi system.
"We see the niche market for real-time engine sensor telemetry growing, and we are building wireless sensor products to take advantage of this trend," said Michael Grollman, chairman and chief executive officer of National Scientific.
While the mobile Linux system by National Scientific is currently targeted at commercial and government users, Grollman said that he could see it being used by consumers. For example, it would allow parents to keep track of their teenage drivers.
Fractured Market
"We believe that Linux offers outstanding flexibility and price performance for embedded automotive sensor-based systems," Grollman told LinuxInsider.
"We believe that most proprietary real-time operating systems will be losing market share to Linux," he said. But he said Microsoft's Windows operating system might remain popular for front-end applications for "sentimental reasons." Front-end applications include dashboard navigation displays and mobile multimedia players.
"We see a highly fractured market, with many little fights," said Grollman.
A lot depends on how aggressive Microsoft is when it comes to pricing and marketing, according to Grollman. He said that Linux might be able to take on the front-end applications as well, because many Asian manufacturers are using Linux technology.
Just like in the other battles between open-source and proprietary operating systems, not everyone agrees that Linux will make much headway in the auto industry.
Andrew Poliak, automotive segment manager at QNX Software Systems, said that there is going to be a fight between operating systems in the automotive industry. But he said that Linux is not going to be a major player. "The fight will be with Microsoft and Wind River. Linux is a non-starter in consumer automotive," Poliak told LinuxInsider.
Licensing Concerns
QNX Software — based in Ottawa, Canada — provides operating systems for in-car telematics, including navigation, entertainment and infotainment applications. For example, QNX powers the new infotainment system in the Saab 9-3 sport sedan.
"We have stronger technology, legal and business capabilities," said Poliak. He said that from a business perspective, auto manufacturers want an operating system vendor that has a sustainable business model. He questioned whether Linux-based systems would be around for the long haul to provide support for an extended period.
Car companies also require certificates of originality to ensure that they are not using someone else's intellectual property, according to Poliak "That's hard to do with Linux, but easy with QNX," he said. "Our engineers designed and wrote the operating system. We own or have clear licenses to distribute the products we provide."