Budgeting apps come in all sizes and shapes. Budget apps for Linux are part of a software category that has been all but abandoned. But take heart. A number of Web-based solutions will more than meet your budget-tracking needs. If you still insist on finding a pure Linux-based application, do not mix the concept of open source with free.
If you want an actual free budget program that works well with your flavor of Linux OS, a Web-based offering may your best — or perhaps only — option. A few of these non-Linux solutions are proprietary products.
As is the case with the vacant category of Linux-made tax accounting software, some of your best options for working with your budget figures will be accessible through a browser. Ironically, the catch in finding your ideal budget software solution for your Linux OS is not open source — it's that many of the budgeting app offerings cost money.
This week's Linux Picks and Pans is a roundup of the best options for budget-tracking software for Linux. The winner for you might not be an open source entity.
Some solutions are standalone applications. Others are attached to Web-based software services. A few are free. Most come with a price tag, however. Just because an application runs on Linux does not mean it is free to use.
At a bare minimum, these applications and Web services will help you become more aware of where your money goes. A few might even help you figure out how to stem the financial bleeding, or at least slow it down for a month or two.
The products included in this budget-tracking roundup are not presented in any ranked order. Some are readily available in distro repositories. Other packages require manual installation. The rest you visit online.
You Need A Budget: A New Way to Track Your Spending
The You Need A Budget app runs on Linux systems courtesy of Adobe AIR. YNAB also has a Web version that eliminates the need to be limited to an operating system. It operates a bit differently from earlier versions and other budgeting applications.
This personal financial budget app is income-based. After the 34-day free trial, it costs US$5 a month to use the YNAB Web and mobile app.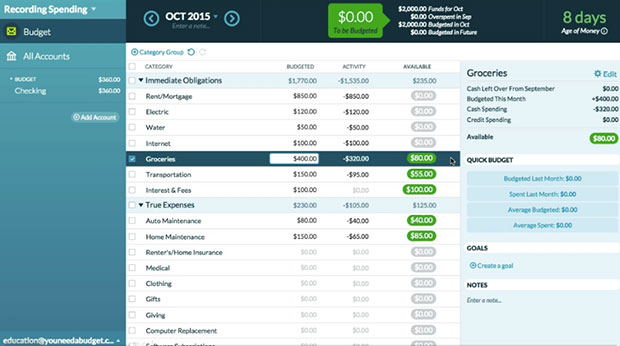 The latest release is version 5. It brings some important updates that make it more competitive to use. The new budgeting approach forces you to shift your mindset to work your budget so that you live on last month's money. The process encourages you to think ahead for your expenses, break them down month-by-month, and live off the money you earned the previous month.
The look and feel resembles traditional budgeting software. You enter your categories, track your spending, and adjust if you go over or under in certain categories. It is easy to personalize your budgeting by removing or adding categories in each section as needed.
At the top of the screen sits your total cash flow for the month. To the right sits the total amount budgeted for the month, along with your total monthly activity, and the total available amount of your budget. Plus, your total monthly inflows are visible.
When you add a bank account, you can enter your transactions manually or choose to link your accounts. This sets the foundation for adjusting your budget based on your cash flow and spending from the previous month.
As you spend, YNAB shows you what is left in your spending categories. If you go over on a category, you can shift money around to cover your additional spending.
For example, if you earn enough income that you have more money to budget, the top bubble turns green. That money is now available to roll over to the next month. Meanwhile, you are still aiming to spend only the money you had available last month.
Setting up and maintaining your budget with YNAB is simple and flexible. This new approach is called "aging your money." If you can't age the additional money yet, at least you can apply it to cover shortages in other categories.
Features include the ability to import transactions automatically, straight from multiple bank and credit card accounts. You then have to assign them to categories. Splitting these transactions between multiple categories is easy. Or you can enter your transactions by hand.
YNAB lets you track your credit spending separately from your bank account transactions. If your goal is to balance credit and cash spending, this is handy. YNAB syncs with more than 12,000 banks, and it lets you connect multiple devices.
Another neat feature is the ability to set financial goals in one or more budget categories. The process is as easy as clicking on a category and adding the goal.
Mint: Smooth Bank and Credit Account Syncing
Intuit Mint is a simple personal finance program that is Web-based. Your financial data gets updated automatically every time you visit the site. Mint presents your financial information in an easy-to-use interface with graphs and reminders.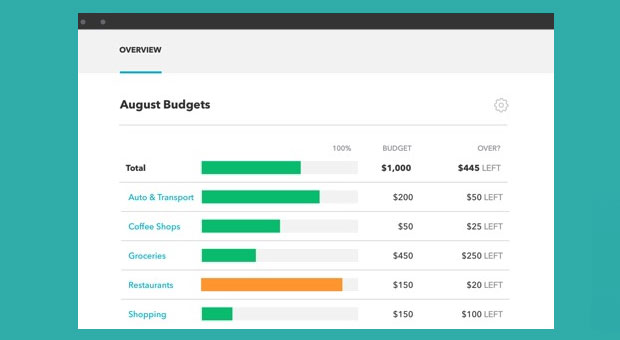 The website and app combination provides everything you need in a budgeting and money-tracking tool. However, it lacks a standalone app for any desktop or laptop OS, and it has no bill payment capabilities.
The website and mobile apps are easy to use, whether to create a personal budget, track bills or set up payment alerts. The interface offers the added benefit of tracking your credit reports and your credit score, along with special tips and strategies to boost your credit profile.
The Mint system works across multiple financial platforms so you can work with all of your accounts in one place. Your bank account, credit card account, brokerage account and retirement savings account are all available on your website login and mobile apps.
Mint has several key features that make it more than useful. It sends you alerts when you go over your budget. Using it is totally free. Mint comes from Intuit's TurboTax.
Mint and its clone-like apps use a very effective expense tracking and management system. In fact, it is the key to taking control of your budget and reaching your spending goals.
For example, whether the display is on a full-size computer or laptop screen, or a much smaller mobile device screen, it presents an overview of your budget status and your individual financial components, showing monthly income, the amount spent on bills and other categories, and the amount of money left over.
Mint's analysis gives you personalized money-saving tips and spending advice. When you make a financial decision, such as a large purchase, Mint steps in and shows you ways to save money and make better choices.
Personal budgeting on Mint makes it easy to enter your accounts quickly. You can import the information without completing an endless succession of steps. Everything you need is in one place. For instance, the built-in finance calculator shows you visual aids, such as graphs and charts, to reveal the whole financial picture.
You decide what to do with your money. You can adjust your budget based on the tips and recommendations. You can set alerts and reminders to avoid missing payment due dates and incurring late fees that put more strain on your budget. You also can have Mint send set text alerts and emails to remind you of nearly anything that relates to your budget.
Mint's primary feature is budgeting and tracking expenses, and this is where the service really shines. Budgeting is super easy to set up: After you download and sync your transactions, they will get auto-categorized into predefined categories. You can create your own subcategories, but unfortunately cannot modify the top-level ones.
Another prominent feature is the goal-tracking and managing feature. New goals, such as paying off credit card debt or saving for a new home, are simple to set up and easily are reflected in your monthly budgeting.
MoneyDance: A Complete Financial Toolkit for Linux
MoneyDance is easy-to-use personal finance software that runs on Linux and is loaded with features that go well beyond basic budgeting. You can ignore the other modules and just focus on using the budgeting options if you wish.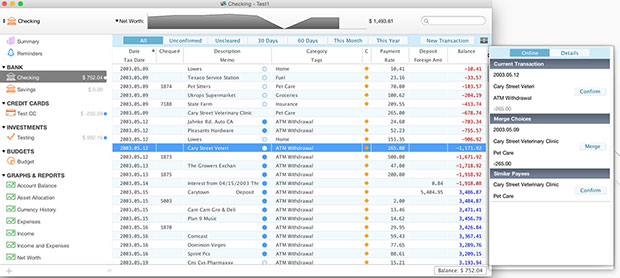 However, the overlapping financial components can be useful. Much like an office suite, MoneyDance offers a complete set of financial tools that include online banking and bill payment, account management, budgeting, and investment tracking. It handles multiple currencies and virtually any financial task with ease. The download provides a limited free trial, but you can remove its limitations by purchasing a license.
Moneydance can download transactions automatically and send payments online from hundreds of financial institutions. It learns how to categorize automatically and clean up downloaded transactions.
Using it is fairly straightforward. You start at the summary page. There you see an overview of your finances. It displays account balances, upcoming and overdue transactions, and reminders. It also points out exchange rate information.
Click on an account or choose an account from the drop-down account list to view that account's register and enter transactions or reconcile the account against a statement. Clicking on a transaction reminder displays a window to record the transaction automatically.
The account register lets you enter, edit and delete transactions. Visually, it resembles a paper checkbook register with two spreadsheet-like improvements. One, it calculates balances and sorts transactions automatically. Two, the payee autocomplete feature enters and categorizes your transactions automatically.
You can use the graphs and reports feature to generate visual reports of your income and expenses. You can set the graph type, the date range, and any specific settings for the type of graph you desire. Pop-up balloons display more information about the graphed data as you move the mouse pointer over different regions of the screen. Graphs also can be printed or saved to PNG image files.
Use the free Moneydance mobile app for Apple or Android to enter or edit transactions and view balances on the go. Changes sync instantly and securely with your desktop.
MoneyDance 2019.2 Spring Edition downloads for Linux, macOS and Windows are free in limited feature trial versions. You can remove feature limitations by purchasing a license for $49.99.
wxBanker: A Barebones Budgeting and Basic Financing Kit for Linux
wxBanker is ideal for users who just want to keep track of their most basic finances. It does two things well.First, it keeps your own separate balances to compare with your online banks and other accounts. If you are looking for a lightweight advanced digital checkbook register, wxBanker is an excellent alternative to using a spreadsheet-style transaction register. wxBanker synchronizes account balances online via Mint for added functionality.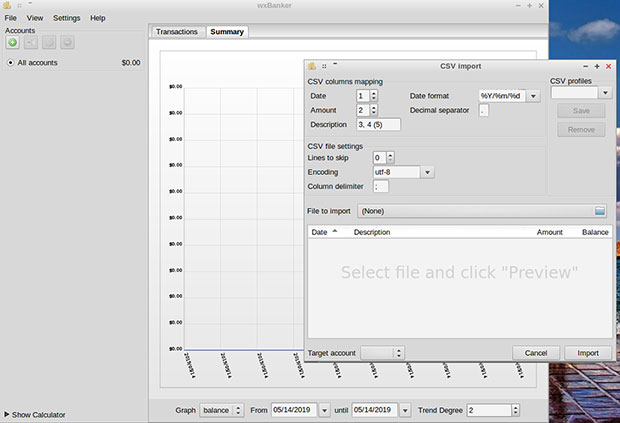 It has a secondary function as well. It is a simple tool for keeping track of your expenses and spending. For example, you can spend $360 at several stores without hoarding receipts to remember what you bought. This package will help you keep track of the cost of each item.
wxBanker has a clean interface that syncs with Mint. This gives you added features and functionality. It does not handle your small business needs, and it will not sync with your bank records. However, it will record all of your transactions, and it includes a built-in calculator.
Its lightweight nature gives this Linux banking application another convenience service point. Use it to create arbitrary accounts to keep track of your other banking functions. For instance, use it to track reimbursable deposits, loans with friends, or allocations of monthly savings for special purchases.
wxBanker does what you would expect from any basic banking software. It lets you keep track of account balances easily. Its functions include adding, editing and removing transactions and accounts, making transfers, searching transactions, and viewing a graph of balances over time. An integrated calculator also makes calculations quickly and easily.
You can download the free open source wxBanker project from Launchpad. It is also available in the official Ubuntu repositories. Yet another option is to use the PPA to obtain the latest version.
Make sure you have python-wxgtk2.8 installed as a required dependency.
BudgetView: A Budgeting Bonanza for Linux Users
BudgetView is a free featured-packed budgeting solution that comes with data import, operations and unlimited user sessions, and supports limitless bank accounts. It also includes a budget calculator, data management features, and customization capabilities.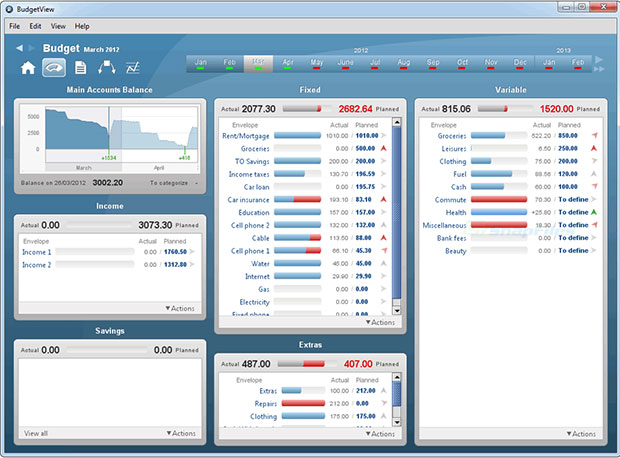 Import your financial statements from your bank's website. After a couple of sessions, BudgetView automatically categorizes most of your transactions, leaving only a few operations for manual processing. This way, your budget can be up to date in just a few minutes, at any time!
BudgetView comes with a powerful set of features that are fully activated without having to buy anything:
Data import of transaction records to OFX, QIF or CSV from the bank website;
Recovery operations from Microsoft Money, Intuit Quicken, or any other application capable of exporting records to OFX, QIF or CSV;
Operations such as adding notes; changing labels; splitting one operation into several; shifting an operation to the previous or next month's budget; filtering your operations by accounts, envelopes or month; and searching operations by label;
Data management tasks such as exporting your statements as QIF or TSV files to be imported into other budget management tools; copying the contents of tables displayed in BudgetView to paste into a spreadsheet program such as Excel or Numbers; creating and restoring backup copies of your data; printing your transaction records; and storing your data locally or in Dropbox or Google Drive.
Other essential features include options to use a password, fully encrypt data, set up multiple user sessions and unlimited bank accounts, and manage debit and credit card accounts.
A built-in budget calculator helps you organize your budget as a set of envelopes organized into revenues, fixed, variable, savings and extras. The calculator lets you observe the evolution of your accounts' positions in the weeks and months ahead. It also assists in transferring the remainder of an envelope to the next month.
A bit of a learning curve and setup period are necessary to get the best results from BudgetView. For the first sessions, you will need one or two sessions from 30 minutes to two hours long in order to set up your initial budget and get comfortable with the application.
Then plan on setting aside two to five sessions each month at five to 20 minutes each. That time will let you update and pilot your budget.
BudgetView is available for download in .DEB, .RPM, and compressed .SH format for all other installation needs. The free version of BudgetView is largely enough for managing most family budgets without any limitation.
You can install paying add-ons to benefit from advanced budgeting features. Each add-on costs about $20 and includes an Android mobile app, a budget analysis tool, an organizing component for budget categories, and an accessory to add more functions to the basic feature set.
Budget Calendar: Simple Home Budget and Payment Planning For Linux
Budget Calendar is just that. It shows all transactions in an easy-to-understand calendar format. It identifies each payment type at a glance with unique icons on the calendar monthly view.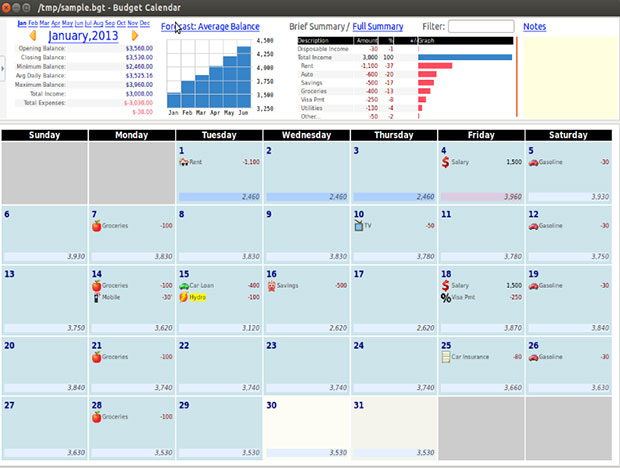 While this budgeting tool is unique to MiShell Software Systems, it is not the only budget software bearing the "budget calendar" name or a similar one. You want the MiShell product for the Linux compatibility.
Budget Calendar has an intuitive and unusual user interface. In the setup panel, enter the amount and dates of your expected income at the start of the month. As you make payments or banking transactions, click the calendar day to enter the details. The calendar view shows the total funds available, the amount of the bill pay or other transaction, and the updated balance.
The day squares on the calendar vary in color, and the outgoing entries are displayed in a color, as is the running balance. As you enter payment details, you can assign an identifying category icon with a click.
You can drag budgeting entries around the daily squares to fit your needs. Budget Calendar shows you where and when you are spending your money and lets you easily adjust your balance when needed.
The top portion of the calendar screen displays navigational links to different parts of the calendar year. Other links show graphs of spending patterns and other financial analyses. The top left portion of the screen shows a list of running balances and average money-in and money-out statuses. Everything you need to know is clearly visible or a quick click away.
Part of the Budget Calendar's function involves parsing your actual spending activities with the established monthly budget that you've set up. The cute graphics and colorful icons let you see what your money situation is at all times. Your job is to make adjustments as you spend your money so you can cover or prevent cash shortfalls.
This is a novel approach that makes it fun to stay on top of your budget. The graphical approach is much different than traditional ledger-style bookkeeping processes.
Budget Calendar is a simple yet powerful intuitive software tool at an affordable price. Try it free for 30 days. Then purchase a household desktop license for $29.95 to use on all computers that belong to you. Updates are free, and well-done tutorials get you started quickly.
Bottom Line
These six budget-manager solutions for Linux offer a varied range of features and user interfaces. Some of these Linux money applications are good starting products for users with little or no experience with this category of software or online service. Other titles give you all of the tools to manage your household and your small business budgets.
Some of them are easy to set up and use. Others are more involved and can be frustrating if you are not familiar with money managing procedures.
Want to Suggest a Review?
Is there a Linux software application or distro you'd like to suggest for review? Something you love or would like to get to know?
Pleaseemail your ideas to me, and I'll consider them for a future Linux Picks and Pans column.
And use the Reader Comments feature below to provide your input!