The Clementine Music Player is an up and coming application that could replace your default music app. It is a close cousin to Amarok with just enough of its own personality to make it stand apart from the crowd.
On any computing platform today, users have ample choices of music players. Most of these music player apps have a common look and feel. Some simply play your playlists. Others mix in playback and music management enhancements. Ultimately what makes you decide on a favorite player is the user experience first and the feature list second.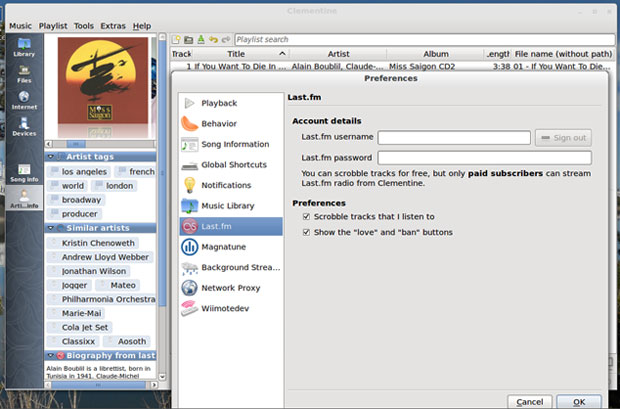 Clementine Music Player
Clementine's simplicity in listening to stored music and Internet Radio distinguishes it from other music player wannabes. It has strong appeal for users who fell in love the old Amarok 1.4 and fell out of love with the replacement offered in Amarok 2. It picks up where the old Amarok left off.
Performance Perks
Clementine has an impressive list of expected features. What it lacks I can live without. But I doubt it will take developers too long to tweak the list.
It has all the basics and more. For instance, Clementine lets you listen to Internet radio from Spotify, Grooveshark, Last.fm, SomaFM, Magnatune, Jamendo, SKY.fm and Icecast. You can easily search and play your local music library.
Turning your music library into handy smart and dynamic playlists is a breeze. Flipping through the tabbed playlists could not be easier.
Music Management Mogul
Often the deal maker in choosing a regular music player app for me is the ability to manage my extensive music library rather than just play it. Clearly, Clementine does not miss a beat in this regard.
It fetches lyrics, artists' biographies and photos. It transcodes music into MP3, Ogg Vorbis, Ogg Speex, FLAC or AAC formats. Plus, it tracks down missing tags using MusicBrainz and lets you edit tags on MP3 and OGG files. It also downloads missing album cover art from Last.fm and Amazon.
For me an essential ingredient for any must-use music player is the ability to fluidly handle a variety of music storage and playback sources. This is not a problem for Clementine. It copies my music files to my iPod, iPhone or Android smartphone and USB player.
Clementine also plays audio CDs without having to first copy the contents to the music library on the hard drive. This is something that not all music player apps can do. It also imports and exports M3U, XSPF, PLS and ASX formats and throws in CUE sheet support for good measure.
Inspired Setup
Sometimes distro managers fall behind schedule in maintaining the latest release versions of third-party projects. That seems to be the case with Clementine's packaging in the Linux Mint and Ubuntu repositories. Version 0.7.1 is available in both distro's package managers. But the latest version is 1.0, released in December 2011. So if you want the latest features, do your own installation.
Clementine installs fast and simple. This process is helped greatly by not having to cycle through a series of setup options like locking in a default music folder the way other music apps do.
All of that set up and preference picking you do as you need to in the preferences panel. Clementine took just a few minutes to scan and register my music collection of over 600 tunes.
Look and Feel
If you are familiar with Amarok, you will be right at home with Clementine's uncluttered user interfaced. Its default look shows a two-pane view plus a tabbed toolbar on the side. Closing the player minimizes it to the taskbar.
Double-click on a song to play it. Or add it to the end of the currently playing queue. Do the same double-clicking on an album or artist, depending on which list view you select.
You can also change the look to have it your way. Reset the defaults to operate the player differently. To do this use the On-Screen Display's simple popup from the system tray.
Tabbing Around
The left column of the app window contains the access points to Library, Files, Internet, Devices, Song and Art Information. A panel to its right shows the cover art and check lists for artist tags and similar artists categories.
Click the Library tab to see a list of artists and albums. The list has a hierarchical collapsing function for fast searching through your collection. Clicking on the Internet tab lets you scroll through a preloaded list with options to connect multiple radio sources. You can configure your own radio streams. Right clicking lets you add more stations.
The Files Tab is where your manually created playlists are stored. The dynamic playlists are under the Library tab. These include lists of favorites, most played and more.
Searching through lists is quick and easy. The search function uses a minimalist interface. It has a small song information area which includes album art thumbnail and listings for the album, the artist and the song. To its side display for a neat spectrum analyzer.
Still More Stuff
I like Clementine's simple design. I do not feel overwhelmed by its layout. I can easily find what I need to do on its basic menu bar across the top of the app window. It lists Music, Playlist, Tools, Extras and Help.
Basic navigational controls are at the bottom of the list display. These include play, pause, forward, back and fast forward. You can also go to the drop-down Music menu to access these controls.
It is easy to download and manage album cover art from the Cover Manager option under Tools. Click Fetch Missing Covers to search the Internet for album cover arts.
Other options in the Extra menu include Visualizations and Equalizer. You can also launch the music converter feature by clicking Transcode Music. Just select the file you want to convert and then choose the desired audio format. Click Start Transcoding to convert the files.
Not Perfect
While the radio station shows as a playlist in the main window, it fails to read the tag information from the stream. That eliminates the ability to see what the current song or artist is. Hopefully this will be addressed in an upcoming release.
Two other drawbacks are the lack of a podcast management tool and a Radio Streams option to recognize RSS feeds. And if you want a functional sync feature, fuhgeddaboudit. So far, it's not to be found in Clementine.
I have not yet figured out the usefulness of one odd feature. This is the ability to play the sound of rain or the Futurama Hypnotoad over the music.
Bottom Line
The Clementine Music Player has nearly all the functionality you need to manage and enjoy your music and Internet radio collections. Its simple and sleek design does not get in your way.
Clementine is not perfect. But it is measures ahead of other music players in ease of use and features.