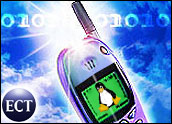 A la Mobile on Monday said a demo version of its Convergent Linux Platform — a complete and configurable open source operating system for mobile phones — is available for preview.
Convergent Linux is the first mobile OS platform that can enable a single software stack in binary form to move across different handsets without costly porting or modification, a la Mobile claimed.
The OS will provide handset manufacturers with the opportunity to tailor software components, functionality, and device look and feel to their target customers — flexibility that should accelerate time to market and ensure device-software interoperability, the company said.
"As an open, nonproprietary operating system, Linux provides flexibility, freedom of choice and a cost advantage that makes it compelling as a viable alternative to Windows Mobile, Symbian and other proprietary offerings," said Stacey Quandt, IT analyst, Quandt Analytics.
"A solution like a la Mobile's takes this advantage a step further," she added, "by building in functionality that allows handset manufacturers to minimize the application platform fragmentation issues that have plagued the industry for years."
A la Mobile plans to demonstrate the OS at the LinuxWorld Conference & Expo, August 15 through 17, at the Moscone Center in San Francisco.