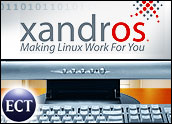 Xandros, a provider of easy-to-use Linux alternatives to Windows, announced that retail giant CompUSA is now selling the Xandros desktop product in all of its stores across the United States. The Xandros product line offers home and business users a complete, stable, and secure alternative to costly Windows systems, according to the software firm.
"Microsoft alternatives are quickly becoming standard elements of today's personal computing experience," noted Andy Typaldos, Xandros CEO.
"The Xandros Desktop Operating System is perfect for anyone who uses a PC and wants a solid system without a big price tag. Xandros is a full-featured alternative to Microsoft software and represents the trend moving towards non-Microsoft software, which is more secure and is equally user friendly," he said.
The Xandros line of desktop Linux products provide an alternative to Microsoft Windows with features including:
Easy four-step graphical install;
Drag-and-drop data DVD burning;
A complete office suite supporting MS Office and new OpenDoc formats;
Seamless file sharing on Windows networks;
Ximian Evolution, an easy-to-use alternative to Microsoft Outlook;
Firefox Web browsing.
Xandros said its built-in Xandros antivirus application, the Xandros Firewall Wizard, encrypted home folders, and secure access to virtual private networks can help to eliminate a number of security issues associated with Windows.