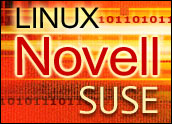 Novell's chief technology officer, Alan Nugent, has left the company, LinuxInsider has learned.
"Alan has left Novell to pursue other interests. We appreciate the work he's done for us and wish him well," Novell spokesman Bruce Lowry told LinuxInsider. "The folks that were reporting into Alan, a fairly small team, will now report into the senior executive product leads at Novell. We haven't named a replacement."
Nugent joined the company in 2002 to "promote Novell's open-standards, cross-platform technologies," the company said at the time.
Linux Strategy Sound
Analyst Stacey Quandt, senior business analyst, open-source practice leader for the Robert Frances Group, said she believes Novell's Linux standing will remain solid.
"What I can say is that Novell's present Linux strategy and credibility as a provider of open-source solutions is largely the result of its acquisition of SuSE and Ximian," Quandt told LinuxInsider.
"Novell employs key contributors to Linux, Mono, and other open-source projects, and has embarked on new initiatives to further the development of open-source collaboration alternatives to Microsoft Office."
Novell acquired Ximian in August 2003 and SuSE in November of that year.
Brain Drain
Al Gillen, research director, IDC, said Nugent is a "sharp individual who has an excellent grasp on the evolutionary and revolutionary changes taking place in the industry, and as such, was an important asset for Novell."
He added that, coupled with the loss of Vice Chairman Chris Stone in November, Novell may be challenged in the short term.
"I don't see [Nugent's] departure on an individual basis as being of concern, but in the context of Chris Stone's departure last year, this trend represents brain drain that is disappointing for a company that seems to be poised for a rebound," Gillen said.