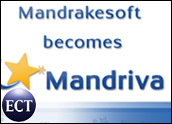 Mandrakesoft, hoping to serve the dual purposes of repositioning itself in the Linux market and throwing the monkey of its back in a trademark infringement battle with Hearst Publishing, announced last week that it has changed its name to Mandriva.
"Mandriva, a company name that combines MandrakeSoft and Conectiva, is an opportunity to re-invent the company through a new brand name," Stacey Quandt, senior business analyst, Robert Francis Group, told LinuxInsider.
Re-Invention
Mandriva has overcome financial challenges in recent years. In the fourth quarter of 2003, the company showed its first profit in four years. That year, it was the fourth-largest player in the Linux market, according to IDC, behind Red Hat, Novell and Turbolinux. The company emerged from bankruptcy in March 2004.
The French company bought the Brazilian firm Conectiva for US$2.3 million in early March with the hopes of broadening its customer base. Mandrakesoft's reputation was as a European Linux distributor focused on the small- and medium-business market, while Conectiva operated mostly in Latin America.
A geographic strategy on its own will not be enough, said Quandt.
"In order to grow, Mandriva needs to focus on more than just brand equity. It needs to offer solutions that target the public sector and commercial customers," she said. "For example, Conectiva made a name for itself several years ago by enabling ATM and teller solutions for commercial banks in Brazil. The success of Mandriva will be measured byits ability to deliver a wide range of solutions for financial institutions, retail, government and other customers."
Name Dispute
The company hopes its name change will help to solve at least one problem it faced in recent months. Mandrakesoft had been laboring under a trademark case filed by Hearst, parent company of King Features Syndicate, which owns the comic strip Mandrake the Magician. A French court ruled in favor of Hearst in February 2004, but appeals had been ongoing.
"The long-winding trademark lawsuit with Hearst Corporation has reached a point where we decided it is more reasonable for us to move forward. By adopting a new name, we eliminate the liability attached to the Mandrakesoft name and we can focus on what is important to us: developing and delivering great technology and solutions to both our customers and our user community," the company said in a press release.
Reorganization in Process
Gael Duval, Mandrakesoft co-founder and vice president of communications, told LinuxInsider that the company hoped the name change would resolve the case and that the company plans to look to the future.
"We are currently reorganizing. It will take at least half a year before first results," Duval said in an e-mail, when asked about the company's plans. "We will combine our development forces for the next products. It's very exciting."