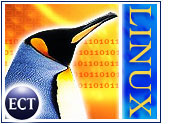 Linux Networx has announced that two Department of Defense centers will be using Linux cluster supercomputers from the company to conduct battlefield simulations.
The clusters are part of an initiative to modernize the DOD's supercomputing capabilities, said Major Kevin Benedict, program manager at the U.S. Air Force's Maui High Performance Computing Center (MHPCC), in an interview with LinuxInsider.
"It's like your computer at home, or your laptop at work," he said. "It doesn't take long for it to get out of date. It's no different with high performance computers." He added that the MHPCC had a cluster system in place, but needed greater power and performance for current and future simulations.
The MHPCC is one of the centers involved in the DOD's high performance computing modernization program; the other recipient of the cluster system is the Aeronautical Systems Center (ASC) Major Shared Resource Center (MSRC). The cluster procurement is part of the Technology Insertion program, an initiative designed to modernize the DOD's computing capabilities.
Penguin in Flight
Benedict noted that the DOD was one of the first governmental entities to employ Linux clusters. "We have a long history with using this kind of technology," he said. "We've found that for many applications, Linux is the price-performance leader."
He added that Linux has been catching up fast to other systems in terms of capability as well.
Joint Forces Command will use the clusters to simulate combat operations, such as moving 3,000 U.S. troops among 1 million civilian vehicles.
Military personnel at sites around the country will participate in large-scale simulations that were not possible before the delivery of the new clusters, said Benedict.
"We'll have more flexibility, and power," noted Benedict. "Using the clusters will allow us to do more with simulations."
Working the Networx
The DOD's choice of Linux clusters is also good news for Linux Networx, which will be providing the technology. The company's VP of East Coast operations, Tom Quinn, told LinuxInsider that Linux Networx has a growing relationship with the DOD and looks forward to being able to deploy Linux clusters for the department.
But getting the deal put in place was not easy. Like most other governmental procurement processes, there were many competitors, including Cray and IBM, said Quinn.
In the stringent vendor pick, the DOD looked closely at how different providers would be able to integrate systems with existing technology and offer support after implementation. Cost also was a major factor.
"They wanted the most productivity for their dollar," said Quinn. "That's where Linux Networx came in." He noted that the company demonstrated how the DOD would be able to run more simulations for their money by using a Linux cluster.
Quinn also believes the company won the bid because it emphasized better interoperability skills. "A lot of people use Linux clusters, and it's not hard to put one together," he said. "I've got one in my basement. The trick is in making it all work together effectively, and putting together one that's going to provide the output you need."
Group Effort
"The fact that the Department of Defense is using Linux clusters in a production environment is a significant step forward for this technology," said Jeff Graham, deputy director at the ASC MSRC, in a statement.
Linux clusters also have been seen in several other high-profile projects in recent months, such as the addition of a cluster at Lawrence Livermore National Laboratory.
The use of these clusters is raising the profile of Linux's ability to handle supercomputing tasks.
Linux Networx vice president of marketing Eric Pitcher told LinuxInsider that there is confidence in the industry that Linux clusters will make major inroads into labs and companies in the future.
"The technology has matured," he said. "It's become more mainstream, and that will drive growth."