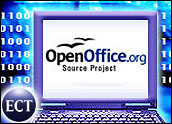 Microsoft's settlement with Sun Microsystems has sparked attention in the open-source community, since it contains a provision giving Microsoft the right to sue developers and users of OpenOffice.org.
The agreement with Sun was inked in April, but its details were made public only this week as part of Sun's annual U.S. Securities and Exchange Commission filing.
In the document, it is stated that Microsoft agrees not to sue Sun for commercial distribution of StarOffice, which is based on OpenOffice.org, but that Microsoft can still seek damages from OpenOffice users or distributors for any copy installed after April 1, 2004.
Although the provision has some open-source users wondering whether a lawsuit is imminent, many believe that the wording is more of an insurance policy than an opening salvo. Michael Schneider, an intellectual property lawyer in the Seattle office of Gary Cary Ware & Freidenrich, told LinuxInsider: "They're just keeping their options open, in case they want to go in that direction in the future."
Agreeing to Agree
The April agreement between Sun and Microsoft resolved several legal issues that called for the companies to work together over the next 10 years.
Sun had filed suit against Microsoft twice before being offered a settlement that included Microsoft agreeing to support its Java Virtual Machine, as well as garner payments of US$700 million to resolve antitrust issues.
As part of the extensive agreement, Microsoft and Sun agreed not to sue each other for patent infringements that occurred before April, as well as 10 years into the future. For Sun, that includes its StarOffice desktop suite.
Although OpenOffice.org is not covered under that agreement, Schneider doubts that Microsoft will use the agreement to launch a full-scale attack.
"I don't think the open source community should be concerned about immediate lawsuits," he said. "Some are seeing this as a statement of intention to go after OpenOffice users and developers, but it's just a door that they've kept opened."
Schneider added that such agreements between large companies, defining what lawsuits can be undertaken and which cannot, are very common.
"In light of the push to move Linux to the desktop, Microsoft is just making sure that it can strategically combat that if it needs to," said Schneider.
No Worries
Although some news reports have stated that Microsoft also is looking for ways to work more closely with OpenOffice.org developers, the project's community manager, Louis Suarez-Potts, told LinuxInsider that he has heard nothing from Microsoft to indicate that strategy.
He also emphasized that OpenOffice.org is not worried about lawsuits, or a change in Sun's involvement with the open-source project.
"Sun has been steadfast behind OpenOffice.org since its inception, and, as far as I know, will continue to be so."
He added that the agreement was not considered to be a cause for anxiety. "The agreement is a complex settlement between two megafauna," he said. "It was settled in spring of this year. Nothing has changed."
Slippery Issue
Suarez-Potts also noted that OpenOffice.org, unlike StarOffice, is not a very "productized" offering. That means that while Sun has a solid product, OpenOffice.org is a true open-source project that can be reconfigured by a variety of users.
In patent cases, Microsoft might have a difficult time in going after developers and users because it would have to track what was added or changed in each iteration.
Even the wording proves tricky. The agreement with Sun specifies that Microsoft can seek damage from "OpenOffice users" and "OpenOffice users," but does not clarify that OpenOffice.org users can be sued. Although this seems like a precious linguistic exercise, in a courtroom it is possible that such distinctions would have some weight.
Also, what is called OpenOffice to one user might not be, in actuality, an OpenOffice.org application being used by another user.
For these reasons, a lawsuit from Microsoft would have to address issues about open-source patents that the company seems unwilling to tackle at the moment. But that does not mean it will refrain from doing so in the future.
"Microsoft had the right to sue OpenOffice users in the past," said Schneider. "This agreement only shows that it doesn't want to give up that right."